AIHE Academic Institute for Higher Education GmbH
Home ›
Germany ›
AIHE Academic Institute for Higher Education GmbH
The AIHE Academic Institute for Higher Education GmbH offers modern, creative and innovative distance learning courses and further education in the field of psychology. And this for more than 14 years. Online Master's programs with practical relevance and skillful didactics. Exciting, scientific and practice-oriented at the same time. In exceptional cases, professionals have the opportunity to be admitted to the Master's programs without a first degree (without a Bachelor's degree).
The Master's programs offered by AIHE partner universities are particularly suitable for people who are not able to participate in classrooms. AIHE students are based all over the world. In the USA, Australia, Russia, United Kingdom, and many other continents and countries. Women from Saudi Arabia are just as interested as executives from the USA who want to be free in time and still want to continue their education. The travel to presences often complicates the decision to start a study. Get to know fellow students from all over the world. Online. The AIHE team and our cooperation partners are looking forward to learning together.
Cooperation Partner, Contributor and Advocate: Communication expert Professor Dr. Friedemann Schulz von Thun.
Advisors: Former Federal Minister of Education Björn Engholm and Dr. Raimund Mildner.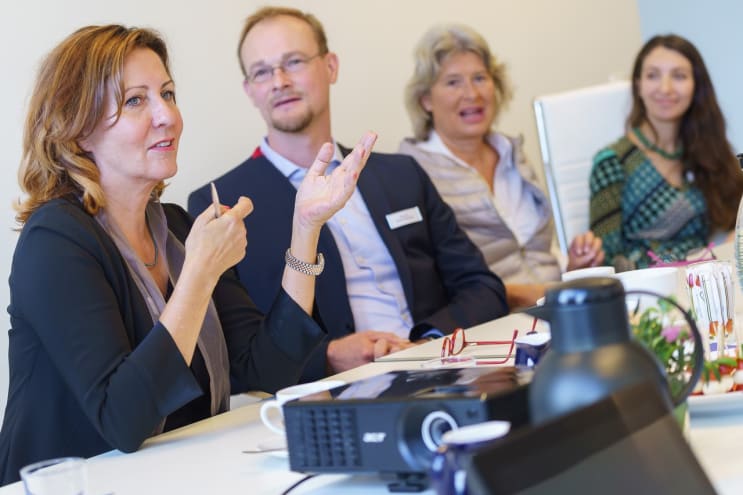 The principle of franchise Master's programs
The AIHE Academic Institute for Higher Education GmbH is a franchisee on behalf of international universities (in particular the FHWien der WKW and the London Metropolitan University). As a specialist with many years of experience in scientific distance learning, AIHE GmbH has for many years been commissioned by universities to support the development and implementation of master's degree programs - particularly in the field of psychology.
AIHE GmbH students are enrolled at the respective partner universities and receive their Master's degree from these universities. The time in between is filled by AIHE GmbH with its own personnel, which, of course, has been accredited and approved by the universities within the scope of accreditations and validations. The quality assurance of the degree programs is in the hands of the universities, which in turn ensure professionalism and customer satisfaction in very close cooperation with us.
The following Master's programs are currently offered by distance learning (without attendance):
MSc Behavioral and Organizational Psychology (English, 1 year)
MSc Psychological Medicine/ Mental Health (English, 1 year)
MSc Cyber Psychology (of Online Communication) (English, 1,5 years)
MSc Artifical Psychology (English, 1 year)
MSc Psychologische Medizin/ Komplementäre Medizin (German, 1 year)
MSc Kommunikations- und Betriebspsychologie (German, 1,5 years)
MSc Verhaltens- und Organisationspsychologie (German, 1 year)
What is special about AIHE?
49 specialists from the field of psychology

100% online study courses. Without presence

Very close, caring and appreciative student support

You have the choice between German- and English-speaking distance learning Master's programs

In some exceptional cases, it is also possible to enter the Master of Sciences courses without a first degree

Flexible studying from anywhere in the world

The AIHE distance learning study courses in the discipline of psychology are recognized by the Zentralstelle für Fernunterricht (ZfU). The admission numbers can be found at the individual study programs

The average age of AIHE students is 44 years

Innovative, modern, exciting and practice-oriented study and exam achievements
Locations
Lübeck
Address
Maria-Goeppert-Straße 1
23562
Lübeck
,
Schleswig-Holstein
,
Germany