MBA in
MBA - Entrepreneurship
Utica University Online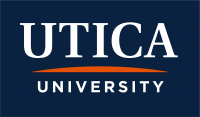 Introduction
Utica University is committed to providing MBA students with applicable and translatable skills that can help them find high-level employment in the business world immediately after graduation. To achieve this, Utica offers a number of MBA specializations, in some of the most in-demand business sectors.
After completing the business core, you will select four graduate-level elective courses that will determine your specialization or area of study. You may choose an advising specialization, developed by Utica University to meet the specific demands of business today, or customize your studies through our general MBA option, where you can select any four of the graduate-level elective courses offered.
The Entrepreneurship specialization is customized for strategic early-career or mid-career professionals who are motivated to bring communication, information, or media business idea to fruition. Students will be introduced to fundamental concepts supporting contemporary media business models and learn the necessary steps to launch a media product or organization. The specialization includes concepts such as audience/market analysis, the importance of diverse revenue streams, user engagement and experience, and prototype development.

Career options include:
Business Founder/President
Venture Capitalist
Innovation Consultant
CMO/CTO/CFO/CIO