CAM Business and Climate Change: Towards Net Zero Emissions
University of Cambridge Institute for Sustainability Leadership (CISL)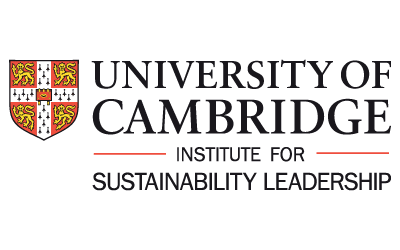 Key Information
---
Study format
Distance Learning
Application deadline
Request info
Earliest start date
Request info
Introduction
Gain insights into the organizational risks and opportunities posed by climate change, and learn to lead a transition to net-zero emissions, and rewire your business model for long-term value and resilience.
As public concern over sustainability challenges and ESG integration intensifies and climate-related organizational risks escalate, the ability to build more resilient business models that thrive in a net-zero economy has fast become a strategic imperative.
The Business and Climate Change: Towards Net Zero Emissions online short course from the Cambridge Institute for Sustainability Leadership (CISL) provides a comprehensive understanding of how to mitigate the business risks of climate change and oversee a transition to net-zero emissions for long-term resilience and overall value.
Over eight weeks online, you'll explore real-world examples of successful low carbon initiatives and discover how to utilize innovation to build a resilient, profitable business model for the future, stimulating a 'triple bottom line' of people, profit, and the planet. On completion of this course, you'll walk away with a practical action plan to transition to net-zero emissions and the ability to lead change within your organization and beyond.

This course is certified by the United Kingdom CPD Certification Service and may be applicable to individuals who are members of, or are associated with, UK-based professional bodies. The course has an estimated 80 hours of learning.
Note: should students wish to claim CPD activity, the onus is upon them. The University of Cambridge Institute for Sustainability Leadership and GetSmarter accepts no responsibility, and cannot be held responsible, for the claiming or validation of hours or points.
About the certificate
Study the business risks and opportunities of climate change and earn an official certificate of completion from the University of Cambridge Institute for Sustainability Leadership.
Assessment is continuous and based on a series of practical assignments completed online. In order to be issued with a certificate, you'll need to meet the requirements outlined in the course handbook. The handbook will be made available to you as soon as you begin the course.
Your certificate will be issued in your legal name and sent to you upon successful completion of the course, as per the stipulated requirements.
Why choose GetSmarter?
GetSmarter, a 2U, Inc. brand, is an online learning expert with over 10 years of experience in developing high-quality online short courses from the world's leading universities. We deliver market-led courses that equip working professionals with the expertise required for the workplace of the future. Through a data-driven approach, we analyze future skills requirements and ensure all courses address this need.
Students are supported at every stage of the learning journey, enabling them to thrive professionally through increased relevance, competence, and confidence.
Ideal Students
This course is for you if:
You're interested in understanding global warming and climate change risk implications and opportunities to enhance your organisation's long-term value.
You'd like to explore real-world innovation and design strategies that can enhance long-term organisational resilience.
You want to sustainably and profitably rewire your business model, and drive change toward a net-zero future.
Program Outcome
You'll walk away with:
A real-world understanding of the multifaceted business risks posed by climate change, and the strategic opportunities and untapped value that arise from taking action.
Strategies for driving collaborative action and stimulating triple bottom line performance accounting for people, profit, and the planet.
The ability to rewire your business model for long-term resilience and profitability in an uncertain and disruptive future.
An action plan to facilitate the transition to net-zero emissions to help you set your organisation's sustainability objectives enabling you to lead change in your organisation and beyond.
Curriculum
Over the duration of this online short course, you'll work through the following modules:
Module 1: A changing climate for business
Discover the impact and dependencies of climate change on society, the global economy, and your business.
Module 2: The vision of a net-zero carbon future
Reimagining a more prosperous, net-zero world, and envisioning the milestones to get there.
Module 3: The need to repurpose the economic system
Explore the risks and opportunities as the economic system is repurposed.
Module 4: Collaborating and leading a low carbon transition
Discover the importance of policy and partnership in moving beyond business as usual.
Module 5: Decarbonisation success stories
Explore examples of success in moving from a carbon-intensive to a net-zero economy.
Module 6: Innovation and design for a net-zero 21st century
Understand why low carbon innovation requires a shift in how the economy grows.
Module 7: Leading change and coping with disruption
Recognise the leadership competencies required to encourage the winners and enable the losers to benefit from a low carbon transition.
Module 8: Your role in leading the transition
Describe your role, forecasting barriers, and embracing support for effectively leading a change process.
Please note that module titles and their contents are subject to change during course development.
Manage your time
GetSmarter's learning model is designed to help you, as a working professional, improve your skills without compromising on work and family responsibilities. The course work is broken up into weekly, manageable bite-sized modules, with incremental deadlines, designed to help you pace yourself over the duration of the course and allow you the legroom to work when it suits you best.
At the beginning of each module, you'll be presented with the course content and assignments necessary for completion. You also have access to your Success Adviser who will help you manage your time, and support you with any administrative or technical queries you might have.
Career Opportunities
Seek employer assistance
By improving your skills and industry knowledge, you'll have an influence on the success of your organization. Why wouldn't you ask your boss to help you fund your studies if it's going to have an impact on the way you do business?
Of our past students, 37 percent have received financial assistance from their employers. You can ask for help, too.
If you are a Learning & Development (L&D) manager, or involved in training and upskilling for an organization, you can request information regarding our corporate offering on our GetSmarter for a business page.