MSc in
FinTech Management MSc
Ulster University Online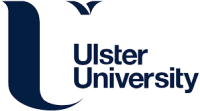 Introduction
Industry-focused learning for aspiring FinTech leaders
Our unique Masters programme provides a solid grounding in key aspects of FinTech while focusing on the sector's all-important business side too. Rather than a purely technical course, the programme includes modules on business analysis, behavioural finance and data science to develop well-rounded professionals ready to meet the demands of current and future FinTech jobs.
The Master's comprises ten modules combining theoretical and practical aspects of FinTech, and you'll get the chance to put your learnings into practice as part of your 30-credit dissertation, which can take a work-based focus.
You'll be taught by leading academics who are immersed in the industry and have played a major role in establishing Northern Ireland as a global FinTech hub. The Co-Course Director, Daniel Broby, is Ulster's Chair of Financial Technology, responsible for leading the University's cutting-edge research and building the country's FinTech ecosystem.
As an online, part-time student, you'll dedicate around 20 hours a week to our FinTech Management course allowing you to earn a PG Cert, PG Dip, or the full MSc without having to take a career break.
Why Choose This Course?
With more than 20 years of experience delivering online courses, Ulster University's tutors are well-versed in delivering effective and engaging e-learning experiences. Students of the Ulster University Business School (UUBS) can study around work and other commitments, improving their prospects within their current organisations or facilitating a career move.
The benefits of our 100% online, part-time learning programme include:
A comprehensive scope which blends FinTech and management to help you stand out in a competitive sector.
Distinctive modules include 'Financial Econometric Modelling', which provides an understanding of programming languages such as Python, and 'Behavioural Finance', which covers the psychological aspect of finance.
Access to the University's proven expertise: the business school is also home to an undergraduate FinTech course which was developed with local industry to strengthen Northern Ireland's reputation as a global leader in the field.
Learning from esteemed academics. Ulster ranks 20th in the Guardian's 2021 league table for Accounting and Finance.
Total flexibility: modules are designed to fit around your existing work or life commitments so you can study effectively.
Access to a dedicated Student Success Advisor who will be on hand to answer any queries and offer pastoral guidance from enrolment to graduation.
The option to pay fees on a module-by-module basis, with the freedom to take breaks in your studies if you need to.
Program Outcome
Throughout the programme, you will:
Master both the theoretical and professional aspects of FinTech management to bridge the theory-practice skills gap.
Develop a critical awareness of the international financial and professional services environment and how technology supports it.
Gain an appreciation of professional ethical standards and conduct.
Develop the ability to critically analyse a variety of computational models, using a range of practices to creatively and systematically apply theories, tools and techniques used in financial services and its technological environment.
Acquire the transferable intellectual and interpersonal skills needed for consultancy roles in FinTech.
Critically evaluate new ideas and assess technical developments.
Develop enterprise and innovation skills through a balance of logical reasoning and creative thinking, alongside building your adaptability, resilience, and communication skills.
Enhance lifelong learning skills and personal development to work with self-direction and originality and to contribute to business and society as a whole.
Career Opportunities
The FinTech Management course aims to address the industry's current skills shortage. On completion, graduates should have the expertise to access in-demand roles, including:
Compliance Officer
Data Specialist
FinTech Consultant
FinTech Analyst
FinTech Solutions Delivery Manager
Policy Research Advisor
Business Development Manager
Centre of Excellence Manager/Director
Product Manager
Relationship Manager
The course's business and management dimension will also boost your leadership skills, increasing your eligibility for promotion into executive and senior team leader roles such as Director of FinTech Operations.
Curriculum
Modules
The programme comprises ten core 15-credit modules and a 30-credit dissertation.
The modules are:
Business Analysis Foundations for Practice (15 credits)
Corporate Governance and Ethics (15 credits)
Financial Theory, Products, Markets (15 credits)
Financial Econometric Modelling (15 credits)
Regulation and Compliance (15 credits)
Project Management (15 credits)
FinTech and Data Science (15 credits)
Behavioural Finance (15 credits)
Contemporary Issues in FinTech (15 credits)
Predictive Analytics in Finance (15 credits)
Final Dissertation (30 credits)
The course can be completed as a PG Cert, PG Dip or MSc.
Please note that modules are reviewed annually and may change in subsequent academic years. The order of modules will vary depending on when you start the course.
Scholarships and Funding
Flexible options make payment as easy as possible for students, sponsors and employers. A 10% Alumni Discount is available for eligible candidates.