Master in
Master in FinTech and Financial Innovation
Three Points Digital Business School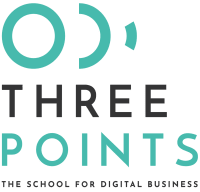 Introduction
Digitization has changed, and is substantially changing, consumer habits and is multiplying business channels exponentially. For many years now, a new term has been consolidated in the global financial sector, thanks to the appearance of the Fintech, a term that comes from English when merging the words Finance and Technology .
The Fintech are companies that are characterized by being companies with an important technological component, which seek to provide new solutions to the financial sector thanks to new technologies, mobile applications or big data; mainly startups based on new technologies that seek to capture part of the market dominated by large banks, which are often not very innovative or slow in adopting new innovative solutions, as well as in understanding and providing services with new financial solutions to their clients.
If we count both companies Fintech (finance technology) and Insurtech (insurance technology), currently and in Spain, would be dedicated to it around 350 companies and they employ more than 5,000 people, who are nourishing not only talent technological, but of financial talent that bets to move towards these initiatives.
We can currently divide the FinTech Ecosystem into:
Fintech companies: as we mentioned, innovative startups that propose new solutions materialized in digital products and services easier, cheaper and faster to use

Lending & Crowd Equity
Payments & Transactional
PFM & Personal Advisory
Investment & Wealth Management
Blockchain & Bitcoins

Digital Banks: New digital banks that aim to respond to the concerns and needs of consumers.
Payment processors: Companies linked to the financial sector with powerful technological departments that provide services to traditional financial institutions.
Bigtech Companies: Large technology companies, which are increasingly interested in expanding their business lines, taking advantage of their great brand image, their capabilities in terms of technological and financial resources (Facebook, Apple, Google, Amazon and PayPal).
The Master in Fintech & Business Management focuses on the acquisition of business, financial and technological tools, as well as the development of innovation skills, necessary for students to identify opportunities for disruption in the financial sector, and launch new ones fintech companies or take advantage of new technology to help improve financial services in existing companies.
Ideal Students
The course modules are designed for those professionals who aspire to accelerate the development of their professional career and understand the important role that technology is acquiring in the financial sector:
Managers and project managers who want to expand their management capacity to undertake projects related to Fintech.
People with experience or vocation in the Fintech area who wish to advance their academic preparation.
Consultants and specialists in the financial sector who want to prepare, update and complete their profile, thus forging their competitive position in the market.
It is recommended that students have a profile from the following fields: Computer Science, Economics, Business Administration, Finance, or other specialties that include a strong analytical component
Program Outcome
Hybrid professionals are increasingly needed who are able to unify the functional financial profile and the technical profile as well as who are strong in skills such as creativity, communication and resolution capacity. The essential objective of this Master is to create this professional profile so essential in this sector.
The Master in Fintech & Business Management is designed to achieve the following objectives:
Acquire a global vision of the impact of new technologies in the financial sector.
Provide the necessary technicians to carry out disruption projects in the financial sector.
Training in the field of Blockchain technology, DAO's and smart contracts, including crypto-currencies as a special and transversal case.
Career Opportunities
FinTech project manager.
Digital developer in financial corporations or means of payment.
FinTech Transformation Manager.
Innovation manager in financial corporations or means of payment.
Entrepreneurship & FinTech start-ups.