BSc in
BS in Digital Marketing
Spring Hill College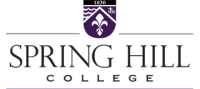 Introduction
Gain a Foundational Understanding of Marketing and Digital Media Strategy
In the online digital marketing degree program, you'll develop a foundation of research and analysis that will inform your marketing strategy. Then, you'll gain practical experience by working with clients to develop a comprehensive, integrated marketing plan. You will also prepare to pursue several online digital marketing certifications.
With your digital marketing degree from Spring Hill College, you could qualify for several exciting careers in marketing, communications, and advertising. Many positions in both industry and non-profits require a bachelor's degree, so your Bachelor of Science in Digital Marketing will prepare you for success in your ideal field.
Learn in a Flexible Online Environment
As you complete your online courses for the Bachelor of Science in Digital Marketing, you'll receive individualized support from both faculty and staff. As part of online learning with Spring Hill College, you can expect:
An asynchronous format. Listen to lectures, read texts, and complete coursework on your time.
Full-time and part-time program options.
An experienced and dedicated faculty.
A collaborative and diverse learning experience.
Curriculum
In online courses for Spring Hill College's digital marketing major, you'll begin with a strategic, research-based foundation. Apply your skills to real-world situations through an optional internship and gain crucial hands-on experience.
Digital Marketing Courses Include:
Marketing Management
Digital Marketing Capstone
Brand & Digital Experience Management
Program Outcome
What You'll Learn
Your online courses in digital marketing will include topics such as integrated marketing communications, digital experience management, marketing management, marketing research and analytics, and more. You'll also get to choose two elective courses from a varied list so that you can tailor your degree toward your ideal career.
Understand the fundamentals of marketing.
Gain a foundation in digital media strategy.
Conduct and present marketing research.
Produce digital content for a target audience.
Analyze marketing campaigns and present results.
Work with a team to develop and present an integrated marketing plan to a client.
Career Opportunities
Careers You Can Pursue with a Digital Marketing Major
Your Bachelor of Science in Digital Marketing can open doors to several careers, such as a digital marketing manager, online advertising manager, digital content creator and coordinator, digital marketing specialist, and more.
Experienced digital marketing graduates can increase their average yearly salary by up to $8,000, according to PayScale.1 Boost your salary potential with Spring Hill College's online digital marketing degree.