MSc in
Online Master of Science in Health Informatics & Analytics
Samford University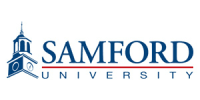 Scholarships
Explore scholarship opportunities to help fund your studies
Introduction
Called to build the digital foundations of modern health care.
Samford University's Master of Science in Health Informatics & Analytics (M.S.H.I.) will provide you with the knowledge and skills needed to plan, build, analyze, and run the digital foundations of modern health care. The use of informatics in health care has increased exponentially, and people with the right training are in high demand. Also, as a consequence of the tremendous amount of patient data that can now be captured, the use of analytics to extract relevant information from this data to support evidence-based medicine, evidence-based management, and population health is increasingly important. Samford's program combines a rigorous set of health informatics courses with the patient-centered values found in all programs within Samford's College of Health Sciences.
The Master of Science in Health Informatics & Analytics is online with two on-campus visits (once at the beginning and once at the end of your course of study). Full-time and part-time plans of study are available.
When you've completed your Master of Science in Health Informatics & Analytics , you will have shown mastery of the following skills:
Lead the development and application of emerging information technologies to improve all aspects of health care delivery.
Understand and apply the technology used in health informatics, including computing devices, networks, databases, software, security protocols, document analysis and sharing, image capture and analysis, and all other uses of Informatics technologies.
Utilize health information technology for decision support, knowledge management, strategic planning, and outcomes assessment.
Effectively interface between technology developers and the clinical user community.
Know all applicable legal, social, regulatory and ethical factors involved in health informatics.
Demonstrate data management skills that target opportunities to improve patient safety.
Analyze, understand, abstract and model a specific health informatics problem in terms of data, information and knowledge components. Using this analysis, generate design solutions.
Work effectively with partners within and across disciplines. Communicate effectively to these partners in persuasive oral and written form.
Apply relationship-building values and the principles of team dynamics to perform effectively in different team roles to plan and deliver patient/population-centered care that is safe, timely, efficient, effective and equitable.
English Language Requirements
Certify your English proficiency with the Duolingo English Test! The DET is a convenient, fast, and affordable online English test accepted by over 4,000 universities (like this one) around the world.