Launch Your Tech Career with Sabio's Coding Bootcamp!
What makes Sabio Coding Bootcamp unique?
Whether you have a background in tech or want to transition from a different career, the immersive learning that you will receive from our instructors who are successful engineering professionals will equip you to thrive as a software engineer at any company. Our students have the option of further specializing in either Node.js or .NET and are taught to understand the concepts that exist across all coding languages.
Our full-stack coding bootcamp curriculum is comprehensive, educating you in software engineering skills along with soft skills that will arm you to impress recruiters, be a team leader, and run your own business.
We have worked tirelessly to make our programs as accessible as possible to anyone that qualifies for the course by offering full-time, part time, and online classes as well as veteran funding and deferred payment options.
Interview Training
Community of mentors
Active global network of Sabio alumni who are entrepreneurs, product managers and developers.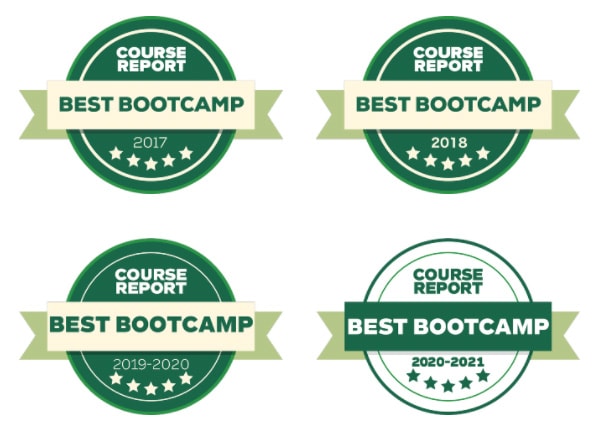 Full Stack Coding Bootcamp Training Options
Full Time Coding Bootcamp
Quickly transition to a new career in software engineering by enrolling for our full time coding bootcamp.
Part Time Coding Bootcamp
Our part-time coding bootcamp accommodates individuals transitioning from the service industry or anyone operating within untraditional working hours.
Night Time Coding Bootcamp
Enroll for our immersive, night time coding bootcamp which is tailored to fit the schedule of those who work a regular 9-5 job.
The Sabio Manifesto
1. We believe that your career doesn't just impact you, but also the people you love.
That's why Sabio is a community that supports you through thick and thin, whether it be family obligations, time constraints or life decisions.
2. We owe you a job.
Sabio cannot offer you job placement guarantee since it is illegal in CA and not permissible by a number of finance partners. However, our program is structured to give you as much support as possible to help you get your first job as a developer and, we offer first-class career support for our students irrespective of when they graduated.
3. We are always evolving and improving.
Our curriculum is constantly re-evaluated and updated with input from our corporate partners, and created from 100% original, vetted material. Our instructors come together weekly to discuss best practices and develop their teaching skills even further.
4. We are invested in your potential as an individual.
That doesn't just mean a job. It means your confidence, your outlook and your soft skills beyond coding. We want you to graduate from Sabio as the person and professional you want to become.
5. We enforce a 100% no B.S. policy.
We never inflate success numbers or salaries. We never push a hard sell on prospects. You will never see us omitting or exaggerating. You will always be able to trust our word.
6. We believe a coding bootcamp should be a transformative experience.
You will make friends that last a lifetime. You will discover just how smart and capable you really are. You will reflect on your life as "before" and "after" Sabio.
7. We work hard and laugh a lot.
Tech doesn't have to be boring. At Sabio, you'll find a balance between work and fun.
8. We live for the 'aha' moments.
The moment you get it. The moment you brilliantly solve a difficult coding problem. The moment you go from student to professional. We live for those moments.
9. We have your back.
No matter what is holding you back, we will help you overcome it. We're your team.
Sabio Coding Bootcamp Programs
We have taught people with tech backgrounds, Veterans, marketers, high school graduates, and all skill levels, to excel in the software engineering industry. Our Coding Bootcamp Program trains you in full stack web development with the option of specializing in Node.js or .NET.
We offer full-time, part-time and online classes so that you have no obstacles standing in the way of you pursuing a career in tech.
There are hundreds of different career paths for you to choose once you have gone through our full stack coding bootcamp. You don't have to be certain of what direction you want to pursue when you enrol. All you have to do is pass our application process and our instructors and mentors will help you map a way forward during and after the course.
What will you walk away with?
After completion of your training, you'll have earned the following
Worldwide network of Sabio Alumni who are Entrepreneurs, Product Managers, and Developers
You'll have upward mobility and a clear path toward great future prospects.
Sabio graduates leave our campus transformed and confident. That's because our entire team works cohesively to make sure you get what you deserve.
Exceptional training leads to exceptional results.
We have been training software engineers since 2013 with our full stack coding bootcamp curriculum.
Our Alumni are now working at these amazing companies: