MSc in
MSc in International Business Management (Online)
Rushford Business School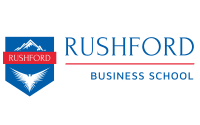 Introduction
The industrial revolution and forces of globalization have colossally changed market paradigms, requiring business professionals to comprehend the business in the global and international context. As per a survey conducted by USForex, approximately 58 percent of small businesses have international customers, and around 72 percent are planning to go global in the next couple of years.
Whether you want to expand your business internationally or explore job options in global or international firms, developing appropriate skills is indelible to professional success. Studying MSc in International Business Management will strengthen your knowledge and experience in different business aspects, such as global leadership strategies, industrial relations, international trade operations, international marketing, international HRM, etc. A comprehensive understanding will help you fortify your business acumen to compete internationally. Multinational companies or the ones aiming to expand their operations in other countries need candidates knowledgeable and trained in handling uncertain global scenarios.
The program will acquaint you with emerging trends in international business and inform you about challenges faced by international managers. It will equip you with the adequate knowledge and skills to understand global business issues, thereby preparing you for diverse business opportunities in countries of your choice. You will hone your creativity and problem-solving skills, which will help you negotiate with employees and customers more efficiently and confidently. Overall, you will develop a bird's eyeview of business operations in an international and global context. It will facilitate your international exposure and increase the chances of a rewarding professional career.
An advanced degree in International Business Management is also beneficial from a social and economic perspective because you will get the motivation to align business goals for a social cause. Balancing business needs with social perspectives will make your business more desirable, enhancing the chances of its long-term success and reputation. Additionally, you will support the economy by creating more jobs, supporting innovation, and conducting research and development to help people and communities.
Ideal Students
Who Is This Program For
The program is suitable for:
Learners enthusiastic to know about international business dynamics.
Mid-level managers seeking lucrative opportunities with reputed multinational companies.
Working professionals looking to expand the company's operations overseas.
Graduates seeking promotions and salary hikes by pursuing advanced professional courses.
Curriculum
Rushford's 60 ECTS (One-year) MSc in International Business Management comprises 15 courses – 5 Core Courses and 10 Business Management specific courses.
To be qualified for 60 ECTS MSc, you must complete all 15 courses. Each course comprises of 4 ECTS.
90 ECTS top-up program (18 months) takes you to an advanced level in Business Management field. It provides you an opportunity to choose another 5 of 10 electives in Business Management related field along with a Master thesis of 10 ECTS.
120 ECTS top-up program (24 months) provides you an opportunity to research in the field, and allows you to choose another 5 courses with a Capstone Consulting Project of 10 ECTS.
MSc Top-up Programs
MSc in International Business Management also allows an option to top-up programs for 90 ECTS and 120 ECTS.
Generally, it is recommended for Bachelor students with no work experience to opt for higher credits.
Higher credits are also recommended for those who wish to be an expert in field as top-up programs allow you to master the chosen area. 90 and 120 ECTS programs provide you access to advanced level specialised courses along with an opportunity to write Master Thesis, or a Capstone Consulting Project respectively.
Our flexible program structure for Online mode of study permits you to choose for top-up programs after completing 75% of your studies by contacting your Student Success Manager. For On-Campus programs, we recommend that you decide for the program tenure at time of admission.
Our Rushford online programs provide you flexibility to complete the degree in an extended duration of 3 years without payment of an additional fee.
Program Outcome
After completing the course, students would be able to:
Apply global leadership strategies to recruit, retain, and motivate employees.
Identify risk mitigation approaches suited to the business in an international context.
Implement international business strategies to ensure long-term business standing and profitability.
Assess business conditions according to international investment treaties, and apply the same to make a strategic business direction.
Maximize stakeholders' wealth by generating funds internally and externally at the lowest possible cost.
Appraise regional, national, and international labor standards concerning the rights and duties of employees, employers, customers, trade unions, and government.
Examine crisis conditions, and provide a systematic response ensuring maximum compliance to national and international business standards.
Analyze the conditions in a global economy to implement profitable commercial exchanges with companies operating in other countries.
Evaluate macroeconomic changes affecting international business.
Career Opportunities
MSc in International Business Management equips you with the wide-ranging skills necessary to excel in different domains of business and management. It will enable you to travel worldwide, interact with clients of varying nationalities and cultures, and cut through complex intercultural issues. After completing the course, you will be well-positioned for high-end companies, including Apple, General Motors, Amazon, Facebook, Deloitte, PwC, Google, etc.
Data Points
24 percent of International Business Managers hold a Master's Degree
300 top international (multinational ) companies control approximately 25 percent of the global economy