MSc in
MSc in Business Management (Online)
Rushford Business School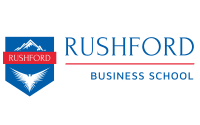 Introduction
The term "management" refers to wide-ranging roles and responsibilities that managers fulfill as part of their duties in organizations. Effective management calls for concerted efforts to meet organizational objectives and use appropriate strategies to enhance the company's profitability and sustainability in the long run.
MSc in Business Management offers comprehensive content that will equip you with the necessary skills and capabilities to start and manage an organization. The program will provide you with a sound theoretical foundation in business management, stimulating your analytical and problem-solving skills in several areas. A thorough understanding of economics, accounting, marketing, management, and leadership will hone your knowledge in almost everything needed to manage an established business or a start-up.
The program will develop you as an effective manager who is deft in applying strategic management, innovation, and critical thinking capabilities in different business domains. The extensiveness of this program makes it one of the most sought-after courses for learners looking forward to having a broad understanding of business and management areas. You will learn by doing through optional internships, company visits, seminars, and real-life company projects.
Ideal Students
Who is the Program for:
Graduates aspiring to join banking, accounting, stock exchange, and investment firms.
Professionals seeking to specialize in financial management for better career options.
Entrepreneurs looking to initiate or expand businesses
Professionals looking forward to gaining expertise in financial aspects to enhance business processes and profitability
Professionals seeking to explore London and New York's financial districts and join high-end businesses.
Curriculum
Rushford's 60 ECTS (One-year) MSc in Business Management comprises 15 courses – 5 Core Courses and 10 Business Management specific courses.
To be qualified for 60 ECTS MSc, you must complete all 15 courses. Each course comprises of 4 ECTS.
90 ECTS top-up program (18 months) takes you to an advanced level in Business Management field. It provides you an opportunity to choose another 5 of 10 electives in Finance and Investment related field along with a Master thesis of 10 ECTS.
120 ECTS top-up program (24 months) provides you an opportunity to research in the field, and allows you to choose another 5 courses with a Capstone Consulting Project of 10 ECTS.
MSc Top-up Programs
MSc in Business Management also allows an option to top-up programs for 90 ECTS and 120 ECTS.
Generally, it is recommended for Bachelor students with no work experience to opt for higher credits.
Higher credits are also recommended for those who wish to be an expert in field as top-up programs allow you to master the chosen area. 90 and 120 ECTS programs provide you access to advanced level specialised courses along with an opportunity to write Master Thesis, or a Capstone Consulting Project respectively.
Our flexible program structure for Online mode of study permits you to choose for top-up programs after completing 75% of your studies by contacting your Student Success Manager. For On-Campus programs, we recommend that you decide for the program tenure at time of admission.
Our Rushford online programs provide you flexibility to complete the degree in an extended duration of 3 years without payment of an additional fee.
Program Outcome
After completing the course, students would be able to:
Develop managerial skills to create positive business solutions, make entrepreneurial innovations, and promote continuous learning.
Identify ethical dilemmas and apply sustainability principles to handle the same.
Apply financial methods, risk-assessment approaches, and economic principles to add value to the business.
Apply management theories to real-life business scenarios to explore relevant opportunities in business and optimize those opportunities to excel in your career.
Use quantitative and qualitative data to analyze and solve real-world business issues.
Demonstrate the ability to handle strategic and operational business issues for the benefit of stakeholders.
Use appropriate research skills to make effective business decisions in a dynamic business environment.
Collaborate effectively with employees, and devise adequate strategies to motivate and retain them.
Negotiate with business partners to explore sustainable business options, and devise appropriate strategies to make profitable business deals.
Career Opportunities
MSc in Business Management equips you with adequate skills required to start your venture or excel in the career you already have. It will enable you to work with reputed multinational and international firms and expose you to different real-world scenarios in a volatile business environment. You will nurture your overall personality by engaging with people of various backgrounds, working in other countries, and managing different business processes. You will develop the problem-solving ability, creative mindset, and experiential learning crucial to working in a contemporary business environment.
Why You Should Study MSc in Business Management
70 percent of the variance in employee engagement is because of managers- a survey conducted by Interact
69 percent of managers find it challenging to communicate with employees – a study by Interact