MBA in
Global MBA Online
Rome Business School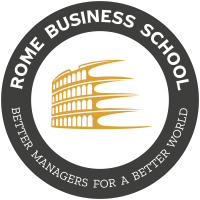 Introduction
Please note: this program is taught entirely in English.
Our MBAs are officially recognized among the best on a global level by Eduniversal Ranking.
The business world and the very dynamic and highly competitive current situation of economic uncertainty demands qualified professionals with solid knowledge of different management areas and, moreover, with personal and professional skills, such as versatility, adaptability, reflection, determination, and creativity. What are the benefits of taking an Online International MBA? The Online International MBA is the managerial training program par excellence, which trains its participants to reach positions of responsibility in a company. The MBA therefore not only provides management training but also ensures recognition from the entire business community. Therefore, it is the best program to gain and consolidate new tools and knowledge, through experience that facilitates the transition towards a better job in our professional careers.
In addition, being this master in an online version, you can have quality learning anywhere! We have more than 10 years in online learning education and we are a member of Grupo Planeta de Agostini, the leader in providing programs in online mode, our "distance" courses offer all the contents of classroom learning, in order to use a complete and professionalizing experience.
Curriculum
Program Structure
Rome Business School's Online International MBA is structured to provide participants with complete and thorough preparation for the world of business and management. The program's structure follows a path that examines the three key topics of business: awareness, innovation, and transformation. Each aspect is deeply analyzed in four specific modules dealing with the best practices and methods of management, strategic use of resources and leadership, connected to each other in order to give participants a full perspective on the business world.
Rankings

Top 100 – Global Ranking
Program Outcome
Learning Objectives
At the end of the course of study, the participants will have a strong knowledge of the following thematic areas:
Skills Development: promoting essential knowledge in all departments of a company: marketing, finance, accounting, human capital, and operations.
Leadership in Organizations: development of the tools and skills necessary for leadership: teamwork, motivation, communication, corporate ethics, and social responsibility.
Entrepreneurial Spirit: strengthening the entrepreneurial spirit and laying the foundations for the creation of new businesses, while promoting innovation and creativity.
Sustainable Growth: easily evolve into complex and competitive national and international organizations within a framework of sustainable development.
Business Change Management: adaptation and anticipation of the need to change the organization with the key objective of remaining competitive.
Global Vision and Innovation: manage the flexibility of the organization in response to new technologies, new markets, and the evolution of society. Furthermore, at the end of the program, a business plan is also planned, which consists of a group project with the aim of developing a business plan that will achieve an objective of an existing or fictitious company. All teams are led from the initial stage of the project.
Career Opportunities
Rome Business School's Career Services Department offers an exclusive and integrated set of services in order to support the MBA students in their professional growth and to provide them a competitive advantage in the job market on an international scale. A specific full-time MBA path is designed to allow you to assess and develop new skills, strengths, interests, values, and personality.
The Career Service offers the following activities:
Individual Career Counselling Meeting
Rome Business School's Official Career Portal
Professional Workshops
Entrepreneurial Webinars
Rome Business School's Talent Focus