Master in
Master in Web Marketing, Branding and Merchandising
MIA Digital University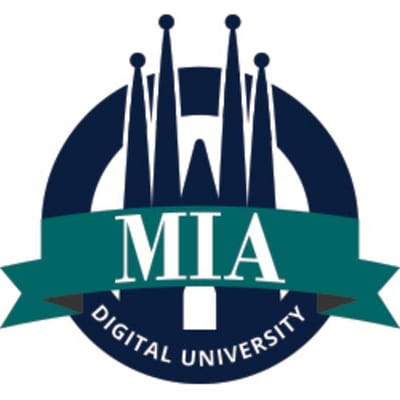 Key Information
---
Study format
Distance Learning
Tuition fees
EUR 3,900 / per year
Application deadline
Request info
Earliest start date
Request info
Introduction
Digital marketing is central to a company's global strategy that needs to transform the way it approaches markets and clients. The digital environment offers new and powerful channels for communicating with potential customers and companies require a well-structured digital marketing plan to understand and predict consumers' behaviors. The Master in Web Marketing, Branding and Merchandising is a comprehensive online program that provides a broad overview of the digital marketing landscape and of the use of digital technologies to analyze complex data, study the market and establish effective relationships with customers through branding and online marketing policies. After a theoretical part students will be involved in various practical activities and tasks that allow them to understand how to use digital content and marketing strategies according to the objectives of the company.
Key areas
Marketing Fundamentals
Branding (brand architecture, brand identity, packaging, etc.)
E-Commerce and E-Marketplace Platforms
Product & Service Innovation
Distribution Channels
Sales Management
Business Information Systema
Consumer Behaviour
Social Media Marketing
Digital Marketing strategy and planning
The program is an official European master degree in compliance with the European Higher Education Area awarding 60 ECTS.
The Master is a dual degree with UDIMA -Universidad a Distancia de Madrid, the first online university in Spain accredited by thhe Spanish ministry of Education. All the students who succesfully complete the Master, will receive a dual degree by MIA DIgital University and UDIMA.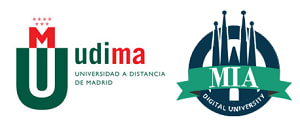 A fully online study model
The Master's can be attended completely online through the online platform "MIA University Campus" where you can find the video - classes recorded by the professors, the webinars in real-time when you have the opportunity to interact with your peers and instructors, the case studies, and the other study and assessment material. The online study material includes:
Video lessons and teaching material available on the online MIA platform accessible 24/7 from different devices (PC, smartphones, tablets)
Power-point presentations that summarize the main contents of the video lessons available for download on the platform
In-depth content about the main topics of the various modules
Articles and case studies on relevant topics related to the course
The interactive assessment, tests, and case studies to be solved by the students
Webinars in real-time and discussion forums
Final project work developed with the coordination of the Academic Director
Next intake
April 24, 2023 and May 22, 2023 for the summer semester
September 14, 2023 for the fall semester
Program Outcome
This Master's program prepares digital marketing experts through an in-depth discovery of the power of analytics to drive business success in small organizations and multinationals. The main objectives of the master are:
Train experts in the latest trends in online marketing applied to the business world and the digitalization of companies
Provide a deep understanding of digital marketing tools to detect opportunities and define strategies that optimize the web presence of any company
Train professionals in the domain of all relevant aspects of digital marketing (search engine optimization, search engine marketing, social media advertising, inbound marketing, etc.)
Prepare professionals in social media, e-commerce, and online marketing
Marketers and business leaders from around the globe are eager to embrace new strategies that leverage digital.
Career Opportunities
Demand for marketers who can effectively manage the digital landscape is strong. 75% of managers consider it a challenge to find professionals with the up-to-date digital marketing skills they need. The Master's Degree in web marketing, branding, and merchandising provides a comprehensive study of fundamental marketing and communication theory, as well as practical skills, abilities, and tools in content development through both traditional and digital media. Upon completion of this master degree, graduates can find employment in different companies or can work as a freelance with the following positions:
Social Media Manager
Digital Communication Manager
Brand Manager
Digital Marketing Manager
New Media Publishing
Social Media Specialist and Consultant
Events Manager
Sponsorship Specialist
Fundraising Specialist
Curriculum
The curriculum of the Master is designed to provide students with specialized skills related to international management and e-business, social media, digital marketing strategy, and web analytics as a performance tracking tool and brand management. Students are therefore offered the chance to enhance their job prospects through a wide range of courses designed to foster key soft skills including public speaking, emotional intelligence, leadership, team building.
Scholarships and Funding
Scholarship Program
The University scholarship program includes scholarships of 10%, 20%, and 30%dedicated to qualified students. In order to apply for the scholarship, students are required to send the following documents to the admissions office.
Copy of ID
Copy of bachelor degree diploma
Curriculum Vitae
Scholarship application form
The University offers students the possibility to pay their tuition in different installments ( up to maximum 6) during the 12 months thanks to a personalized study plan.