Certificate in
Post-Baccalaureate Residency Licensure Certificate
Methodist University Online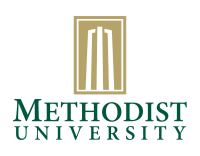 Introduction
Methodist University's online Post-Baccalaureate Residency Licensure Certificate is designed for students who have completed a bachelor's degree and wish to enter the field of teaching in a K-12 setting in North Carolina using an alternative pathway to licensure. Applicants must be employed or seeking employment with a public or public charter school in North Carolina. The program consists of 18–22 credit hours and can be completed in one year.
As a student, you will choose from seven concentrations, including options in elementary education, middle grades, secondary education, special education, arts, music, and more. You will complete all state-required licensure exams throughout your program, rending you a qualified professional educator.
Courses focus on the pedagogical practices needed for successful teaching in a wide range of areas, including lesson planning, classroom management, and teaching best practices. You will study online with the flexibility to complete your program while continuing to teach. You'll also work closely with instructors and faculty supervisors for mentorship and support through virtual conferences and coaching cycles. Student teaching requirements are met in your own classroom so you can apply what you learn immediately.
After program completion, students are licensed K-12 teachers in their chosen concentration area.