Master in
Master of Education in Educational Leadership with a Specialization in Instructional Technology
Methodist University Online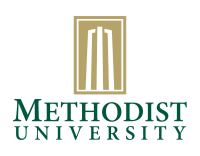 Introduction
Methodist University's 100% online Master of Education in Educational Leadership focuses on current trends and issues in education, high-impact 21st-century leadership skills, school improvement methods, and more. This program includes a required Instructional Technology Specialization, which is aligned to ISTE Standards for Educators and leads students to build a strong pedagogy in the intentional use of technology in education.
There is a growing demand for teacher leaders with proficiency in using technology for assessment, engagement, differentiation, and more. With the skills and knowledge delivered by MU's program, you'll be poised to fill this need as a professional with leadership training and valuable knowledge of instructional technology.
This flexible, affordable MEd is designed and taught by expert educators in a welcoming online learning environment. You'll study on your schedule and complete 36 semester hours, including two capstone courses, to earn this degree. In just two years, you can graduate ready to pursue leadership opportunities with your master's degree.
Advance in your career and make a more meaningful impact by earning an MEd in Educational Leadership with an Instructional Technology Specialization from MU. Financial aid is available, and military-affiliated students may qualify for added savings. No GRE/GMAT required. Learn more and apply today.