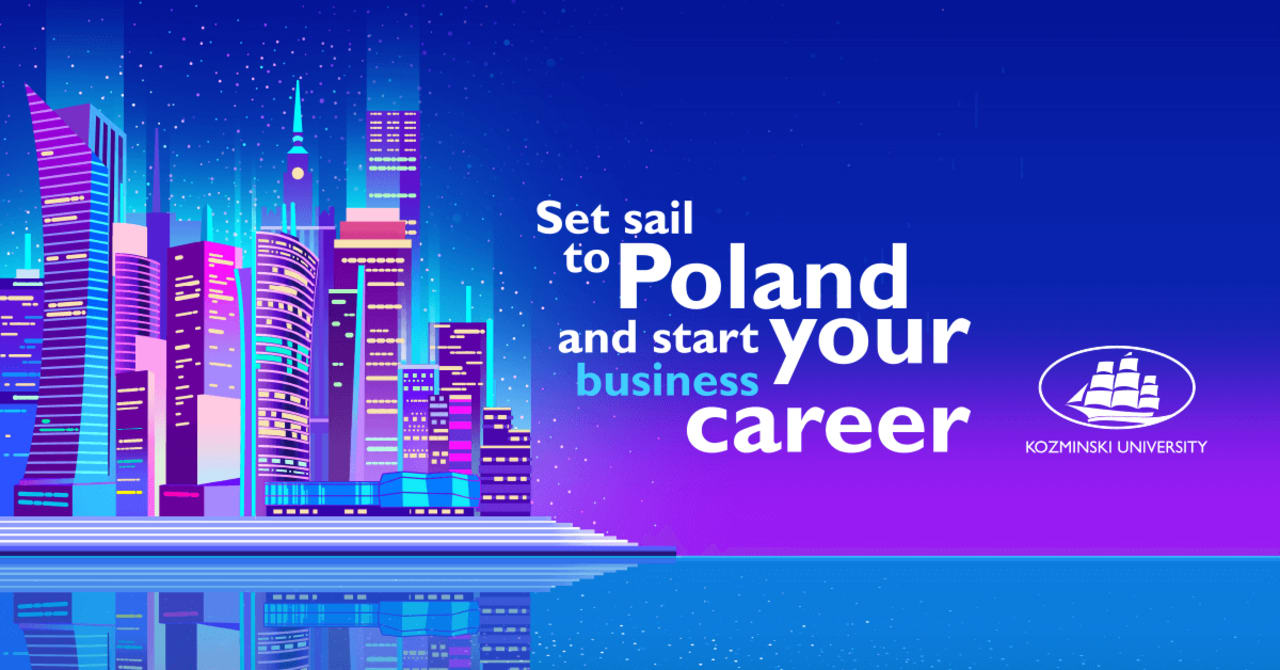 Bachelor in
Bachelor in Management
Kozminski University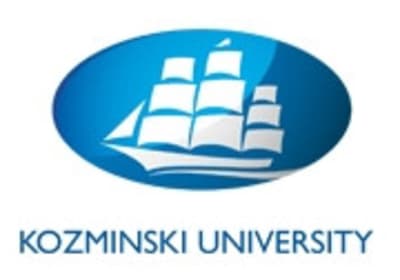 Key Information
---
Study format
Distance Learning, On-Campus
Tuition fees
EUR 5,520 / per year *
Application deadline
Request info
Earliest start date
Request info
* 1st year tuition
Introduction
The three-year Bachelor Program in Management (equivalent to a BSc or a BComm degree) is designed for students who are interested in pursuing managerial and entrepreneurial careers in both domestic and international companies.
Conducted in English, the program consists of six semesters. Its objective is to provide students with a solid foundation in management, finance, accounting, human resource management, and other business-related areas in a real-world setting.
Guided by our accomplished faculty students acquire the comprehensive knowledge, practical skills, and analytical tools needed to establish a successful enterprise or perform effectively as a manager.
The program includes a professional internship and enables students to choose a major in Entrepreneurship, Marketing, International Management, HoReCa (Hotel, Restaurant, Catering) Management or Digital Society & New Media. Each major offers its participants the ability to gain a deeper knowledge and to fine-tune the skills within specific areas of management necessary to successfully confront the numerous challenges when pursuing an international professional career.
Graduates receive a Bachelor in Management diploma. Additionally, they get a diploma's supplement stating which major the student finished.
Double Degree Programs
During the course of study, students of the Bachelor in Management Program have the opportunity to go on their second year to our partner university for a so-called double degree program, thanks to which they will receive not only the diploma of Kozminski University but also from our partner university!
Double Degree Programs on the Bachelor in Management Program:

Curriculum
Majors
International Management
Entrepreneurship
Marketing
*Majors will launch provided that the required amount of students sign up.
Selected Courses
Principles of Management
Principles of Psychology
Microeconomics
Strategic Management
Introduction to International Management
Project Management
HR Management
Principles of Macroeconomics
Principles of Marketing
Negotiations
Sustainable Development
Principles of Entrepreneurship
Business Plan
Qualitative Research
Corporate and Business Law
Management Business Games
Interpersonal Communication
Report Writing & Presentation Skills

Computer Science
Ethics in Business
Principles of Law
Quantitative Methods
Critical Thinking
Organizational Studies
Managerial Statistics
Principles of Finance
Preparing Financial Statements
Managerial Accounting
Corporate Finance
European Union Functioning
Business English for LCCI
Foreign language II - German /Polish/Spanish)
Sports
Elective Courses
Bachelor Seminar
Internship
Class Schedule
Classes take place from Monday to Friday in the morning and in the afternoon.
Rankings
Rankings
Best business school in Central and Eastern Europe according to the Financial Times ranking – ranked 48th in Europe
Best economic higher education institution in Poland according to the Perspektywy ranking
Best non-public higher education institution for 21 years according to the Perspektywy ranking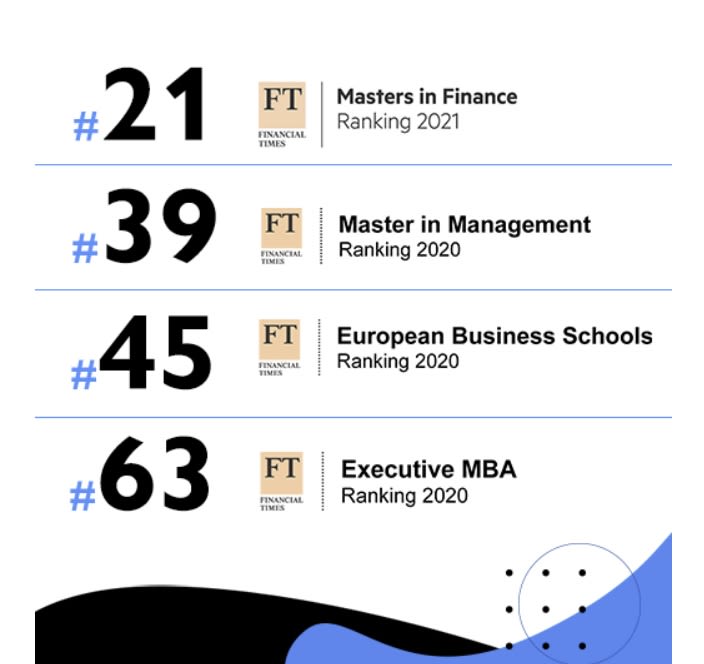 Program Outcome
What you gain from your studies
Practical skills and analytical tools needed for the creation of a new business venture
Entrepreneurial skills and knowledge required to take advantage of available opportunities and tackle the problems of business development
Knowledge and skills needed to become an entrepreneurial leader in various organizations (profit and non-profit)
Knowledge regarding the specificity of the family business and succession processes
Creative thinking and problem-solving skills
Practical knowledge of planning and conducting marketing activities in different organizations
Practical knowledge on how to develop successful strategies for achieving marketing objectives
Skills and competencies in the use of Information and Communication Technology (ICT) marketing tools
Practical ability to conduct marketing research projects – planning and implementation
In-depth knowledge on how to explore new markets by means of international marketing activities
Practical knowledge of contemporary trends in marketing (e.g., social media marketing, viral marketing, etc.)
Knowledge regarding the international and intercultural aspects of management and organizations
An understanding of the impact of cultures on organizations
The ability to understand and work in an international/multicultural environment
The ability to understand and apply management concepts in diverse cultural settings
Scholarships and Funding
Scholarships for the best candidates
Candidates who have achieved at least 470 qualifying points have the possibility to apply for the "Scholarship for the Best Candidates".
The awarded candidates are chosen based on a ranking system.
Only applications submitted until the 15th of July will be considered for the scholarship. The candidates, who were granted a scholarship will be informed about it at the latest on July 31st.
Career Opportunities
Career opportunities after your studies
A manager in Polish branches of foreign enterprises.
A specialist in foreign market development.
A specialist in international cooperation in public/local administration offices and in the non-governmental sector.
A leader of international projects.
An entrepreneur who pursues opportunities in the international market.
An entrepreneurial leader in different organizations.
A marketing specialist – ready to work in both domestic and international environments as well as corporations, small and medium-sized companies, interactive or marketing research agencies, and/or public institutions.
A junior marketing manager responsible for the development of brands in local, domestic, or international markets.
A marketing consultant with in-depth knowledge of the newest concepts and marketing tools.
An entrepreneur prepared for the succession of the family business.