BSc in
Bachelor Software Development (BSc)
IU International University of Applied Sciences – Online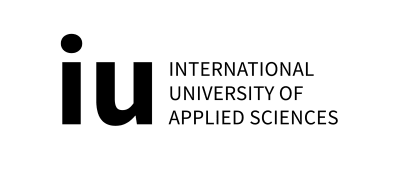 Key Information
---
Study format
Distance Learning
Application deadline
Request info
Earliest start date
Request info
* full-time tuition. The price displayed includes the graduation fee and scholarship. Students don't have to pay for additional fees, such as applications
Introduction
Your degree, your way:
From smartphone apps to traffic light control, to complex ERP systems: more and more processes in business and society are based on software systems. According to the World Economic Forum, cloud computing, big data analysis, the Internet of Things, IT security, artificial intelligence, e-commerce and virtual reality will determine our future - topics that are all an integral part of your distance learning programme in software development. You will acquire programming and software engineering skills that will qualify you for key positions in the international IT industry.
Why IU?
#1 University in Europe: Join Europe's largest private university with more than 100,000 students
Digital, Flexible, 100% online: We offer outstanding, innovative digital learning materials and a great online environment for success in your studies wherever you are with online exams 24/7.
Fully Accredited Degree: All our degrees benefit from German state accreditation and are internationally recognized in major jurisdictions such as the EU, US and UK
Study at a 5-star rated University from QS: IU is the first German university that achieved a 5-star rating for Online Learning from QS
International Focus, Practical Orientation: We focus on practical training and an international outlook which gives IU graduates a decisive advantage: 94% of our graduates have a job within six months of graduation and, after an average of two years on the job, 80% move into management. Plus, we work closely with big companies such as Lufthansa, Sixt, and EY to give you great opportunities and insights.
Scholarships available: Depending on your situation, motivation, and background, we offer scholarships that can reduce your tuition fees by up to 75%.
A short overview of your study
Degree: Bachelor of Science (BSc)
Credits: 180 ECTS
Study duration: Standard period of study: 36 months.
Different time models possible
Study model: Online study including online exams 24/7
Fees: from 94 euros per month
Free Upcoming IU Webinars and Q&A
Study with IU! Find out what it's like to study at IU. IU's experienced study advisors will give you all the insights about the study programmes, online or on campus, study coaching and more. It's also a great chance to ask your questions in the live Q&A
Career Opportunities
Career Relevance
After your bachelor's degree in software development, you can expect excellent career prospects across all industries with lucrative opportunities. Pick from a career path involving some of the following positions.
Javascript developer
As a JavaScript Developer, you are a professional who takes care of JavaScript applications in the company. This means that you are largely responsible for programming websites. You are also responsible for the architecture of the backend and the implementation of interactive applications in order to create the most intuitive interface possible for the user.
Frontend engineer
If you have extensive experience with HTML, CSS and JavaScript, a career as a frontend engineer is the right one for you. In this position, you specialise in the development of user interfaces. Through your work, you ensure that no security gaps occur. You also ensure that the programming code remains clear so that you can create the correct software.
Backend developer
As a Backend Developer, you design complex processes in the background and ensure that everything runs smoothly. Your work focuses on the development of server-side software without a graphical user interface. You also take care of the conception, implementation and maintenance of software systems or applications.
Curriculum
The compulsory subjects of your Bachelor's degree are divided into three areas: software engineering (including courses on, data protection and IT security), programming and technology skills (including topics such as programming websites and web-based information systems, database modelling and database systems, web application development or cloud programming) and methodological skills (e.g. IT project management or techniques and methods for agile software development). In your elective modules, you can also specialise in selected areas, such as AI Specialist, or Internet of Things and Embedded Systems.
1st semester
2nd semester
3rd semester

Software Engineering Principles
Introduction to Academic Work
Requirements Engineering
Specification
Object-oriented Programming with Java
Database Modeling and Database Systems

Data structures and Java class library
Collaborative Work
Web Application Development
Algorithms, Data Structures, and Programming Languages
Software Quality Assurance
IT Architecture Management

Programming Information Systems with Java EE
Ethics and Sustainability in IT
IT Project Management
Techniques and methods for agile software development
Introduction to Mobile Software Engineering
Seminar: Software Engineering

4th semester
5th semester
6th semester

Project: Agile Software Engineering
IT Infrastructure
IT-Service Management
Project: Mobile Software Engineering
Cloud Programming
Introduction to Data Protection and IT Security

DevOps and Continuous Delivery
User Interface Design and Ergonomics
Introduction to Programming with Python
Project: Software Development
Electives A

Electives B
Electives C
Bachelor Thesis
Electives
In the fifth and sixth semesters, you choose your three electives with a total of 30 ECTS credits. Some of the areas you can choose to deepen your knowledge in include Data Science and object-oriented programming with python, financial services management, Internet of Things and Embedded Systems, IT Security Consulting, Business Intelligence and more.
Applied sales
Mathematics basics
Mathematics: Linear algebra and analysis
Statistics basics
Data science and object-oriented programming with Python
Internet of things and embedded systems
Robotics and production engineering
International management and leadership
International marketing and branding
Supply chain management
Financial services management
Business intelligence
Smart devices

Smart factory
Smart mobility
Smart services
IT security consulting
Business consulting
Augmented, mixed and virtual reality
Digital business
Infrastructure and operations
Data engineer
User experience
AI specialist
Studium generale
Study Model
Online

This course is offered completely online. You can decide when and where you study with no need to wait for the term to start.

Study remotely from your own home
Use digital distance learning materials
Chat online and receive remote coaching

Your own pace

We have full-time and part-time study models for this course. You can choose how you want to study and how long this course will take to suit your schedule.
Rankings
Accredited.
IU International University of Applied Sciences has received system accreditation from EQAR, FIBAA, the German Accreditation Council, the German Council of Science and Humanities, and WES Canada. This means their courses, faculty and teaching material all match the rigorous standards that have been set for them and they can now accredit their own programmes.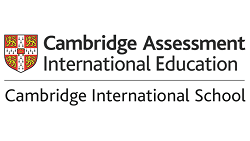 Cambridge Assessment International Education / High School Diploma Study Pathway.
IU is the first online university partner of Cambridge International's high school diploma pathway. By working with Cambridge, IU offers students a special chance to finish their high school diploma while studying for a bachelor's degree. Since they are required for your bachelor's degree, these high school diploma courses are free of charge. The Study Pathway is a unique 12 months course with a 150-hour workload which you take alongside your bachelor courses. The Pathway concludes with an exam that can be retaken an infinite number of times.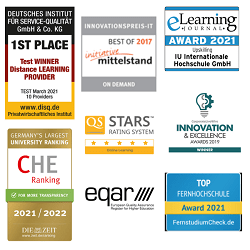 Award-Winning.
In the current CHE ranking (2020-2022), IU tops the Business Administration field in categories of "General Study Conditions," "Contact with Lecturers," "Study Programmes Offered," "Examinations," "Study Organisation," and "Practical Orientation," winning a total of six out of 25 categories and achieving more top category rankings than any of the more than 300 institutions. IU received a 5-star rating for online learning and a score of 99 out of 100 in the QS, Quacquarelli Symonds, Stars Report, making it the first German university to receive such a ranking. It was also given the FIBAA Premium Seal for Digital Excellence and has excelled in 15 out of 23 criteria, including categories like Future Orientation, Knowledge Management, Quality Assurance of Teaching, and retaining the rating for the next five years. It is the only training provider to get the DtGV's Service Award 2022 from the German Society for Consumer Studies given that it has a dedicated academic staff and trained study coaches who ensure that students are supported throughout their studies.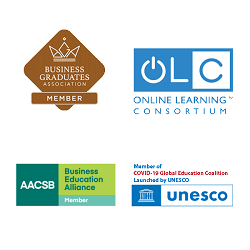 Connected.
IU is a member of the Business Graduate's Association, Online Learning Consortium, AASCB, and UNESCO's Global Education Coalition. These memberships give them connections to other institutions, companies, and NGOs as well as top-tier degree programmes and lifelong learning development courses. By leveraging cutting-edge technology, IU helps students in need to continue their education and pursue lifelong learning.
Scholarships and Funding
Online Scholarship Initiative: Save up to 67%!
Get your European degree from the largest universities for online studies in Germany — without sacrificing your job or family commitments!
With over 20 years of experience and over 100,000 worldwide students, IU offers scholarships from 25% up to 67%.
Distance learning at IU International University of Applied Sciences offers students the opportunity to develop on a personal and professional level and advance their careers through flexible, practice-oriented study.
You can start your education whenever you want - studies and exams are available to you 24/7.
(Be aware that IU scholarships are not available to students from Germany, Austria, and Switzerland)
Make the first step: