BSc in
B.Sc. Applied Artificial Intelligence
IU International University of Applied Sciences - Online Studies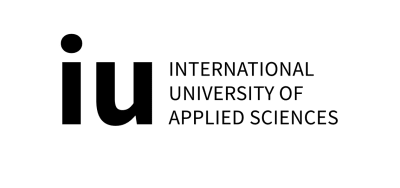 Key Information
---
Study format
Distance Learning
Tuition fees
EUR 1,492 / per year *
Application deadline
Request info
Earliest start date
Request info
* Price starts from, includes up to 50% discount on tuition fees. For a personalized offer contact the University.
Introduction
Artificial intelligence tools are becoming a larger presence in our everyday lives and will continue to do so for years to come.
From chatbots and personal digital assistants like Alexa or Siri to self-driving cars and futuristic defence robots – AI is here to stay and set the course for virtually any industry in the foreseeable future.
This gives young professionals a unique chance to participate in an exciting field, where they can work in almost any sector. The Bachelor's degree in Artificial Intelligence from IU is designed to help you make the most of this, and launch your career in optimal conditions.
Familiarise yourself with robotics, machine learning and speech and image processing, and, at the later stages of your studies, choose the specialisations that match your future career goals, from autonomous vehicles to Industry 4.0. Get ready to shape the future.
Study the way you want with IU Online Studies!
Affordable: Enjoy discounts on online tuition fees of up to 50%
Flexible payment options: Monthly instalments or pay in full, upfront
All-inclusive fees: Course materials included, no application fees Flexible
Start online right away with no fixed semester intakes
Study and take exams 100% online, at your own pace and schedule - 24/7 access to IU's digital learning materials, wherever you are Career-oriented
IU offers degrees in in-demand fields, with specialisations
Courses combine theory and practical application through real-world case studies
Learn from industry professionals who are experts in their fields
IU's goal is to give you the tools you need to build a successful career. That's why 94% of their graduates find a job within 3 months of graduating.
Succeed globally with IU
With IU, you can open doors to career opportunities all around the world. Their state-accredited programmes will equip you with industry-relevant knowledge and in-demand skills so you can stand out in the global job market. Studying at IU also gives you access to their exclusive online career services and events and connects you to their global network of academic partners so you can study in the US, Canada, or Australia.
Free Upcoming IU Webinars and Q&A
Study with IU! Find out what it's like to study at IU. IU's experienced study advisors will give you all the insights about the study programmes, online or on campus, study coaching and more. It's also a great chance to ask your questions in the live Q&A
Curriculum
In this study programme, you'll explore the principles of mathematics and statistics that are crucial for developing AI. You'll then dive into the topics of machine, deep and reinforcement learning.
From there, you'll continue your academic journey by focusing on speech and image processing, cloud computing and software development. Develop a well-rounded body of knowledge, to serve you in any future technical development position.
For the final part of your studies, before working on your thesis, you will decide what you want to focus on – choose from a wide variety of topics related to automation, production and management. Use this stage to really focus on the skills you want to develop, for the career you want to have.
1st Semester
2nd Semester
3rd Semester

Artificial Intelligence
Introduction to Academic Work
Introduction to Programming with Python
Mathematics: Analysis
Collaborative Work
Statistics - Probability and Descriptive Statistics

Object-Oriented and Functional Programming with Python
Mathematics: Linear Algebra
Intercultural and Ethical Decision-Making
Statistics - Inferential Statistics
Cloud Computing
Cloud Programming

Machine Learning - Supervised Learning
Machine Learning - Unsupervised Learning and Feature Engineering
Neural Nets and Deep Learning
Introduction to Computer Vision
Project: Computer Vision
Introduction to Reinforcement Learning

4th Semester
5th Semester
6th Semester

Introduction to NLP
Project: NLP
Introduction to Data Protection and IT Security
Data Science Software Engineering
Project: From Model to Production
Seminar: Ethical Considerations in Data Science

User Experience
UX-Project OR
Project: Edge AI
Introduction to Robotics
Agile Project Management
Electives A

Electives B
Electives C
Bachelor Thesis
Specialisations
All of our study programmes offer a wide selection of industry-focused specialisation courses for you to choose from.
The specialisation courses that are a part of this study programme, are a cluster of courses dedicated to diving deep into a specific topic related to the programme. When choosing a specialisation, you get to explore a potential future career path, or just develop a strong knowledge base about a topic that particularly interests you.
In semesters 5 and 6 of this programme, you'll choose three specialisations, amounting to 30 ECTS. You have a wide range of options to choose from, according to your interests and ambitions. Some of the specialisations offered are:
Automation & Robotics
Autonomous Driving
Business Analyst
Financial Services Management
Scholarships and Funding
Secure Your Dream Career – Enjoy Up to 50% Savings!
Join IU's accredited online program and save up to 50% on your tuition fees.
With IU's cutting-edge online campus and digital learning resources, you'll access affordable, high-quality education.
The best part? You decide when to begin!
* Note: This exceptional discount applies exclusively to the online study model. For insights on On-Campus study discounts, reach out to IU's Study Advisory Team.
Career Opportunities
As an expert in applied artificial intelligence, you can expect fantastic career opportunities across a wide range of industries.
By acquiring a necessary professional skill, that will be in high demand around the world in the foreseeable future, you'll position yourself at a wonderful starting point for not only developing an exciting career but also enjoying lucrative opportunities.
Thanks to our multidisciplinary approach in this study programme, your skills will be easily implemented in any industry that utilises AI. Choose the specialisations that best suit your interests, and prepare yourself to jump right into the field of your choice, be it autonomous vehicles or smart homes.
As an AI professional, you could work in roles such as:
Autonomous Vehicles Developer
The highways of tomorrow will be full of self-driving cars: it's not a matter of if, but of when. And that's not the only place where autonomous machines are expected to be more visible: production lines, international logistics and warehouses around the globe are aiming to include more and more robotics in their work in the future.
That's why after graduating, you'll be able to apply your professional skills and knowledge and work for development teams in any sector you find appealing.
Smart Factory Developer
Understand the way in which robots use AI to learn and adapt. How do developers teach machines to memorise and respond?
As an expert in smart factory robotics design, you'll develop all of the necessary skills for working in Industry 4.0 companies, and help bring change to manufacturing plants and product design firms.
Augmented Reality (AR/VR) Developer
Virtual (or augmented) reality isn't all just fun and games, as great and enjoyable as that aspect is. It can also be used for groundbreaking social and psychological research, defensive purposes and therapy.
With an applied artificial intelligence degree from IU University of Applied Sciences, you can take part in this vital field of technological development, and work on a wide variety of interesting projects.
Change what the world thinks about the possibilities that AI offers, and make a real difference in people's lives, while enjoying every step of the process.
Rankings
Accreditations, Rankings, and Memberships
Accreditation

IU International University of Applied Sciences has received system accreditation from EQAR, FIBAA, the German Accreditation Council, the German Council of Science and Humanities, and WES Canada. This means their courses, faculty and teaching material all match the rigorous standards that have been set for them and they can now accredit their own programmes.

Cambridge Assessment International Education / High School Diploma A-Levels

IU is the first online university partner of Cambridge International's high school diploma A-Levels. Students now have a chance to earn a high school diploma while studying for a bachelor's degree – with no additional cost. The A-Levels is a unique 12-month course with a 150-hour workload, which you take alongside your bachelor courses. The A-Levels concludes with an exam that can be retaken an infinite number of times.

Awards and Rankings

IU is the first German university to get 99/100 on the QS Stars Report, but they also topped 6 out of 25 categories in Germany's largest university ranking by CHE. Recently IU's online MBA programmes ranked 26th in Europe in the prestigious QS Online MBA Rankings, an impressive achievement and recognition on the international stage.

Memberships

IU is a member of the Business Graduate's Association, Online Learning Consortium, AASCB, and UNESCO's Global Education Coalition. These memberships give them connections to other institutions, companies, and NGOs as well as top-tier degree programmes and lifelong learning development courses. By leveraging cutting-edge technology, IU helps students in need to continue their education and pursue lifelong learning.
Global Recognition and Academic Partners
Global Recognition
As IU is recognised by WES Canada and U.S., their degrees can be converted into points according to local academic standards in the Canadian Immigration Point System and American Immigration Assessment Scheme. In April 2023, IU became the first German university to be a member of the Association of Indian Universities (AIU), the only public authority in India that ascertains foreign institutions. This means that their on-campus programmes are recognised by employers across India and other Commonwealth Nations.
Academic Partners
Through partnerships with academic institutions from all around the world, IU offers a more affordable way for students to study and live abroad. The IU Study Abroad Alliance lets students start a degree online at IU and complete it at a partner university in the US, Canada, Australia or Europe, where career opportunities are aplenty.