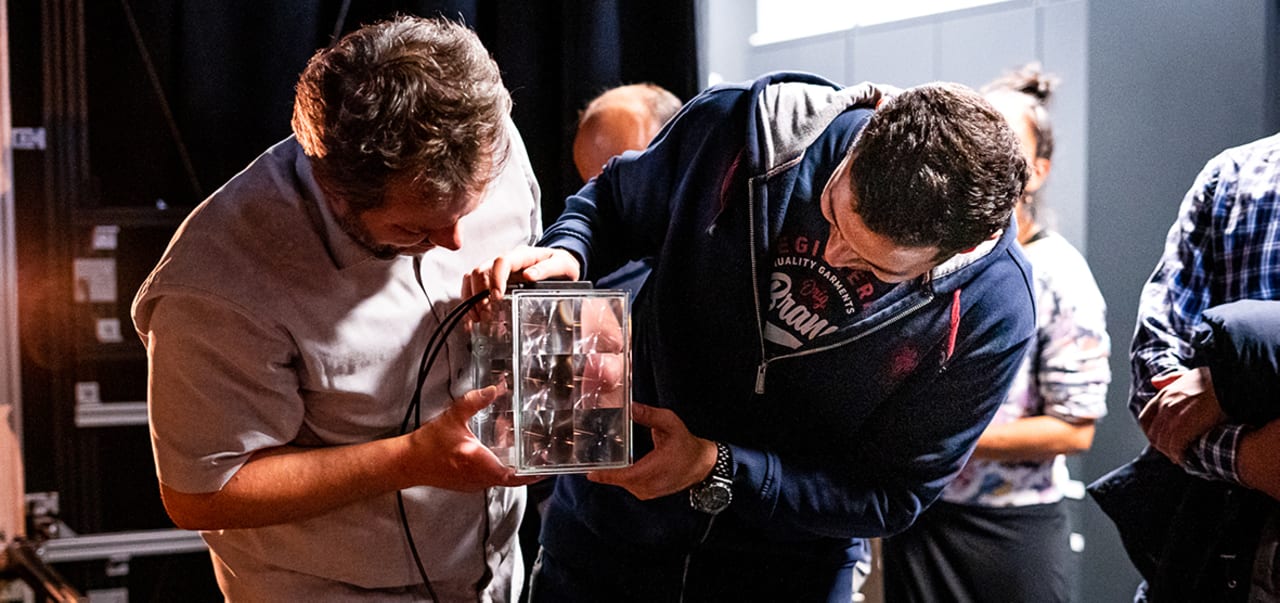 Certificates of Solar Energy Engineering
Fraunhofer Academy
Key Information
---
Study format
Distance Learning
Tuition fees
EUR 2,500 / per semester *
Application deadline
Request info
Earliest start date
Request info
* An additional matriculation fee (currently 161 €) applies for each semester.
Scholarships
Explore scholarship opportunities to help fund your studies
Introduction
Focus on specific topics in Solar Energy
Specialize in a particular topic of solar energy to broaden your expertise and multiply your career opportunities without disrupting work or family life. With an accredited Certificate of Advanced Studies (CAS), you earn a joint degree from two prestigious institutions: the University of Freiburg and the Fraunhofer Institute for Solar Energy Systems ISE.

Discover our part-time and online study offer - tailor-made for professionals like you. It consists of 6 accredited certificates with a study duration of 6 months (or 12 months) and a scope of 10 ECTS each. Each subject-specific certificate provides you with a flexible opportunity to enhance your expertise within a short period of time, next to your job.
Our Certificates are a gentle way to get in to our Masters program. The requirements to join are less and they allow the students to see if the studying pace allows them to continut with their daily job and family commitments.
Our Certificates in Crystalline Sylicon Photovoltaics - is the Certificates we offer with a less of a technical side, for those who do not have a strong electrical or enginerring background.
The secon less technical certificates we offer is on Photovoltaics and the Renewable Energy Grid.
Whichever you choice, be sure that your learning experience will enhace your career paths, broaden your working opportunities and strenghtetn your network.
Once a year, we host a voluntary on-campus week in Freiburg, generally in mid-September. Students are invited to join us to meet instructors and fellow students and to get hands-on experience at our facilities.
Curriculum
Certificate of Advanced Studies Solar Cells and Photovoltaic Systems
Course Start: Mid October
Duration: 6 months
Credits: 10 ECTS
Application: Until October 1st
Certificate of Advanced Studies Solar Thermal Energy Technology
Course Start: Mid October
Duration: 12 months
Credits: 10 ECTS
Application: Until October 1st
Certificate of Advanced Studies Crystalline Silicon Photovoltaics
Course Start: Mid April
Duration: 6 months
Credits: 10 ECTS
Application: By April 1st
Certificate of Advanced Studies Solar Cell Characterization and Modelling
Course Start: Mid October
Duration: 6 months
Credits: 10 ECTS
Application: Until October 1st
Certificate of Advanced Studies CAS PG – Photovoltaics and The Renewable Energy Grid
Course Start: Mid April
Duration: 6 months
Credits: 10 ECTS
Application: By April 1st
Certificate of Advanced Studies CAS ST – Advanced Solar Cell Technologies
Course Start: Mid October
Duration: 6 months
Credits: 10 ECTS
Application: Until October 1st
Certificate modules
Solar Cells and Photovoltaic Systems
Solar Thermal Energy Technology
Crystalline Silicon Photovoltaics
Solar Cell Characterization and Modelling
Photovoltaics and the Renewable Electricity Grid
Advanced Solar Cell Technologies