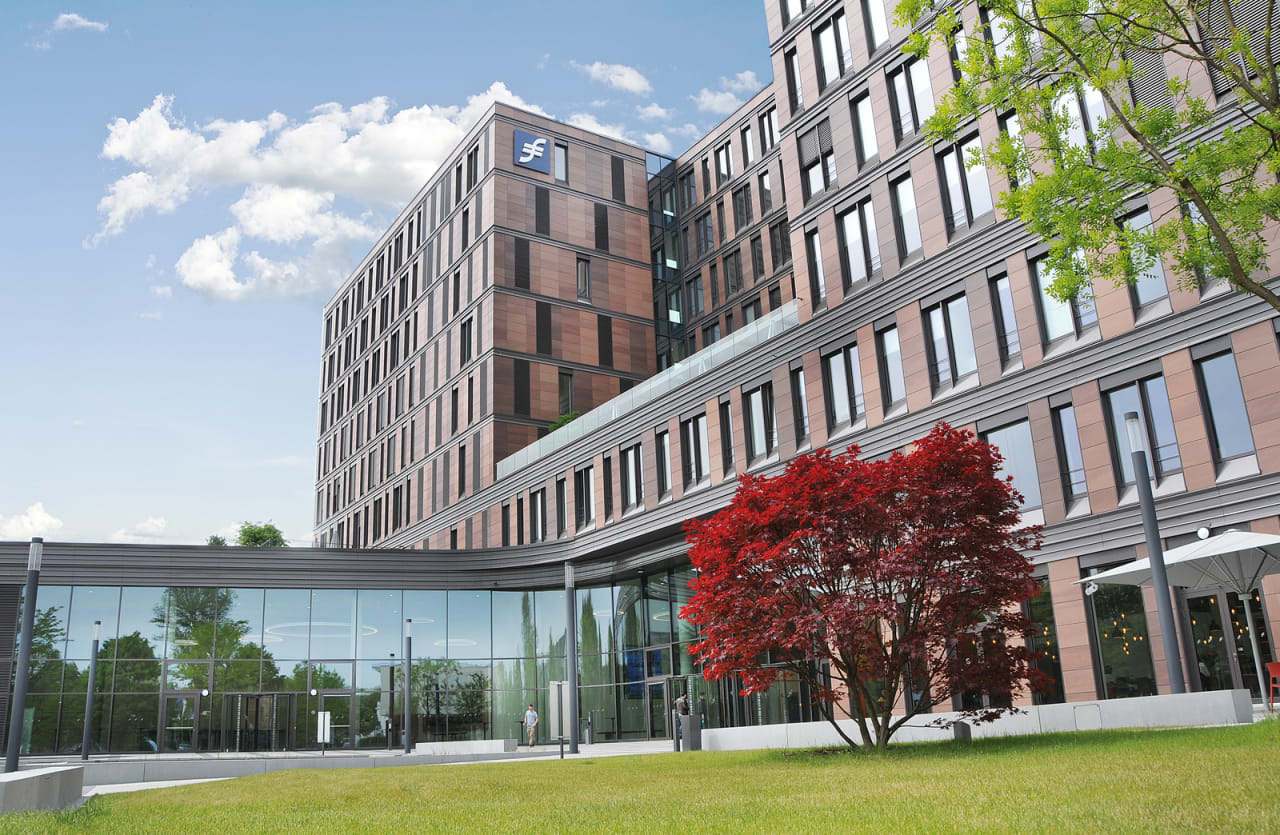 MA in
Master of Leadership in Sustainable Finance - Online
Frankfurt School of Finance & Management - Sustainable World Academy
Key Information
---
Campus location
Frankfurt, Germany
Study format
Distance Learning
Tuition fees
EUR 21,500 **
Application deadline
31 Jul 2024*
Earliest start date
30 Sep 2024
* Register by July 31st and benefit from our early bird discount
** discounts are available
Introduction
Master the Sustainability Transition with a graduate degree from Frankfurt School.
The programme is designed to build skills and expertise at the intersection of finance, sustainability and economic development. You will combine a grounding in some core areas of finance and leadership with a range of electives from the portfolio of our e-Campus certification courses. The master thesis is the capstone of the programme, in which you can make valuable contributions to real-world business problems. You will follow either the Green Finance Track, focusing on the low-carbon transition in finance, or the Development Finance Track, engaging in growth agendas and inclusive finance.
Highlights
18 - 24 months/ part-time/ self-study
Self-paced: Flexibility to study at your convenience
Customize your degree with two tracks and a choice of several electives
International: Benefit from a highly diverse class and lecturers who are active all around the world
Gain insights at the forefront of academic research, market practice and policy
Networking: Benefit from many opportunities to interact with your peer students and your lecturers
Ideal Students
You are the ideal candidate for this master program if:
You are a finance professional who seeks to take on a new role related to sustainability or development issues in your organization or industry
You have prior experience in sustainability or development and seek a more rigorous finance grounding for what you do through academic studies and interaction with policy makers and market participants
You bring a different background but are looking for a change in your career path
You are ready to take a leadership position in advocating financial services practices that are aligned with the climate transition, financial inclusion and other sustainability goals
You wish to follow an excellent, accredited programme alongside a full-time job to achieve your professional goals
You want to study from home while enjoying the benefits of an international class and interaction with faculty and experts
Scholarships and Funding
The Frankfurt School Scholarship Programme
The aim of this scholarship program is to provide highly talented candidates with an opportunity to study irrespective of their financial circumstances.
Scholarships cover a partial amount of tuition for the Master of Leadership in Sustainable Finance online program (maximum 30%).
Selection criteria include candidates' academic achievements (grade of an undergraduate degree), performance during the Frankfurt School selection procedure, and candidates' personal achievements (professional and international experience, extracurricular activities, social commitment, and intercultural skills,), motivation, and financial needs.
Scholarship Application
To receive a Frankfurt School partial scholarship for the Master of Leadership in Sustainable Finance you need to submit an application. The scholarship application will be completed within the online application and should include the following:
A statement delivered to our scholarship committee clearly showing what makes you an outstanding student and why you are the perfect scholarship candidate.
For this, you have three options:

A short video (maximum 2 minutes) - preferred;
PowerPoint presentation (maximum 5 slides) or
An essay (maximum 500 words)

Explain how you will finance the remaining part of the tuition fee (keep in mind that the partial scholarship might be less than 30%)
Please note that funds for this scholarship are limited.
Completed applications must be submitted by July 31st. Incomplete applications or applications received after this date will not be considered for a scholarship. Frankfurt School awards the master scholarships continuously throughout the admission process on a "first come first serve" basis. Therefore, we recommend that you apply as soon as possible.
A scholarship committee will review the scholarship candidates only once the application is completed and the applicant is admitted to the master program online. The final decision on the scholarship amount lies with the scholarship committee. The scholarship committee's decision is final and candidates have no legal entitlement to a scholarship.
Curriculum
Personalize your curriculum
Upon completion of your studies, you will be awarded the degree Master of Arts (MA) of Leadership in Sustainable Finance. You can pick one of two concentrations to specialise in
"Development Finance"
or
"Green Finance"
Each concentration will draw on some of our portfolio of 14 Electives.
Semester 1
Development Finance & Growth/ Economics of Climate Change
Accounting, Leadership & Sustainability
Elective 1
Semester 2
Strategy & Innovation
Risk, Corporate Governance & Compliance
Elective 2
Semester 3
Leadership & Change Management (online or on-campus)
Elective 3
Semester 4
Business Plan or Consultancy Project (=Master Thesis)**
Learning Approach
The programme is flexible but structured. The self-study concept allows you to fit studies into your professional & private schedule, comfortably distributing the load within the week or over the weekends. A few deadlines to keep in mind: the live-sessions, submission deadlines, and final exam dates.
Workload:
The average workload mostly depends on you: Your pre-experience in the different courses & subjects, as well as your learning style. As a very rough estimation you should expect around 15-20 hours study time per week over the 24 months duration of the programme.
Training material:
Video Lectures
Scripts
Online Tests
Case Studies
Further Readings
Discussion Forum