BSc in
Bachelor of Science (Mechanical Engineering)
Engineering Institute of Technology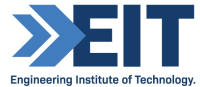 Introduction
Course at a Glance
Code: BME
Course Length: 3 years full-time
Course taught in English
Programme Details
Mechanical engineering is the field of engineering that applies physics and the material sciences to develop machinery. Mechanical engineers use the principles of force, energy, and motion to improve the safety, efficiency, and technological advancement of the world around us.
With this qualification, you will have acquired the essential knowledge which underpins both this and other fields of engineering. More importantly, you will have become a mechanical engineering technologist.
Accreditation
Like all Australian higher education providers and universities, EIT programmes are accredited by the exacting standards of the Australian Government's Tertiary Education Quality and Standards Agency (TEQSA). This bachelor's degree is provisionally accredited by Engineers Australia under the Sydney Accord. It is internationally recognized under the International Engineering Alliance (IEA) accords and the various signatories.
Program Outcome
Upon completion of this programme, you will gain skills and knowledge in the latest mechanical engineering technologies.
Career Opportunities
Potential Job Outcomes
Potential job roles include engineering and management positions in the following areas of expertise:
Mechanical design and manufacturing
Material fabrication
Mechanical power
Thermal power and diesel
Mechanical engineering contracts, sales, commissioning and consultation
Building systems
Industrial operations and maintenance
Mechanical project management and business development
Automotive engineering
Acoustics
Fluid mechanics, hydraulics, pumps and piping
Lubrication
Curriculum
Programme Structure
The degree consists of a combination of core units, sub-discipline specific 'stream' units, industrial work experience, and a final year project.
Year One
Unit Code
Subjects
Credit Points
BSC101C
Engineering Mathematics 1 (Core)
3
BSC102C
Electrical Circuit Theory and Analysis (Core)
3
BSC103C
Engineering Dynamics and Mechanics (Core)
3
BSC203C
Engineering Design and Drawing (Core)
3
BSC109C
(Part A)
Industrial Experience Research Project
0
BSC104C
Engineering Mathematics 2 (Core)
3
BSC201C
Engineering Programming (Core)
3
BME106S
Hydraulics and Pneumatics
3
BSC107C
Physics and Chemistry for Engineers (Core)
3
BSC109C
(Part B)
Industrial Experience Research Project
3
BSC110C
Industrial Experience
0
Year Two
Unit Code
Subjects
Credit Points
BME108S
Pumps, Seals, Compressors and Turbines
3
BSC105C
Mechanics of Machines (Core)
3
BSC202C
Engineering Mathematics 3 (Core)
3
BME205S
Process Plant Layout, Piping and Pipeline Systems
3
BSC302C
(Part A)
Project Planning, Management and Costing (Core)
0
BME204S
Mechanical Design
3
BME206S
Fluid Mechanics
3
BME207S
Thermodynamics
3
BME209S
Automation, Measurement, and Control
3
BSC302C
(Part B)
Project Planning, Management and Costing (Core)
3
BSC210C
Industrial Experience
0
Year Three
Unit Code
Subjects
Credit Points
BME208S
Energy Systems
3
BME301S
Lubrication, Maintenance and Condition Monitoring
3
BME303S
Heat and Mass Transfer
3
BME304S
Heating, Ventilation and Air-Conditioning Systems
3
BSC305C
(Part A)
Technology, Sustainability and Society (Core)
0
BME306S
Manufacturing Processes and Technology
3
BSC307C
Final Year Project (Mechanical Engineering)
9
BSC305C
(Part B)
Technology, Sustainability and Society (Core)
3
Additional Mandatory Units
| | | |
| --- | --- | --- |
| Unit Code | Subjects | Credit Points |
| BXX001 | Hands-on Workshop 1 | 0 |
| BXX002 | Hands-on Workshop 2 | 0 |
| BXX003 | Hands-on Workshop 3 | 0 |
| BXX004 | Hands-on Workshop 4 | 0 |
Work-Integrated Learning
EIT's Bachelor of Science programmes require students to undertake 240 hours of paid or unpaid professional work-integrated learning. This can incorporate paid or unpaid internships, site visits, contributing to industry projects, and networking activities.
In undertaking an internship, students will interact with employees and become exposed to organisational policy and culture. You will familiarize yourself with organisational communication procedures, a variety of engineering disciplines, and obtain insight and practical aptitude in projects from the planning phase to completion.
If you already have some work experience in the relevant engineering field, you may apply to have credit granted by completing the associated recognition of prior learning form.
Time Commitment & Duration
Our bachelor's degrees take three years to complete full-time, and longer for those studying part-time (up to 6 years part-time). You will spend approximately 10 hours per week, per unit, learning the programme material, and completing assessments. This includes attending tutorials.