9ced06a8 in
Bachelors in Public Relations
Eastern Oregon University Online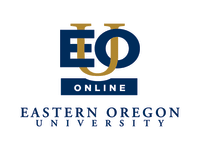 Introduction
Launch your career as a skilled professional in the growing public relations field. Eastern Oregon University's flexible, online Bachelor of Science/Bachelor of Arts in Public Relations is designed to prepare you for success in our global society. EOU accepts up to 135 transfer credits to help you accelerate your studies and graduate in as little as two years.
This program is focused on ethical advocacy to ensure graduates can present ethical messaging to consumers across diverse audiences. As a student, you will take 17 required courses that explore topics like writing, marketing and social media while completing real-world assignments to build your portfolio.
Practicum and capstone courses ensure you are prepared for the demands of modern public relations work in our interconnected world. In addition, PR students at EOU form the local chapter of the Public Relations Students Society of America, providing public relations services for local businesses and organizations.
EOU faculty are experts in their academic areas and dedicated to ensuring you achieve your academic and professional goals. You can pursue careers like public relations specialist, advertising, promotions and marketing manager, PR and fundraising manager, and communications specialist in for-profit, government, NGO and non-profit settings. Graduates of this program are also prepared to sit for the Certified Public Relations (CPR) exam.