BSc in
Bachelor of Science in Fire Protection and Safety Engineering Technology
Eastern Kentucky University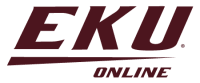 Introduction
EKU is one of only a handful of colleges and universities in the nation to offer a comprehensive fire protection and safety engineering technology degree. This unique program prepares you to use your knowledge of fire prevention and suppression to design and recommend equipment to assist organizations in safeguarding life and property against fire, explosion, and related hazards.
Format: 100% online
Credit Hours: 120 hours
Tuition:
$421 per credit hour
$250 per credit hour for active-duty military
Transfer Credits Accepted: Up to 90 hours*
Career Options: Fire protection and prevention systems designer, building inspector, fire safety director, insurance company consultant, industrial safety specialist, fire protection and safety engineer, fire protection technician, and related occupations
* A minimum of 30 credit hours must be completed with EKU
Enhance your degree with a minor or certificate
Select from a wide range of minors, allowing you to explore interests or make use of prior credits.
You can also choose from numerous undergraduate certificates in specialty areas that complement and enhance your major as you work toward your degree.
What sets our program apart?
Focused on leadership building and rooted in the latest science and technology, EKU's curriculum blends academic and professional preparation through topics such as how fire behaves, the best methods for preventing fires, and how to minimize a fire's impact.
Accelerated 8-week terms
IFSAC-accredited programs
Accredited by the Engineering Technology Accreditation Commission of ABET, www.abet.org
Nationally-renowned instructors comprised of former fire chiefs, fire marshals, engineers and investigators, prominent for their professional achievements and success in the field
Courses begin 6 times per year
Generous credit transfer policy
Reduced tuition for active duty service members
No campus visits required
Personal advisors stay with you from application to graduation
Free online tutoring and career services assistance
The dynamic, supportive learning environment
Ranked by U.S. News & World Report among the best universities offering online degrees
Why choose EKU?
EKU is a regionally accredited, brick-and-mortar university that is ranked among the nation's best colleges and has been educating students for more than a century. EKU has received numerous honors, including being named one of the best online colleges in the nation and one of the most veteran-friendly campuses.
Scholarships and Funding
Grants
Grants are a type of financial support that does not need to be repaid. Many grants are based on financial need alone, however, some grants also take academic performance, academic degree program, and/or residence status into consideration.
Grants are available at the federal and state level.
Private Loans
Private student loans are not funded or subsidized by the federal government; instead, they are funded by banks, credit unions, or other types of lenders.
The bank or lender – not the federal government – sets interest rates, loan limits, terms, and conditions of private student loans. Your ability to qualify for and borrow a private student loan may be based on numerous factors that can include your credit history, whether or not you choose to have a co-signer, your co-signer's credit history, your choice of school, and your course of study. These loans do not offer the flexible repayment terms or borrower protections featured by federal student loans.
Employer Tuition Reimbursement
Employer tuition reimbursement includes a variety of employer-sponsored programs to help employees pay for college. In many cases, the funds received from these programs will be excluded from income and are tax-free.
Employee tuition reimbursement programs are typically governed by an employer's human resources department. Employers may provide up to $5,250 per year in employer education assistance benefits for undergraduate or graduate courses.
Your employer may require you to attain a particular grade or to complete a program in order to obtain reimbursement. The employer may also require that you remain employed for a period of time after completing the course of study. Finally, your employer may require you to provide receipts or other substantiation of the educational expenses.
Military Benefits
For information on veteran and active duty military services and offerings, contact the EKU Office of Military and Veteran Affairs at 859.622.2345. EKU is repeatedly recognized by both Military Times and GI Jobs as a leader among Military Friendly® Schools and we look forward to helping you reach your goals.
Outside Scholarships
These scholarships are awarded by an organization other than the government or university. They are available from a number of groups, organizations, and entities nationwide. These scholarships can be general in nature or very specialized and tied to the type of work you would be doing after graduation.
If you receive an outside scholarship, you must notify your financial aid office so the award can be properly reported as part of your total aid package. Failure to report awards can result in the award not being accepted or a portion of the funds having to be repaid due to overpayment.
Departmental Scholarships
Departmental scholarships are awarded by specific EKU departments. The types, size, and criteria for these scholarships will vary by department.
If you receive a departmental scholarship, you must notify your financial aid office so the award can be properly reported as part of your total aid package. Failure to report awards can result in the award not being accepted or a portion of the funds having to be repaid due to overpayment.
Foundation Scholarships
EKU is fortunate to have hundreds of generous individuals and organizations that have donated scholarship money for current EKU students from a variety of backgrounds, situations, and interests. These are referred to as EKU Foundation Scholarships. Due to the number of these scholarships and the varying criteria for them, EKU has developed a single Foundation Scholarship application.
After completing the application, you will be considered for any foundation scholarship for which you are eligible. Criteria for these scholarships vary and can include academics, major, interests, place of residence, and more.
Curriculum
Core Courses --- 42
FSE 101 --- Fire Prevention --- 3
FSE 120 --- Fire Behavior & Combustion --- 3
FSE 221 --- Fire Protection Systems --- 3
FSE 224 --- Human Behavior in Fire --- 3
FSE 300W --- Technical Report Writing for Emergency Services --- 3
FSE 305 --- Hazardous Materials --- 3
FSE 322 --- Fire Protection Structures & System Design --- 3
FSE 349 --- Applied Learning in Fire & Safety Engineering --- 3
FSE 350 --- Fire Arson & Explosion Investigation I --- 3
FSE 355 --- Fire Dynamics --- 3
FSE 360 --- Fire Protection Hydraulics & Water Supply --- 3
FSE 445 --- Advanced Structural Fire Protection --- 3
FSE 480 --- Industrial Fire Safety --- 3
FSE 481 --- Fire Protection Design --- 3
Supporting Course Requirements --- 6
CHE 101/101L --- General Chemistry I with Lab --- 4
CHE 102/102L --- General Chemistry II with Lab --- 4
CON 303 --- Statics & Strength of Materials --- 3
CON 322 --- Construction Structural Design --- 3
MAT 234 --- Calculus I --- 4
MAT 244 --- Calculus II --- 4
PHY 201 --- University Physics I --- 5
PHY 202 --- University Physics II --- 5
PHY 375 --- Thermodynamics --- 3
TEC 190 --- Technical Graphics --- 3
*Some supporting courses will count toward the General Education Requirements. See catalog for details.
EKU General Education Requirements* --- 37
Total Hours --- 120
Career Opportunities
Fire protection engineers have some of the highest starting salaries among all college graduates.
According to the United States Bureau of Labor Statistics* (BLS), employment of health and safety engineers is projected to grow 5 percent from 2018 to 2028. As buildings, products, and processes continue to become more complex and new regulations are created, these engineers will be needed to reduce costs, save lives, and produce safe consumer products. A bachelor's degree is required for most entry-level positions.
Graduate Occupations
Health & Safety Engineers
Firefighters
Fire Inspectors & Investigators
Chief Executives
General & Operations Managers
Occupational Health & Safety Specialists
Graduate Employers
Aon Fire Protection Engineering Corp.
Able Medical Transportation, Inc.
Casteel Automatic Fire Protection, Inc.
Highview Fire District
International Fire Protection, Inc.
Seaworld Entertainment, Inc.
Graduate Job Titles
Protection Engineer
Firefighter
Engineering Consultant
Environmental, Health, and Safety Manager
Fire Chief
Fire Inspector
English Language Requirements
Certify your English proficiency with the Duolingo English Test! The DET is a convenient, fast, and affordable online English test accepted by over 4,000 universities (like this one) around the world.