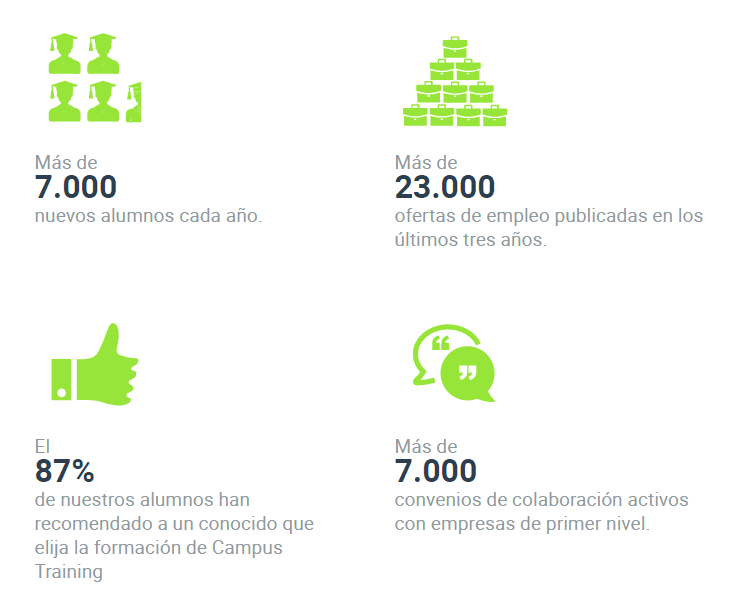 At Campus Training we address both young people looking for a first work experience and professionals looking for a job change or improvement. To do this, our courses offer you training in:
We provide you with the theoretical-practical training you need to work in the sector from day one
We prepare you for the free tests of FP
We create a study plan tailored to your needs so that you can get your place
Choose your professional goal
We give you all the tools to achieve it
She is a specialist in pedagogy and talent management. Its mission is to develop a strategic study plan that suits your study needs and possibilities so that you achieve your goal as soon as possible. You will meet her in personal tutorials and she will always be by your side, motivating you and helping you at all times.
We have specialized teachers in different areas who will solve your specific doubts about content. Through your virtual campus you can contact them whenever you need to. They will respond to you in less than 48 business hours.
In addition, our teaching team regularly teaches online classes on areas of knowledge related to your training. In them you have the opportunity to ask the teacher your doubts and have them resolved in a personalized way. You can attend the teleclasses live or access them later whenever you want through your virtual campus.
At Campus Training we continually innovate in new technologies for education, which is why we have developed an e-learning study method, fully adapted to your needs.
You can study wherever you are and at the time you choose through our virtual platform, accessible 24 hours a day, 365 days a year. In a single click, from your computer, tablet or smartphone, you can expand content, see practical workshops, update teaching material, consult the bulletin board, download exams or ask your teachers questions. Whenever and wherever you want!
At Campus Training we are committed to theoretical-practical training directly connected to professional reality. With our training workshops, you will learn about the latest trends in each sector and discover all the secrets to becoming a true professional. In our face-to-face seminars, your teacher gives you the opportunity to delve into the most relevant case studies of your training.
Most of our training includes between 60 and 300 hours of professional practices in companies in the sector. It is the best opportunity to apply the knowledge acquired, learn the trade, add a first work experience to your CV and expand your network of professional contacts.
Training accredited by Nebrija University
Campus Training is a collaborating center of the Nebrija University – that is, this university has supervised the content and methodology of the course, guaranteeing its excellent quality. Consequently, all those students who take courses accredited by Nebrija University have the right to receive the corresponding training certificate issued by the same university.
Our Labor Orientation department will give you all the keys to be successful in any selection process. It will tell you how to make a resume attractive, how to prepare a job interview for the position that interests you, how to get a job improvement... and much more!
We put you in contact with companies that are looking for candidates with your profile. We examine your CV and your work needs and inform you of the ideal job offers for you.