PhD in
Doctorate in Environmental Science
Atlantic International University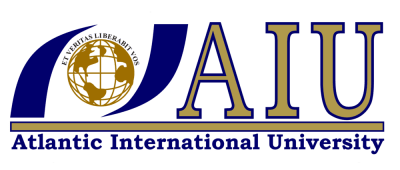 Key Information
---
Study format
Distance Learning
Tuition fees
USD 13,500 / per year *
Application deadline
Request info
Earliest start date
Request info
* Pedagogic Online Program: $13,500.00 / Andragogic Online Program: $8,500.00
Introduction
Doctor of Environmental Science at AIU
The Doctorate of Environmental Science (BS) program helps students develop practical skills and knowledge required to critically evaluate environmental problems and issues, and provide applied solutions. The major is decidedly interdisciplinary in nature, focusing on the underlying natural processes relating to the environment and understanding and employing the scientific method.
The Doctorate of Environmental Science (BS) program is offered online via distance learning. After evaluating both academic record and life experience, AIU staff working in conjunction with Faculty and Academic Advisors will assist students in setting up a custom-made program, designed on an individual basis. This flexibility to meet student needs is seldom found in other distance learning programs. Our online program does not require all students to take the same subjects/courses, use the same books, or learning materials. Instead, the online Doctorate of Environmental Science (BS) curriculum is designed individually by the student and academic advisor. It specifically addresses strengths and weaknesses with respect to market opportunities in the student's major and intended field of work.
Watch and learn more about AIU today!
Atlantic International University - A Cultural Change in Education. from AIU on Vimeo.
Curriculum
Understanding that industry and geographic factors should influence the content of the curriculum instead of a standardized one-fits-all design is the hallmark of AIU's unique approach to adult education. This philosophy addresses the dynamic and constantly changing environment of working professionals by helping adult students in reaching their professional and personal goals within the scope of the degree program.
Important: Below is an example of the topics or areas you may develop and work on during your studies. By no means is it a complete or required list as AIU programs do not follow a standardized curriculum. It is meant solely as a reference point and example. Want to learn more about the curriculum design at AIU? (Course and Curriculum)
Core Courses and Topics in Environmental Science
Earth Materials and the Environment
Geochemistry
Geomorphology
Global Change
Spatial Analysis and GIS
Hydrogeology
Environmental Field Methods
Natural Resource Management
Earth System Processes
Soils and Landscapes
Introduction to Statistics & Probability
Biology
Principles of Ecology
Ecosystem Analysis
River and Floodplain Ecology
Workplace Preparation
Orientation Courses
Communication & Investigation (Comprehensive Resume)
Organization Theory (Portfolio)
Experiential Learning (Autobiography)
Seminar Administrative Development (Book Summary)
Seminar Cultural Development (Practical Experience)
Seminar International Development (Publications)
Research Project in Environmental Science
Doctorate Thesis Project
MBM300 Thesis Proposal
MBM302 Doctorate Thesis (5,000 words)
Publication: Each Doctorate of Environmental Science graduate is encouraged to publish their research papers either online in the public domain or through professional journals and periodicals worldwide.
Career Opportunities
Career Center Doctorate of Environmental Science
Job Description
Environmental scientists work to regulate, control, and prevent air, land, and water pollution. They conduct research to find pollutants or hazards in our environment and then propose a plan to eliminate them, all the while maintaining a balance between the needs of the natural environment and the economic needs of workers and industries.
Skills for Success
Written & Verbal Communication
Problem Solving & Critical Thinking
Leadership
Teamwork
Technological skills
Employment Opportunities for Environmental Science
Program Manager
Program Coordinator
Outreach Specialist
Field Technician
Environmental Inspector
Conservation Associate
Professional Associations
Association for Environmental Studies and Sciences (AESS)
Air & Waste Management Association (A&WMA)
Geneva Environment Network (GEN)
Resources and Tools
eco.org
The Environmental Sciences Division (ESD)
Arctic Environmental Atlas
Biofuels Information Exchange
Department of Conservation