e-Learning Master Class on Blockchain Business Strategy
Program Description
Blockchain has the potential to transform almost every industry even Financial Inclusion

Every now and then a truly revolutionary new technology emerges – and changes the world as we know it. These technologies always take us to places we have never imagined reaching. The engine allowed us to travel far distances and made the world a smaller place, the telephone was a paradigm shift for communication and of course, the internet revolutionized the spread of information, as no one ever thought possible. Now a new disruptive technology emerges – and it has just begun to unfold its potential.
Blockchain is one of the most discussed and dominant topics in news and science, even though there is still a great uncertainty to what this technology is all about – and what it's true potential can be. Blockchain technology is mostly associated with cryptocurrencies in public discussions, especially Bitcoin. But more importantly, blockchain showed, that it has the potential to be a solution to almost every problem of digital infrastructure.
The purpose of this course is to provide you with comprehensive knowledge about the idea and capabilities of blockchain, from a potential business perspective. Participants of the course will be able to distinguish where the implementation of a blockchain can become a useful application or business model. With various practical insights and examples from experts, you will not only learn about their best practices but also, how a blockchain project can be successfully implemented in your company and industry.
Be part of the change and learn how you and your company can profit from blockchain technology!
What we offer
An interactive e-learning course, including video lectures, readings, practical exercises, online tests, and case studies.
Designed learning materials for a maximum learning effect for people with limited time.
A discussion forum for course-related issues as well as for the exchange of opinions and experiences with your classmates and tutors.
Personalized support from your FSDF e-Campus Team.
Target Audience
Business portfolio management, strategy professionals, business developers, entrepreneurs, finance professionals.
Course Details
This course is designed to be flexible and fit into your own schedule and needs. However, we will provide you with recommendations for you to take as much as possible from this course.
Your schedule: We will provide you with a course schedule including voluntary and mandatory deadlines. The course schedule serves as a guideline for your personal learning schedule and will help you complete the program within the given time frame.
Exercises: Even though the exercises in the script are not mandatory we strongly advise that you use them as an opportunity to check your knowledge and to prepare for the final exam.
Networking Opportunities: Use the forum to introduce yourself to your peer participants and to start interest discussions.
Course Content
Unit 1: Mastering Blockchain for your business
Unit 2: Crypto Assets and Tokenisation
Unit 3: Use of Blockchain in Different Industries
Workload
The course takes 6 weeks assuming 8-10 hours of self-study per week. It consists of 3 units that build upon each other. You will take the units in sequence and will need to pass an online test before accessing the next unit.
The last unit includes an assignment that has to be submitted on a fixed deadline.
Upon successful completion of the course, you will receive a Confirmation of Course Completion.
Fees*
Tuition: €750
Discounts:
10% group discount (for 2 or more participants working for the same institution, informed to us before the invoice is generated)
10% for FS Alumni
For additional company packages, please contact us
Payment Options
Bank Transfer (bank fees to be covered by participants)
Credit Card
PayPal
Payment in installments is unfortunately not possible.
*Subject to change
Last updated Jan 2021
About the School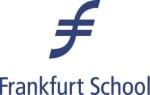 Frankfurt School of Finance & Management is an AACSB, EQUIS and AMBA accredited, research-led business school, covering every aspect of a business, management, banking, and finance.
Frankfurt School of Finance & Management is an AACSB, EQUIS and AMBA accredited, research-led business school, covering every aspect of a business, management, banking, and finance.
Read less