Here's a closer look at why marketing matters, the latest trends impacting the field, and one degree to help students gain the knowledge and skills needed to join the next generation of marketing leaders.
Why study marketing?
The American Marketing Association (AMA) defines marketing as "the activity, set of institutions, and processes for creating, communicating, delivering, and exchanging offerings that have value for customers, clients, partners, and society at large."
There are many reasons to study marketing. For starters, there's the fact it's the best way to get to know customers. Even companies with the most amazing products and services will fail if they don't cater to the customers who ultimately make the rules. Marketers learn how to understand a customer base in order to best influence the customer journey.
This involves the creative, dynamic fields of design, promotion, and branding. Purchasing decisions don't just rest on a particular product or service, but the consumer's perception of that product or service. Nothing drives these insights more than marketing.
While the knowledge acquired studying marketing is invaluable if you aspire to a marketing career, it is also transferable. Marketing degrees equip students with a broad range of skills including data interpretation, communication skills, people skills, critical thinking skills, product management, logistics, finance, budget development, customer segmentation and demographics, and much more.
In addition to qualifying graduates for marketing careers as sales managers, social media managers, market research analysts, brand managers, public relations representatives, copywriters, and more, these skills serve as foundational knowledge in a breadth and depth of careers while also supporting ongoing career advancement.
Top marketing trends for 2020
The marketing world is constantly evolving. Gartner VP analyst Ewan McIntyre stresses the importance of being able to adapt -- often on the fly and with limited information. He explains, "Part of that is about what you mean as a brand, and part of this is having the agility to be able to understand quickly unfolding situations and respond to them appropriately."
The value of the ability to understand trends and to respond to them cannot be overstated for people working in marketing and business at large. Take digital marketing, for example. Digital anthropologist and futurist Brian Solis says, "Each business is a victim of Digital Darwinism, the evolution of consumer behavior when society and technology evolve faster than the ability to exploit it. Digital Darwinism does not discriminate. Every business is threatened."
Marketers who commit themselves to keeping up are uniquely positioned to exploit these opportunities. In an article for Forbes, Marwick Marketing CEO Christian Thomson asserts, "With constant updates, new techniques, and changes to algorithms, digital marketers are frequently scrambling just to keep up. Being aware of emerging or continuing trends is a vital part of staying on top of the game."
Specifically, Thomson identifies several of the top marketing trends happening right now, including shoppable social media posts; augmented reality (AR) and virtual reality (VR); interactive content; personalization; Google Ads Smart Bidding; content marketing; video content; and the quest for SERP (search engine results pages) position zero.
In a Single Grain post, top marketer and influencer Neil Patel also honed in on digital marketing trends to be aware of in 2020. These include programmatic advertising, chatbots, conversational marketing, influencer marketing, social messaging apps, visual search, micro-moments, voice search and smart speakers, browser push notifications, SEO A/B split testing, geo-fencing, progressive web apps, user-generated content, blockchain technology, quantum computing, big data and deep learning.
Given these changes and the opportunities they present, it's not surprising that marketing budgets are up as companies endeavor to maintain their positions. This also means the job outlook remains strong for marketers -- with lucrative potential, too. According to the US Bureau of Labor Statistics, the job outlook for marketers is growing at a faster-than-average rate of eight percent, with advertising, promotions and marketing managers bringing home median salaries of more than $135,000.
Get an online degree in marketing
If you're ready to take a giant step in the direction of future-proofing your career through studies in marketing, an online degree presents a "best of both worlds" opportunity, allowing you to enrich your knowledge and acquire key skills while also having time to develop yourself professionally and personally, from wherever you are in the world.
The University of Glasgow's online MSc Marketing, offered through its triple-accredited Adam Smith Business School, is a cutting-edge program with an innovative curriculum which integrates traditional marketing concepts such as brand development, consumer behavior, marketing communications, and marketing management with the latest data-driven topics and techniques such as analytics. It uses real-world case studies to prepare students for real-world experiences. Additionally, optional courses in subjects such as service marketing and UX (user experience) allow students to further expand their expertise in specialized areas.
In addition to offering participants access to international, industry-leading faculty, students also have plenty of opportunities for idea exchange and networking with their like-minded, forward-thinking classmates.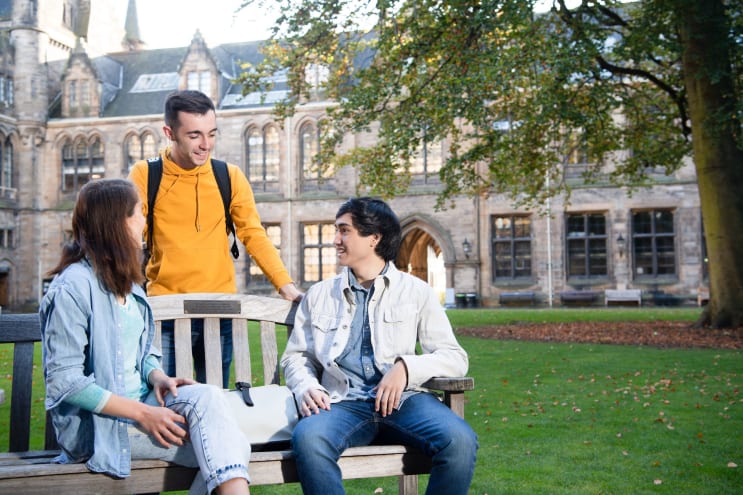 The University of Glasgow is a part of the elite Russell Group of UK universities and ranked 67th in the world by QS World University Rankings in 2020. It's known for driving innovation in Scotland, which is one of the many reasons it attracts students from 120 countries who have a huge impact -- both on the school's culture and on its output to the world. The Adam Smith Business School, meanwhile, lays claim to being one of Europe's top 100 business schools, according to the Financial Times.
Siranush Sargsian, graduate of the on-campus MSc International Strategic Marketing, acknowledges, "The University of Glasgow was a springboard towards career enhancements. If I had to do it again, I would definitely relive my year at the University of Glasgow!"
Marketing careers are challenging, fast-paced, and fulfilling. Keeping up with the latest trends can be a gamechanger when it comes to standing out from the crowd in this intense and competitive field. University of Glasgow's online MSc Marketing offers an ideal route to learning and practicing the skills you need to thrive in a marketing or business career.
Article written in association with the University of Glasgow.