Web Development Immersive Remote Course
Home ›
Courses ›
Web Development Immersive Remote Course
Program Description
All day, five days a week. Daily live instruction, online from anywhere that works for you.
Break Into Web Development in 13 Weeks
Our rigorous and interactive virtual classroom will help you develop the skills you need to become a full-stack web developer.
Experience the GA Campus, Virtually
Learn the same time-tested curriculum that over 3,000 campus alumni have completed, adapted for live, online learning.
Get Qualified
Master tech's most in-demand skills, like JavaScript, Git, and Rails, as you build a professional portfolio of real websites and data-driven apps.
Get Hired
Launch your new career with help from your dedicated career coach, who will be there to guide you every step of the way.
Our Flagship Course Comes To You
With our industry-leading online learning platform, you'll get the full immersive classroom experience – adapted for live, remote learning – from anywhere you choose.
Engage & Learn
Micro-lectures, interactive group work, and a 6:1 teacher-to-student ratio, are all designed to keep your attention and help you stay on top of the curriculum.
Live Communication
Ask questions, get feedback, and interact with your classmates and TAs — all in real-time. Engage in a variety of ways including live chat, voice, and video to work on comprehension, solutions, and projects.
Workplace Simulation
At your dedicated workspace, you'll experience what it's like to work and collaborate as a developer in an interactive, real-world coding environment.
Career Support
Tap into our global employer network of over 2,000 hiring partners and work with your dedicated career coach to develop a job search strategy that will help get you hired.
Graduate Perks: WeWork
WDIR grads get three months of free We Membership from WeWork. Enjoy curated local events, connect with a global community of professionals and services, and book workspace across 100+ locations worldwide.
What You'll Learn
We teach the skills you need to kickstart your career as a developer and a lifelong learner. From programming fundamentals to launching full-stack web apps, you'll learn to solve problems with code while applying industry best practices in a collaborative environment.
Programming Fundamentals
Understand how to set up your development environment, work efficiently as a developer, and make your projects a success. Learn programming fundamentals, along with the basics of computing, networks, and data structures.
The Basics of Product Development
Define what a user should be able to do with your app, appropriately model your data, develop simple wireframes, and learn to track a collaborative development process using version control.
Front-End Web Development
Before you start working with cutting-edge libraries and frameworks, gain an understanding of how to write high-quality JavaScript code. Learn to build a dynamic, front-end to your web application using a modern JavaScript library, and use CSS to layout and style your application.
Back-End Web Development
Build web applications from the ground up using Ruby on Rails, a modern web language, and MVC framework. Build quality APIs using Node.js and integrate data from other apps (like Twitter or Yelp) into your project.
Working with Teams
Learn to collaborate with others to produce high-quality software as you work with a team to develop, maintain, change, and secure an application.
Student Life
Get the full classroom and community experience through a mix of presentations, interactive labs, and project collaboration. No two days look exactly alike, but here's an example of what your day could look like.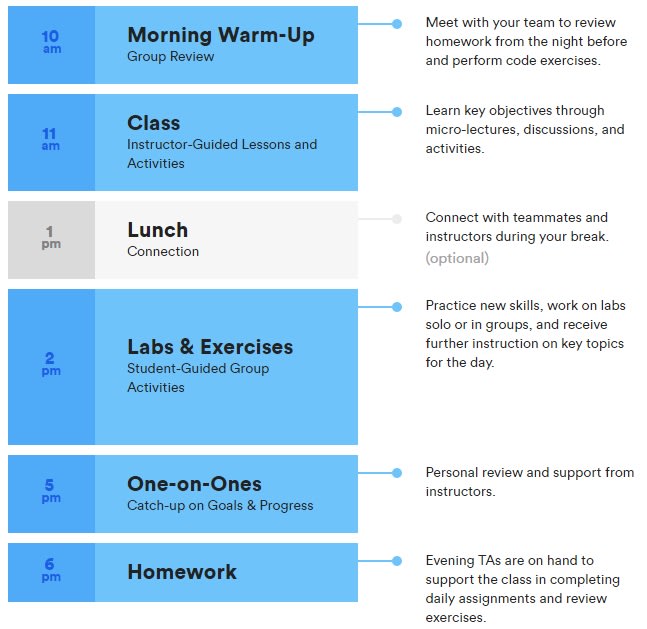 Build Your Portfolio
You'll complete several projects, including a primary portfolio project that will help you begin your job search with confidence.
Career Guidance
We provide each of our immersive graduates with access to job readiness training, opportunities to hone new skills, and connections to employers.
Career Coaching
Optimize your résumé with support from an online career coach.
Work one-on-one to develop a customized job search strategy.
Job Search Prep
Learn techniques and strategies that will help you prep for interviews.
Develop your job search toolkit in a series of online workshops.
Networking Opportunities
Access our network of employers through GA's exclusive job board.
Connect with over 25,000 graduates in our growing alumni network.
Fund Your Future
Need payment assistance? Our financing options allow you to focus on your goals instead of the barriers that keep you from reaching them.
Climb
Apply for 3-year, fixed-rate, merit-based loan¹ for your tuition and cost of living financing. Current income not factored into financing approval for Immersive students.
¹Must be a US citizen or Permanent Resident; approval pending state of residency.
Financing options differ in each market and are only available to students accepted into our programs.
Contact a local admissions officer for more info.
Last updated May 2018
About the School

General Assembly is a pioneer in education and career transformation, specializing in today's most in-demand skills. The leading source for training, staffing, and career transitions, we foster a flou ... Read More
General Assembly is a pioneer in education and career transformation, specializing in today's most in-demand skills. The leading source for training, staffing, and career transitions, we foster a flourishing community of professionals pursuing careers they love.
Read less
New York ,
Atlanta ,
Austin ,
Boston ,
Chicago ,
Dallas ,
Denver ,
Los Angeles ,
Santa Monica ,
Irvine ,
New York ,
Providence ,
San Francisco ,
San Jose ,
Seattle ,
Washington ,
Arlington ,
London ,
Hong Kong ,
Singapore ,
Brisbane ,
Melbourne ,
Sydney ,
USA Online
+ 23 More
Less