Upper course in mobile marketing and advertising
Home ›
Courses ›
Upper course in mobile marketing and advertising
Program Description
Digital media has convulsed forms of communication necessitating the implementation of new marketing techniques targeted and focused on mobile devices. The current mobile phone exposure (in Spain the number of phones already exceeds the number of citizens) and interaction (to interact bidirectionally even identifying the position of the user) make commercial agents increasingly demand this new generation adaptation . Training in Mobile Marketing techniques allow us to identify consumer needs, design, evaluate, communicate and distribute products that meet consumer needs.
GOALS
Place a mark on the mobile medium.
Planning marketing campaigns targeting mobile devices.
Make use of mobile as a marketing technique in our business or company.
Who should attend
Aimed for both graduates and professionals in the sector, who are interested in receiving specific training in this competitive field: Publishers, Experts in Marketing, Mobile application developers, programmers.
What you up
This course will enable students to know the all issues related to Mobile Marketing and its close relationship with advertising. You can define and develop business models and marketing strategies such as advertising campaigns with messages tailored to mobile devices.
Description of Methodology
Our method of study is based on the integration of formative factors and the use of new technologies. Our team has set itself the objective of integrating both areas so that our students interact with a VIRTUAL CAMPUS agile and easy to use. A platform designed to facilitate the study, where students get all the necessary support.
Our methodology of online learning, fully oriented practice is designed so that students progress through the educational units of the different modules and perform the tasks (Practical activities, questionnaires, case records and assumptions reflection) that he will proposing along the learning path.
At the end of their training activity, students will be able to transform academic knowledge in professional knowledge.
Evaluation system
INEAF training actions are structured in modules, consisting of teaching units, practical activities, seminars, forums and conferences, among others.
Each module will be assessed separately according to the results of mandatory and optional tests proposals and valuations tutor.
To overcome the various modules students will have to achieve a minimum level of understanding of the theoretical contents and implementing them in practical activities and in our "Supercaso".
Resources (Platform Online 3.0, printed material, ...)
In our quest to adapt learning philosophy 3.0 and encourage the use of new technological resources in the company, we have developed a Virtual Campus (Online Training Platform 3.0) exclusive art with a functional and innovative design.
Among the tools available you will find: tutoring service, chat, messaging and virtual study tools (examples, practical activities -of calculation, reflection, development, etc., video examples and video tutorials plus "supercasos", covering modules complete and offer the students an overview on specific matters).
The students will have unlimited access to the contents printed manuals in addition with the theoretical contents of each module, which will serve as support to complete their training.
Last updated Mar 2020
About the School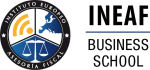 INEAF, Instituto Europeo de Asesoría Fiscal es una escuela de negocios especialista en Formación ONLINE jurídico-Tributaria, cuya actividad formativa está enfocada a la práctica Profesional .Nuestro a ... Read More
INEAF, Instituto Europeo de Asesoría Fiscal es una escuela de negocios especialista en Formación ONLINE jurídico-Tributaria, cuya actividad formativa está enfocada a la práctica Profesional .Nuestro amplío Catálogo Formativo se centra en las áreas Contable, Mercantil, Fiscal y Laboral y tiene como objetivo proporcionar a nuestros alumnos una formación práctica permitiéndoles , tanto si son estudiantes como...
Read less