Upper course in e-commerce: online business model, purchase and payment process, web promotion, customer loyalty and legal environment
Home ›
Courses ›
Upper course in e-commerce: online business model, purchase and payment process, web promotion, customer loyalty and legal environment
Program Description
Symbolized on the Internet, the information society and new technologies, represent a revolution in economic and legal field. The internationalization of operations and overcoming physical boundaries of the state make the Electronic Commerce is configured as one of the most powerful tools that the company has, with ever-increasing importance of electronic commerce and its impact on markets . Therefore, this Advanced Course on Electronic Commerce: Business Model Online, Purchase and Payment Process, Web Promotion, Customer Loyalty and legal environment, is ideal to acquire knowledge that set you in a privileged position in the market.
GOALS
Know how to define and develop the entire sales process successfully over the Internet.
Plans, creates and develops an online business.
Improves and optimizes your business online, applying the right techniques.
Who should attend
business, Advertising Agencies, Marketing and Communication Technicians, Specialists in Electronic Commerce, responsible for sites, perfect for people trained in Business etc.Complemento, LADE, Marketing, Design (both graphical and web) and Informatics.
What you up
This course will equip students with all technical and theorists in the field of e-commerce knowledge, giving it a solid foundation of all concepts, factors and aspects to consider when working with any online business model. Students will learn to move the variables that influence online marketing to its business strategy, so that it can optimize its resources to adopt at all times the action that best suits the needs of both the company and the Internet object your target audience.
Description of Methodology
Our method of study is based on the integration of formative factors and the use of new technologies. Our team has set itself the objective of integrating both areas so that our students interact with a VIRTUAL CAMPUS agile and easy to use. A platform designed to facilitate the study, where students get all the necessary support.
Our methodology of online learning, fully oriented practice is designed so that students progress through the educational units of the different modules and perform the tasks (Practical activities, questionnaires, case records and assumptions reflection) that he will proposing along the learning path.
At the end of their training activity, students will be able to transform academic knowledge in professional knowledge.
Evaluation system
INEAF training actions are structured in modules, consisting of teaching units, practical activities, seminars, forums and conferences, among others.
Each module will be assessed separately according to the results of mandatory and optional tests proposals and valuations tutor.
To overcome the various modules students will have to achieve a minimum level of understanding of the theoretical contents and implementing them in practical activities and in our "Supercaso".
Resources (Platform Online 3.0, printed material, ...)
In our quest to adapt learning philosophy 3.0 and encourage the use of new technological resources in the company, we have developed a Virtual Campus (Online Training Platform 3.0) exclusive art with a functional and innovative design.
Among the tools available you will find: tutoring service, chat, messaging and virtual study tools (examples, practical activities -of calculation, reflection, development, etc., video examples and video tutorials plus "supercasos", covering modules complete and offer the students an overview on specific matters).
The students will have unlimited access to the contents printed manuals in addition with the theoretical contents of each module, which will serve as support to complete their training.
Last updated Mar 2020
About the School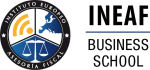 INEAF, Instituto Europeo de Asesoría Fiscal es una escuela de negocios especialista en Formación ONLINE jurídico-Tributaria, cuya actividad formativa está enfocada a la práctica Profesional .Nuestro a ... Read More
INEAF, Instituto Europeo de Asesoría Fiscal es una escuela de negocios especialista en Formación ONLINE jurídico-Tributaria, cuya actividad formativa está enfocada a la práctica Profesional .Nuestro amplío Catálogo Formativo se centra en las áreas Contable, Mercantil, Fiscal y Laboral y tiene como objetivo proporcionar a nuestros alumnos una formación práctica permitiéndoles , tanto si son estudiantes como...
Read less