University master's degree in hotel management and catering companies - online
Home ›
Master ›
University master's degree in hotel management and catering companies - online
Program Description
General information
Modality : online
Beginning : November
Duration : 1 academic year
ECTS Credits : 60
Director : Ginesa Martínez del Vas
Presentación
According to the latest UNWTO World Tourism Barometer, in 2014 international tourist arrivals totaled 1,138 million, an increase of 4.7% over the previous year.
"In recent years, tourism has proven to be a surprisingly strong and resilient economic activity with a strong capacity to contribute to economic recovery, as it generates billions of dollars in exports and creates millions of jobs. This has occurred in destinations all over the world, but particularly in Europe, as the region strives to consolidate its exit from one of the worst economic periods in its history, "said UNWTO Secretary General Taleb Rifai Opening of the Spain Global Tourism Forum in Madrid.
These data indicate that the tourism sector is a strategic sector for the economies and a clear bet for the future. For this reason, the demand for qualified professionals adapted to the reality of the new productive structures based on the constant transformation of the business management, as it can be observed in the hotel industry, is more and more important.
The tourism sector and, in particular, the hotel activity is the one that generates a greater index of employment at world-wide level. In addition, as far as the hotel sector is concerned, it is closely related to other key subsectors for the development of certain tourist areas or regions; Catering, events, entertainment, wellness, sport, golf, among others, with its consequent impact on the labor supply.
GOALS
The official title of University Master in Hotel Management and Restoration Companies aims to offer students the necessary training to achieve both their personal development and professional training as senior executives within the international hotel sector.
For this reason, the curriculum has been designed so that the student can obtain the necessary theoretical and practical knowledge and to guarantee his professional development as a manager. In this way, the practical development of the Master with 500 hours becomes the essential part of the formative process of the student. This professional experience is fundamental for the labor insertion of the students of the Master being supported by our different professional collaborators of the hotel world.
Recipients
Graduates and Diplomas in Hospitality and / or Tourism
Graduates and Graduates in Business Administration and Management
Graduates and Diplomas in Political Science and Public Administration
Graduates and Law Graduates
Graduates and Graduates in Psychology and Sociology
Graduates and Diplomas in Sciences and Techniques Statistics
Graduates and graduates in History, Anthropology and History of Art
Career prospects
This Master complements the general training that any professional in the tourism sector must have for the best knowledge and development of all aspects related to the Hotel and Hospitality industry. This way the student is formed for the competitive exercise in this area taking care of the different professional profiles that exist in that industry.
At the end of the master's degree, the graduate will be able to practice in several areas, among which:
Hotel Manager
Hotel Subdirector
Director of tourist accommodation
Marketing director
Commercial director
Purchasing Manager
Quality manager
Head of administration
Head of reception
Public Relations
Responsible for Reserves
Responsible for Benchmarking
Director of Banquets, Events and Conventions
Director of operations
Human resources director
Community Manager
Freelance
Franchise Expert
Director of Food & Beberage
CURRICULUM
Module I - Analysis, description and trends in the sector. New business models. The cultural service.
Module II - Knowledge and management of clients and markets.
Social networking and online reputation management.
Module III - Management process in restoration. Products and services.
Module IV - Economic financial management of catering and catering companies. Cost accounting in catering companies.
Module V - Procurement system and its functions
Module VI - Quality management. Standards and Q, prevention, environmental management and sustainable tourism
Module VII - Management skills and people management
Module VIII - TFM
Module IX - External Practices
Last updated Mar 2020
About the School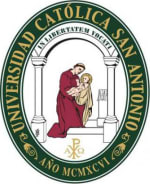 La Universidad Católica San Antonio - UCAM, como universidad católica, se caracteriza por ofrecer a sus alumnos una formación integral, basada en los conocimientos teóricos y técnicos específicos de c ... Read More
La Universidad Católica San Antonio - UCAM, como universidad católica, se caracteriza por ofrecer a sus alumnos una formación integral, basada en los conocimientos teóricos y técnicos específicos de cada titulación más la formación humana anclada en los principios del humanismo cristiano, a esta labor se dedican un claustro docente de reconocido prestigio y un equipo de tutores personales,
Read less