University master in communication direction - online
Home ›
Master ›
University master in communication direction - online
Program Description
General information
Modality : online
Beginning : November
Duration : 1 academic year
ECTS Credits : 60
Price : € 4,000 (€ 4,000 / non-EU)
Director : Joan Costa
Presentación
Due to the growing need in the current business landscape, which demands professional profiles trained to manage the strategic direction of communication that any company must face, this Master is born in order to respond to this current need of organizations.
The Director of Communication (DIRCOM), stands as a professional of a complex and heterogeneous formation, as well as a deep knowledge of the institution in close relation, therefore, with the General Directorate.
GOALS
Among the objectives of this Master, is to train managers for the new information economy and the knowledge society, as well as to contribute in updating and improving the knowledge and skills of professionals in any of the areas of The communication, applied both within the companies and through external consultancy.
Recipients
Graduates in Communication Sciences (Journalism, Advertising and Public Relations, Communication, and Audiovisual Communication).
Associate graduates (Economics, Humanities, Psychology, Sociology, Law and other degrees consistent with the work of business communication).
Career prospects
At the end of the Master's Degree, the graduate will be able to practice in several areas, among which:
Addresses and Communication Services.
Addresses and Services of Portavocía.
Marketing Directions and Services.
Press Offices.
Image Cabinets.
Institutional Relations.
Departments of Internal Communication.
Image and Communication Consulting.
CURRICULUM
I. The Dircom in the information economy and the knowledge society
II. Strategic research and global image audit
III. Institutional communication and leadership
IV. Product / Service / Internet Marketing Communication
V. Organizational Culture and Internal Communication
SAW. Ethics, corporate governance and social commitment
VII. Identity, brand and corporate image
VIII.Communication in crisis management
IX. Relations with the media and opinion leaders
X. The strategic communication plan
XI. Master's degree work
XII. Practicum
Last updated Mar 2020
About the School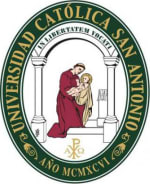 La Universidad Católica San Antonio - UCAM, como universidad católica, se caracteriza por ofrecer a sus alumnos una formación integral, basada en los conocimientos teóricos y técnicos específicos de c ... Read More
La Universidad Católica San Antonio - UCAM, como universidad católica, se caracteriza por ofrecer a sus alumnos una formación integral, basada en los conocimientos teóricos y técnicos específicos de cada titulación más la formación humana anclada en los principios del humanismo cristiano, a esta labor se dedican un claustro docente de reconocido prestigio y un equipo de tutores personales,
Read less