United Kingdom University Preparation
Read more about this program on the institution's website
Program Description
Who should consider Grace Education Admission Consulting for British Universities?
You are currently a middle or high school student concerned about British university admissions and your future.

You are a high school senior who is about to begin applying to British universities.

You are the parent of a middle or high school student and are concerned about your child's British university admissions and future.

You are a parent who has never been through the hyper-competitive British university admissions process of today and knows little about the admissions process.

You would like to generate an individual, custom-tailored strategy semester-by-semester that prepares your child to apply to top-tier British colleges and universities.

You are in middle or high school student living in a foreign country or a foreign national seeking admission to a British university.

You are a parent and feel that your child does not receive enough personalized attention and preparation for the university admissions process by his or her guidance counselor.
Introduction
For nearly a decade, Grace Education is a digital distance learning center institute for students and professionals combining admission consulting and entrance exam preparation for college, business and graduate school with employment placement services, career management advisory, and leadership development training to cultivate lifelong academic progression and ongoing professional evolution.
With a 97% student admission success rate since its founding in 2012, Grace Education has helped hundreds of applicants gain admission to prestigious schools like Harvard, LSE, Cambridge, Oxford, Yale, Stanford, Wharton, Columbia to name a few.
Our approach
Our Pre-college mentors include graduates from Harvard, Cambridge and many top-ranking American and European universities as well as seasoned education professionals. They guide each of our students through every step of the admissions application process: pre-college guidance counseling, SAT/A-level/college test preparation, community service/leadership training/social etiquette and interpersonal skills, foreign language/study abroad exchanges, summer internship planning, college essay brainstorming, editing, as well as interview coaching and scholarship search assistance.
Grace Education Pre-college programs develop and empower students of diverse academic, socio-economic, and cultural backgrounds to think critically and creatively, nurture a lifelong love for learning, and prepare them for principled engagement in the world.
A Grace Education unfolds over time. It encourages young people to lead lives of learning, integrity, and high purpose. A sense of curiosity, humor and a commitment to honoring the dignity of others are just a few of Grace Education's highest values.
We offer flexible payment plans and are one the few learning centers to consider geographical cost of living to make our programs and services accessible to all students regardless of where they live.
Why Pre-College Admission Counseling Is So Important
The Economist suggests that the return on investment (ROI) of a college degree has never been higher for young people. Future job prospects and earnings are closely and positively correlated with a college education.
Selecting and applying to colleges is an often daunting and stressful process for parents and students.
To prepare and manage a successful admissions process is like achieving excellence in any sport, musical instrument, activity etc. Practice and preparation make perfect. College admissions planning does not begin in junior or senior year or high-school. It begins as early as middle school.
Often times, students and parents are not very knowledgable on what college/university would be best nor what preparation is necessary to gain admission. Furthermore, they rarely have years of experience understanding each college/university's unique criteria for admission. In many cases, students also lack the objectivity or experience to select, shape and bring to light his or her best qualities in concise, persuasive oral and written application contexts.
Sadly, for many students, whether they attend public high schools or private schools, they simply do not receive enough personalized attention on the college admissions process during the school year. According to a study by the National Association of College Admission Counseling (NACAC), the average public high school student receives about 38 minutes of college advising per year from his or her guidance counselor.
Why leave such an important life event to chance when one hires professionals to handle other key matters like preparing one's taxes and wedding planning?
Testimonials
How did you ever help get into Durham with my low stats?:) Are you guys magicians? If so, let me know as I want something more than MBA:) — AM – Russia
Samuel, I want to thank you for your support from the very first second. I actually had a free consultation with 5 different companies before I chose you, guys. All of the other agencies told me that I should probably reconsider my list and include some 2nd tier schools, as my profile did not seem strong enough for LSE. You were the only one, who told me that I should try whichever school I want and that I have all the chances to be admitted. Thank you so much for that! — NS – France
Pricing
50% - 60% less than that of leading competitors. Our prices accurately reflect the value of our e-learning products and services. Please schedule an appointment to learn more about how Grace Education can help you to reach your academic and professional goals.
Last updated Nov 2020
About the School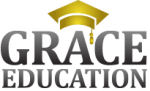 Admissions consulting, university entrance exam preparation, employment placement services, career management & leadership training for the long run.
Admissions consulting, university entrance exam preparation, employment placement services, career management & leadership training for the long run.
Read less