TOEFL Preparatory Programs and Business English Courses
Home ›
Courses ›
TOEFL Preparatory Programs and Business English Courses
Read more about this program on the institution's website
Program Description
Are you preparing for the TOEFL? TOEIC? IELTS? CAE ? or CPE?
Sign up to take a free diagnostic test to determine your strengths and weaknesses.
Score your best! Speak with our education and career advisors to learn more about our online test preparation courses, university admissions, and career advisory.
All test preparation courses include:
Video lessons
Online study materials
Multiple-choice practice questions banks
Live online classes led by top instructors
Mock exams
Mobile App access in many cases
Introduction
For nearly a decade, Grace Education is a digital distance learning center institute for students and professionals combining admission consulting and entrance exam preparation for college, business, and graduate school with employment placement services, career management advisory, and leadership development training to cultivate lifelong academic progression and ongoing professional evolution.
Since its founding in 2012, Grace Education has collaborated with certified, experienced native-English language teachers, speech specialists, and business professionals from diverse sectors to design digital one-on-one personalizes English language proficiency test preparation classes for non-anglophones as well as professional/business English courses to enhance confidence and speaking abilities in all work-related situations.
Score your best on English proficiency tests with Grace
In preparation for admission to universities where course instruction is dispensed in English, non-anglophone applicants are required to demonstrate a minimum English language proficiency level measured by one or more of the following standardized tests: TOEFL, TOEIC, IELTS, CAE, and CPE.
In addition to English test proficiency preparation coaching, many of our students also take advantage of Grace Education college, business, or graduate admissions coaches to help with their university applications and gain entrance to highly selective American, British, and European colleges and universities.
With a 97% student admission success rate since its founding in 2012, Grace Education has helped hundreds of applicants gain admission to prestigious schools like Harvard, Yale, Stanford, Wharton, Columbia to name a few.
Furthermore, many of these students go on to lead great careers with the help of Grace Education Career and Leadership Institute coaches.
Pedagogy
Grace constructs its success with tried and tested teaching methods
A student's English proficiency level will be determined by a diagnostic test. After analysis, students are paired with an English language specialist with whom they will decide which English test preparation course is best appropriate.
Example-based instruction, practice-test-taking strategies, test simulations, and review are the core of Grace Education's teaching methods.
Students select the day and time of their personal one-on-one courses.
Flexible payment plans are available.
We are one of the few firms to consider the geographic cost of living in our pricing to make our programs and services accessible to all students regardless of where they live.
Testimonials
"I am a medical research scientist from Tunisia. I studied Medical English for 18 weeks to prepare for a research fellowship in Great Britain. This would be my first trip to England. Having studied English at university, I had a decent understanding. However, the Grace Education classes were very effective because I was able to focus specifically on scientific topics that were relevant to my research. This was extremely helpful for building my speaking skills and confidence when talking about my research in English." Loubna R., Tunisia
"I warmly recommend taking Finance and Accounting English with Grace Education. I am French and study English to improve my score on the TOEFL and go to an American business school. At Grace Education, what is great is that I have a coach who helped me to increase my score and another one who is helping me with my business school applications. My two coaches talk to each other and we all three came up with a personalized program to improve my TOEFL score and maximize my chances to get admission to business school. The fact that my two coaches communicate with each other is a real advantage that I do not think you can find very easily at another admission consulting agency. Thank you for your feedback and for helping me improve!" Mathieu D., France
Last updated Oct 2020
About the School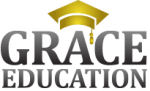 Admissions consulting, university entrance exam preparation, employment placement services, career management & leadership training for the long run.
Admissions consulting, university entrance exam preparation, employment placement services, career management & leadership training for the long run.
Read less