Summer Course: Physics (Ages 16-18)
Program Description
Physics Summer Programme Overview:
Programme: Physics university insights
Fee: £4,595
Course Length: 2 weeks
Course Type: Residential
Locations: Cambridge University colleges
Come and join us on our award-winning Phyics summer school in Cambridge!
Summer Physics Course Summary
The study of Physics aims to help us gain a greater understanding of the world around us and beyond us. The discipline studies nature and seeks to explain why the world behaves the way it does, exploring topics ranging from the study of vast galaxies, black holes, and the Big Bang, to examining tiny subatomic particles. Physics is a wide-reaching, incredibly varied field, responsible for some of the things we think indispensable to modern life, including medical instrumentation such as x-rays and ultrasound, satellite signals to watch television and use mobile phones; and is responsible for the Internet itself.
The Immerse Education 2019 Physics summer programme focuses upon providing participants with a taste of the topics covered in an undergraduate Physics degree while encompassing some of the fundamental challenges and questions faced in modern physics. Due to the rapidly changing developments in physics, a lot of what is conventionally taught in schools can be vastly expanded on. Therefore, the Immerse Education summer Physics summer school programme aims to explore the very latest discoveries in physics and their exciting implications with the guidance of expert tutors from the world's leading universities.
Immerse is an inspirational academic physics summer school programme for the intellectually curious.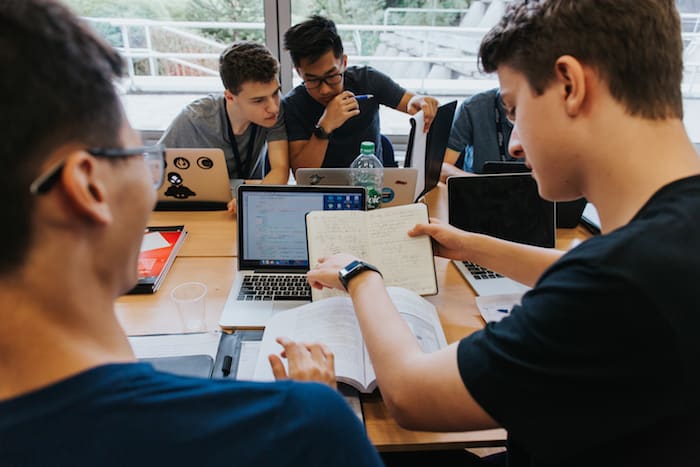 Physics Summer School Key Benefits
Learn how physics governs the world around us
Explore a number of exciting topics at the forefront of scientific discovery
Benefit from the expert tutelage of some of the brightest minds in the field
Explore the historic city of Cambridge with like-minded peers from around the world
Bridge the gap between current understanding and knowledge key to studying physics at university
Understand how physics is used to create some of the most recognisable products that we use every day
Topics Covered
On this exciting two-week physics summer programme, participants will dive into some of the most innovative topics in the field of physics. With a curriculum designed and taught by experts from the world's leading universities, they'll be able to explore how subatomic particles behave and interact with one another, use mathematical models to explain and predict behaviours in the natural world, learn about extensive and intensive properties of matter, and develop an understanding of the fundamental forces that govern the universe.
As well as developing a sound theoretical understanding of physics, participants will also be able to develop their study skill set by carrying out research and conducting practical experiments designed to test and explain behaviours observed in the physical world.
Below is a list of topics that participants will explore in detail during the physics summer school programme:
Particle Physics
Astrophysics Vibrations
Waves and Optics
Oceanic and Planetary Physics
Theoretical Physics
Properties of matter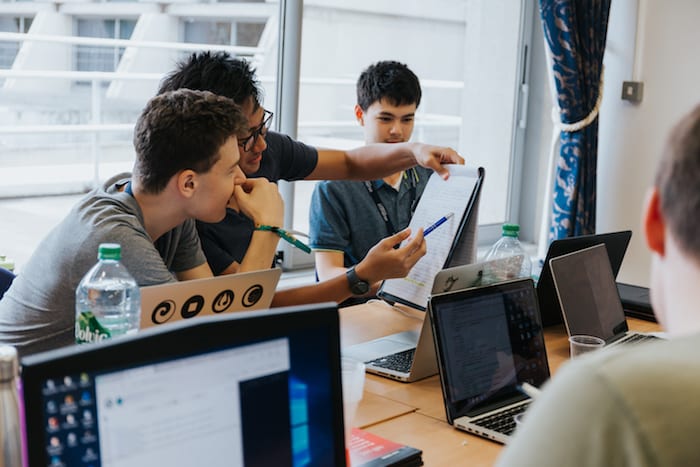 Physics Summer School Course Outcomes
Given the scope of this physics summer school programme, participants can expect to come away with a much greater understanding of the world of physics by the end of the fortnight. They will have learned how to use mathematics to predict natural phenomena and explored the history of the field, leading up to the most recent and exciting developments. Furthermore, they will have gained experience conducting practicals to test hypotheses or explain observed behaviours of waves and particles.
In addition, they'll have a better idea of what it is like to be a physics student at a leading university in the UK like Cambridge, gain advice from mentors who currently study at such UK universities, meet like-minded people with whom they can share their experience and also explore the historic city of Cambridge.
In completing the course, participants will:
Learn how to use mathematics to explain natural phenomena
Discuss complex concepts and create hypotheses
Conduct experiments to test theories
Meet like-minded people to discuss complex ideas
Learn about the Big Bang and gain insight into the creation of the universe
Learn about recent and historical developments in the world of physics
Discuss and explore mechanical vibrations and waves, sound waves, electromagnetic waves, optics, and gravitational waves
Be able to make an informed decision about their future studies
Students in this course will receive personalised feedback from their tutors about their performance, the material covered, and even a list of individualised suggestions for further study.
Timetable
The timetable shown below offers an insight into the typical daily schedule, although this may vary depending on the events planned on the given day.
A typical day
08:00 - 09:30 Breakfast
09:30 - 11:30 Morning academic session
11:30 - 13:30 Lunch
13:30 - 15:30 Afternoon academic session
16:00 - 18:00 Academic workshop / Afternoon activity
18:00 - 19:15 Dinner
19:30 - 22:00 Evening social event
Start the day with either a continental or cooked breakfast in the college dining hall. A wide variety of breakfast items helps participants prepare for the challenging day ahead.
Graduation & Participant Assessment
The final evening of the programme celebrates the achievements of each participant in a graduation ceremony that's followed by a Gala Dinner.
Throughout the Cambridge summer programme, our Immerse tutors will monitor student engagement with the topics that they have been taught. Once the programme has finished, the tutor will write a Participant Assessment that will evaluate how the participant responded to the materials they were introduced to, what progress they made during the sessions, and offer recommendations on how to most effectively advance participant's understanding and interest in the topics that have been explored.
We strongly believe that our Participant Assessments are a crucial element of the learning process and reflective of our commitment to the highest standards of education.
Last updated Jul 2020
About the School

Immerse Education is a two-week residential academic programme in Cambridge with a diverse and enriching curriculum, designed for 13-18-year-old students – providing a taster of what it's like to stud ... Read More
Immerse Education is a two-week residential academic programme in Cambridge with a diverse and enriching curriculum, designed for 13-18-year-old students – providing a taster of what it's like to study a subject at a higher level.
Read less