Summer Course: Economics (Ages 16-18)
Home ›
Summer Course: Economics (Ages 16-18)
Program Description
Economics Programme Overview:
Programme: Economics
Fee: £4,595
Course Length: 2 weeks
Course Type: Residential
Locations: Cambridge University colleges
See more on our Economics Summer School in Cambridge.
Economics Summer School Course Summary
Before you decide to buy something, you'll often use a cost-benefit analysis to decide if it's worth the price. This type of evaluation is one of the main principles behind economics and highlights how this discipline affects almost every aspect of modern life. On the Immerse summer Economics programme, participants dive into the fundamentals of the subject, build a strong foundation of key knowledge, and analyse the underlying factors influencing actions, decisions, and behaviours of both individuals and world markets.
The Economics summer school programme is designed for young economists aged 16 to 18 years old, providing participants with a comprehensive look at the challenging worlds of micro and macroeconomics explored in an undergraduate Economics degree. Through a carefully planned curriculum developed by expert tutors from world-leading universities, participants will spend two weeks learning the essentials of modern economic theory, before diving into more advanced topics like trade, fiscal policy, and developmental economics.
Upon completion of the Immerse Economics programme, participants will leave having gained a strong understanding of challenging economic theory and concepts. Throughout their learning, tutors will support participants as they explore the incredible depth of this field, gaining a glimpse of just how far their passion could take them when they begin university-level studies.
Immerse is an inspirational academic economic summer programme for the intellectually curious.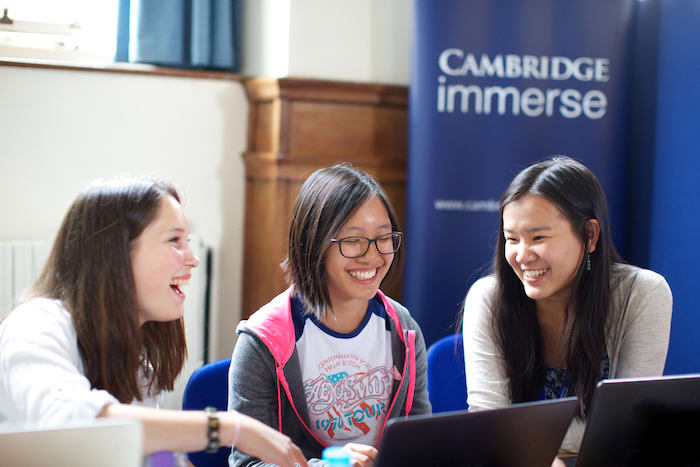 Economics Summer School Key Benefits
Discover how economic principles shape policy and politics
Explore how the Bank of England influences the macroeconomy
See the wide-reaching implications of aggregate supply and demand
Evaluate economics theory through the lens of both contemporary and historical issues
Delve into the inner workings of the financial industry
Understand how game theory affects and shapes the world political stage
Economics Topics Covered
Studying economics means looking at the reasons behind human behaviour and decision-making, as influenced by their access to finite (and dwindling) resources. It's a broad definition and, as such, the Immerse Economics curriculum will cover a wide range of important concepts, helping participants build a foundation of knowledge before beginning their undergraduate studies.
The curriculum starts with a quick introduction to why economics is defined as above, before examining how it applies to everything from world politics, to Brexit trade talks, to the everyday decisions we make in our lives. From there, the course will move on to more advanced topics in both microeconomic and macroeconomic theory, discussing comparative advantage theory, learning how and why countries trade with each other, as well as the benefits of contemporary economic policies, like free trade. Towards the end of the programme, participants will explore the mechanics of economic systems used by the financial industry – systems of borrowing, lending, and investment.
Finally, participants will apply their new knowledge to make sense of the bigger picture; the last tutorials in this programme will examine the economic history of our world, starting with an in-depth look at the British Industrial Revolution.
Course Outcomes
The Immerse Economics summer school programme offers participants a unique opportunity to learn university-level economics material while studying and living on-campus in a Cambridge University college. Participants will be challenged to explore new ways of thinking, understand complex concepts, and apply their new knowledge as they solve challenging problems.
What's more, participants enrolled in this programme will be introduced to important economic theory and frameworks, and will also learn how to describe the relationship between these concepts and current events. Students will analyse the news, case studies, and recent history in order to build their understanding of how economic theory can influence policy, politics, and the world economic stage. In other words, the Immerse Economics curriculum is designed to do more than teach mere theory, giving students the ability to view the world around them with an economist's eye and see the influences behind everyday decisions.
However, despite working from such a comprehensive, carefully-constructed curriculum, there's still plenty of room for tailored, individualised learning at Immerse. Throughout the programme, our expert tutors will encourage and support participants as they explore the aspects of economics that interest them most. By the end of the Economics programme, participants will have a gained a fascinating insight into some of the key topics explored in an undergraduate Economics degree, in addition to having learnt some of the key skills required of successful economists.
By the end of this Economics summer school programme participants will have:
Examined important economic theory as it relates to the world stage
Discussed how a market economy adapts to and solves distribution issues
Explored the problems naturally inherent in a completely free market
Seen how the macroeconomy works, including how it shapes and defines our world
Debated specific post-Brexit trade and the overall benefits of trade
Tackled challenging questions about the disparity between rich and poor nations
Explored the complex principles of behavioural economics behind borrowing, lending, and investment
Critically analysed important case studies on financial crises and bubbles
Students in this course will receive personalised feedback from their tutors about their performance, the material covered, and even a list of individualised suggestions for further study.
Timetable
The timetable shown below offers an insight into the typical daily schedule, although this may vary depending on the events planned on the given day.
A typical day
08:00 - 09:30 Breakfast
09:30 - 11:30 Morning academic session
11:30 - 13:30 Lunch
13:30 - 15:30 Afternoon academic session
16:00 - 18:00 Academic workshop / Afternoon activity
18:00 - 19:15 Dinner
19:30 - 22:00 Evening social event
Start the day with either a continental or cooked breakfast in the college dining hall. A wide variety of breakfast items helps participants prepare for the challenging day ahead.
Case Studies
Thivahshini Muthukumar, United Kingdom
Economics Alumna 2016
Thivahshini participated in our Economics programme in 2016. Here's what she has to say about her time with Immerse Education:
Studying with Immerse was a delightful experience. I was given an insight into what Economics at university would be like and I also received help with my personal statement. Thanks to Immerse I now have the basic skills of an economist. I am able to think more analytically and apply my knowledge to real-life situations. The mentors were inspirational, they were always willing to share their experiences of university and the challenges they faced.
Since studying with Immerse I have started university at Cardiff where I'm studying Economics and Management. I have also interned with PwC in their Assurance department. Over the next 12 months, I will be completing my second year of university and taking part in the Festival of Diversity held by Cardiff University Malaysian Society.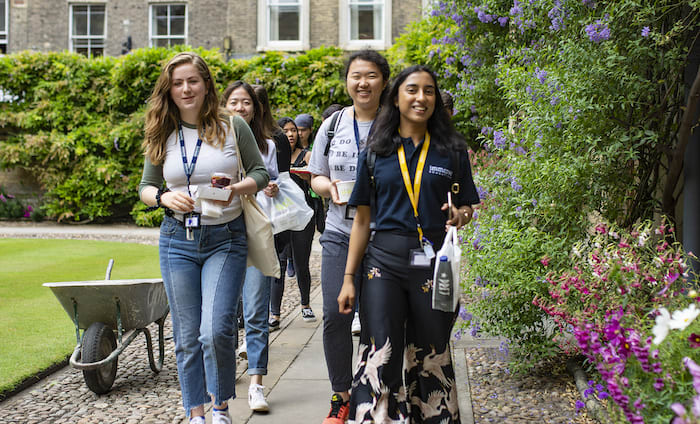 Graduation & Participant Assessment
The final evening of the programme celebrates the achievements of each participant in a graduation ceremony that's followed by a Gala Dinner.
Throughout the Cambridge summer programme, our Immerse tutors will monitor student engagement with the topics that they have been taught. Once the programme has finished, the tutor will write a Participant Assessment that will evaluate how the participant responded to the materials they were introduced to, what progress they made during the sessions, and offer recommendations on how to most effectively advance participant's understanding and interest in the topics that have been explored.
We strongly believe that our Participant Assessments are a crucial element of the learning process and reflective of our commitment to the highest standards of education.
Last updated Jul 2020
About the School

Immerse Education is a two-week residential academic programme in Cambridge with a diverse and enriching curriculum, designed for 13-18-year-old students – providing a taster of what it's like to stud ... Read More
Immerse Education is a two-week residential academic programme in Cambridge with a diverse and enriching curriculum, designed for 13-18-year-old students – providing a taster of what it's like to study a subject at a higher level.
Read less