Summer Course: Creative Writing (Ages 16-18)
Home ›
Summer Course: Creative Writing (Ages 16-18)
Program Description
Creative Writing Summer School Programme Overview:
Programme: Creative Writing
Fee: £4,595
Course Length: 2 weeks
Course Type: Residential
Locations: Cambridge University colleges
See more about our Cambridge Creative Writing Summer School.
Creative Writing Summer School Course Summary
The Immerse Creative Writing summer school programme offers the chance for young writers to develop their craft in the stimulating cultural setting of Cambridge university – the academic home to some of the world's greatest literary minds. The two-week programme, designed for aspiring 16–18-year-old writers, encourages participants to push the limits of their current writing abilities, work with expert university tutors, and learn to improve their own work by critically analysing great literature.
Participants in this summer creative writing programme will explore a wide range of creative writing techniques, receive constructive feedback from their peers, and even complete their own novella by the end of the course. Throughout their stay, participants will learn what makes great writing, following a dynamic curriculum built to help them identify their unique strengths and weaknesses. They will also be introduced to the concept of the 'writing workshop', a popular method which professional writers use to improve their own work.
Participants will conclude the creative writing summer school programme having gained more creative independence and confidence in their own writing, as well as a deep appreciation for the skills required to begin writing compelling articles, novels, and academic prose.
Immerse is an inspirational academic creative writing programme for the intellectually curious.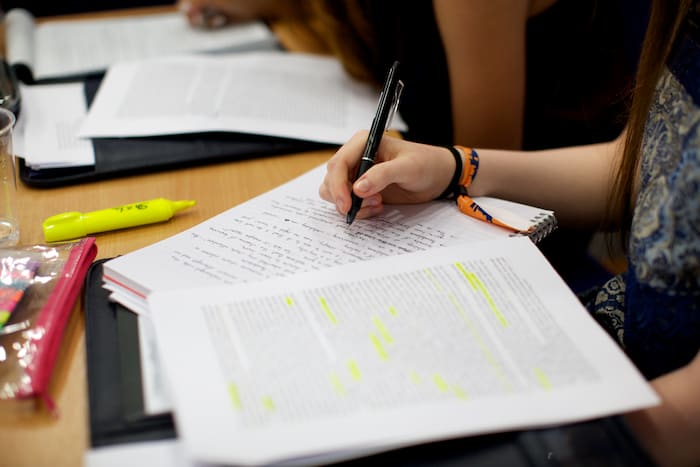 Creative Writing Summer School Key Benefits
Create rich narratives, believable characters, and thrilling plotlines
Receive and respond to constructive criticism from expert tutors and creative writing peers
Build a solid foundation of essential creative writing skills
Develop written voice, master self-reflection, and identify unique personal strengths
Learn to improve self-editing techniques and create more compelling prose
Employ new techniques and techniques to complete a full-length novella
Creative Writing Summer School Topics Covered
Participants will start the programme by reviewing the fundamentals of creative writing – developing an effective plot, shaping engaging characters etc. before moving on to more advanced techniques and concepts. Tutors will work alongside participants to individualise academic session, adjusting tutorials based on participants' different abilities and interests.
Class assignments take the form of essays, short stories, and brief writing exercises designed to challenge participants whilst enhancing their written skill sets. During the programme, participants will learn to make purposeful choices about the point of view, dialogue style, and the settings in which their narratives take place.
Throughout the creative writing summer school course, participants will also read and critically analyse great literary works by authors such as Elizabeth Strout, Mary Gaitskill, Norman Mailer, Benjamin Markovitz, and more. The tutors will guide participants through the readings, revealing the techniques these masters employ in their work. This provides great practice for the programme's writing workshops, where participants critique their peers' writing and receive important feedback from them in turn.
Course Outcomes
In just two weeks, the Immerse Creative Writing programme will equip eager writers with the tools they need to begin bringing their ideas to life. Expert tutors tailor and refresh course content each year in order to match each students' unique interests and writing ability. This helps to ensure that each participant will be challenged to push themselves, helping them overcome their own creative roadblocks.
This focus on pushing participants just outside their comfort zone is a key piece of the Creative Writing programme. Through constructive criticism, expert guidance, and critical analysis of great prose, participants will learn to turn their passion for writing into carefully-constructed works of art. As such, class assignments are all geared towards reinforcing material taught in class, building connections between previous lessons, and channelling each participant's unique personality into their work.
Throughout this creative writing summer school programme participants will:
Use specific techniques to express their own, distinct voice through their writing.
Effectively critique their own writing, both independently and as part of a workshop.
Make purposeful, reasoned choices about narrative point of view.
Keep readers engaged by making careful decisions about plot, character, and setting.
Create complete characters with believable backstories, worldviews, and prejudices.
Analyse the techniques employed by renowned authors and adapt these to their own writing
Present a developed portfolio of their own writing to the class and receive valuable feedback
Craft compelling narratives, essays, articles, and complete a full-length novella
Students in this course will receive personalised feedback from their tutors about their performance, the material covered, and even a list of individualised suggestions for further study.
Timetable
The timetable shown below offers an insight into the typical daily schedule, although this may vary depending on the events planned on the given day.
A typical day
08:00 - 09:30 Breakfast
09:30 - 11:30 Morning academic session
11:30 - 13:30 Lunch
13:30 - 15:30 Afternoon academic session
16:00 - 18:00 Academic workshop / Afternoon activity
18:00 - 19:15 Dinner
19:30 - 22:00 Evening social event
Start the day with either a continental or cooked breakfast in the college dining hall. A wide variety of breakfast items helps participants prepare for the challenging day ahead.
Case Studies
Isis van Dompseler, United Kingdom
2017 Creative Writing Alumna
Isis participated in our Creative Writing programme in 2017. Here's what she has to say about her time with Immerse Education:
Studying with Immerse was an amazing experience. It has given me more faith in my abilities and myself and has therefore broadened my horizons. During the programme, I began work on a novella which I have continued to work on and hope to finish within the next 12 months.
Having the opportunity to be mentored by professionals and being with students who are just as passionate was an amazing opportunity. I am still putting everything I learned - both in terms of the programme and about myself - into practice which is something I treasure immensely.
Graduation & Participant Assessment
The final evening of the programme celebrates the achievements of each participant in a graduation ceremony that's followed by a Gala Dinner.
Throughout the Cambridge summer programme, our Immerse tutors will monitor student engagement with the topics that they have been taught. Once the programme has finished, the tutor will write a Participant Assessment that will evaluate how the participant responded to the materials they were introduced to, what progress they made during the sessions, and offer recommendations on how to most effectively advance participant's understanding and interest in the topics that have been explored.
We strongly believe that our Participant Assessments are a crucial element of the learning process and reflective of our commitment to the highest standards of education.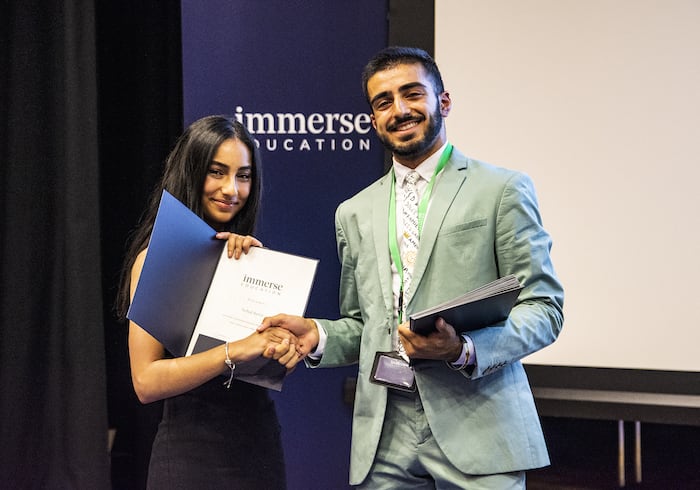 Last updated Jul 2020
About the School

Immerse Education is a two-week residential academic programme in Cambridge with a diverse and enriching curriculum, designed for 13-18-year-old students – providing a taster of what it's like to stud ... Read More
Immerse Education is a two-week residential academic programme in Cambridge with a diverse and enriching curriculum, designed for 13-18-year-old students – providing a taster of what it's like to study a subject at a higher level.
Read less