Renewable Energies for Sustainable Development Online Course
Home ›
Courses ›
Energy ›
Renewable Energies for Sustainable Development Online Course
Program Description
Energy is the golden thread that connects economic growth, increases social equity and an environment that allows the world to thrive. Development is not possible without energy and sustainable development is not possible without sustainable energy.
This online programme will give a comprehensive overview of renewable energy as a means to enable sustainable development at a global scale. It will present the case for how renewable energies represent both an environmental necessity and an economic opportunity.
The programme supports the UN Sustainable Energy for All initiative (SE4ALL), which aims to provide universal access to modern energy services, and double the worldwide rate of improvement in energy efficiency and the share of renewable energy in the global energy mix. Energy underpins all of the UN Sustainable Development Goals (SDGs), which this course is also closely aligned with.
Through a discussion of key benefits and suitability for a range of applications, together with extensive case studies, the programme aims to provide an overview of clean, secure and sustainable technology options for the development of renewable energy projects, and offer insights into the management of these projects, from small scale through to major projects.
Certified by CPD UK
The Renewable Energies for Sustainable Development course is certified by CPD UK – Continuing Professional Development.
Continuing Professional Development (CPD) is the commitment by professionals to develop new skills or enhance existing ones through online training programmes and face-to-face courses. Many organizations, companies, and businesses prioritise CPD to ensure their workforce is up skilled, abreast with the latest knowledge and at the forefront of their sector.
Course Objectives
This course, offered in collaboration with Strathclyde University and UNITAR, aims to enhance the capacity of local decision makers, energy/sustainable development officers and other personnel to make an informed decision on which renewable energy technologies will meet their own needs or the needs of their countries, communities, villages or neighbourhoods.
The programme's key focus aligns with the SE4All objective; to provide sustainable energy to over 1 billion people in developing countries. However, the course recognises that renewable energies are integral to the sustainable future of any country (regardless of the economic situation). This course, therefore, delivers comparisons and case studies for both developing and industrialised countries. Through a broad and holistic syllabus scope, the course develops the ground knowledge and skills to enable the participants to place their energy projects within the global energy climate.
By the end of the course the participant will be able to:
determine how renewable energy technologies can help to drive sustainable development.

discuss the role that energy plays in advancing the Sustainable Development Goals.

explain the benefits and drawbacks associated with a range of sustainable technologies and how they may be integrated.

apply basic principles to determine the most appropriate renewable energy strategy in a given situation.

compare and assess different business models and their suitability for different energy solutions.

identify and use tools to overcome barriers to achieve sustainable energy goals.

share best practices of their communities with others around the world



Methodology
Learning activities are based on UNITAR's sound adult learning pedagogical principles. They are distributed in such a way as to ensure the achievement of the learning objectives in a flexible manner: learning materials can indeed be consulted in a non-linear way so as to provide participants with a high degree of flexibility in choosing the learning pace that is most suitable for them. Thus, participants are responsible for their own learning throughout the course. Recognised experts from the University of Strathclyde, a world leader in renewable energy, moderate the course. Each module aims to deepen each participant's skills and understanding as well as provide him/her with the opportunity to network and dialogue with other participants, sharing country-specific experiences and good practice in sustainability issues.
Learning materials include the following elements:
basic reading materials (compulsory) intended to support the participant's understanding of the basic concepts and principles of the modules' subject matter
advanced reading materials (optional) for participants willing to learn more about the topic
external links to relevant publications, reports and websites
glossaries of terms and of acronyms as supportive learning tools
a community discussion board (forum) to allow participants to discuss topics initiated by the course moderator and to post questions, comments or new discussions
online group learning sessions (webinars) allowing participants an opportunity to ask questions and discuss in real time with course moderators and fellow participants
Learning Time
The learning time is estimated to be about five hours per week. This includes study time (about three hours/week) and participation in collaborative activities (about two hours/week). Time dedicated to assessment activities is not taken into account in this estimation. The course lasts for eight weeks.
Course Completion and Certification
Successful completion of the course requires participants to achieve a minimum total score of 70% which entitles them to a Certificate of Completion. A Certificate of Participation will be issued to participants who completed all exercises but achieved a score lower than 70%.
Assessment Activities
The assessment activities are organised as follows:
eight mandatory quizzes which aim at evaluating participants' comprehension of the course content. The eight tests altogether account for 40% of the final grade
participation in the online discussion forums which accounts for 10% of the final grade
a case study where participants can apply their knowledge practically. The case study scenario takes as a basis the creation of a draft sustainable energy plan focused on the participant's region/country. The case study accounts for 50% of the final grade
Target Audience
The course is open to those in the business, non-profit, public and academic sectors who wish to install renewable energy systems in both urban and rural settings or make their contribution to reducing carbon emissions through energy efficiency and the use of sustainable energy sources. The course aims to provide delegates with a high-level understanding of the key issues as well as sufficient technical insights to allow them to make informed decisions about technology choices.
Sustainable Development Officers
Energy Officers
Strategic Managers of Planning and Environmental Services
Community Planning Officers
Local Authority Representatives
Policymakers and Regulators
Development Officers
Social and Economic Development Officers
Entrepreneurs and private sector players who want to assess opportunities and develop strategies
Last updated Nov 2018
About the School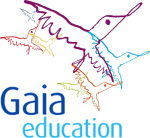 Gaia Education was created by a group of educators called "GEESE"- Global Ecovillage Educators for a Sustainable Earth- who have been meeting over a series of workshops in order to formulate their tra ... Read More
Gaia Education was created by a group of educators called "GEESE"- Global Ecovillage Educators for a Sustainable Earth- who have been meeting over a series of workshops in order to formulate their transdisciplinary approach to education for sustainability.
Read less