Professional MBA Online (PMBA)
Home ›
MBA ›
Professional MBA Online (PMBA)
Program Description
Elevate your career with Bryant's flexible and high-value MBA program 100% online
You can finish your MBA in as little as one year. There are five intakes per year. Start the program when it is convenient for you and your busy work life!
Why pursue your MBA online?
Earn your degree in as fast as one year while working full time.
Be a part of and access Bryant's extensive alumni network of 45,000 proud graduates.
This very competitively priced program is ideal for junior as well as senior working professionals with five or more years of qualified work experience.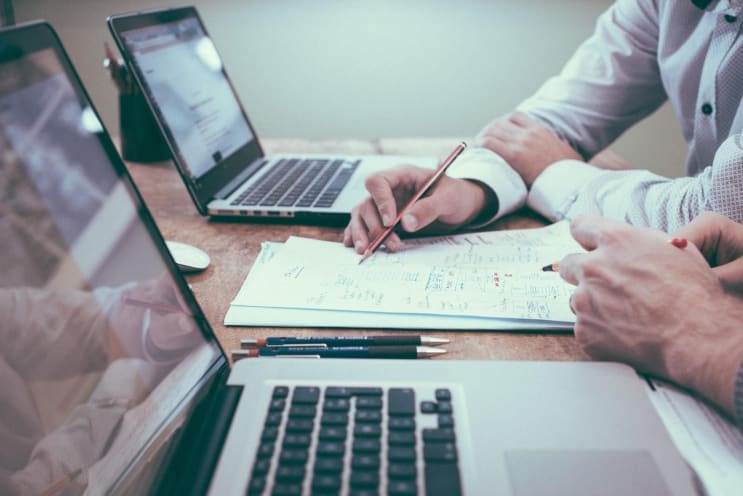 Helloquence / Unsplash
Mission
The mission of the Bryant Professional MBA Online degree program is to empower working professionals to grow their knowledge and skills in pursuit of their career goals while providing opportunities to improve the performance of their organizations and provide leadership and service to their chosen profession. Bryant's dedicated faculty successfully equips students with the analytical, technological and interpersonal skills required to meet the challenges of working in a diverse and global marketplace. Through this program, students will develop an understanding of foundational business knowledge, learn how to apply this knowledge towards evaluating, analyzing, and solving business problems, and develop expertise in combining values-based leadership decision-making with business problem-solving.
Learning goals
Understand and apply business knowledge: Effectively apply paradigms and concepts in business domains in order to solve business problems.
Accomplish effective communication: Develop written, oral, and presentation skills to communicate effectively across the organization and its stakeholders.
Evaluate global perspectives: Demonstrate the ability to integrate diverse and global perspectives to effectively address management issues.
Conduct critical thinking: Analyze business problems and situations from a variety of perspectives and arrive at appropriate value-creating decisions.
Implement entrepreneurial leadership: Evaluate the economic potential of business opportunities, devise actionable strategies, and communicate recommendations persuasively to achieve goals.
Perform ethical reasoning: Understand the role of human values in a business context and justify an action plan to manage any ethical challenge faced or identified by the organization.
When can I start the program?
You can choose from several start dates throughout the year; each semester is 10 weeks:
Winter semester: January 4 - March 14, 2020
Spring semester: March 14 - May 23, 2020
Summer semester 1: May 23 – August 1, 2020
Summer semester 2: August 1 – October 10, 2020
Fall semester: October 10 - December 19, 2020
Requirements
Before starting the program, you are required to complete Strategies for Success, which will help you succeed in Bryant's MBA online program. You will be familiarized with the online technology environment, provided by the Blackboard Learning Management System (LMS), and get introduced to professors, your success coach, and staff at Bryant. Online study skills, time management skills, and self-directed learning will also be addressed to ensure your success.
What must my application include?
In addition to the application form, you will need to submit a statement of objectives, current resume, one professional recommendation from a supervisor or manager (not a colleague), official transcripts from all colleges/universities you have attended, and your application fee (waived for Bryant alumni).
Do you offer financial aid?
Students can apply for government-sponsored and private education loans. U.S. citizens and permanent residents are encouraged to apply for financial aid by completing the Free Application for Federal Student Aid (FAFSA). In addition, Bryant University accepts payments directly from a number of employers who have tuition assistance programs. In other cases, students may be eligible for reimbursement of educational expenses.
How does the MBA program rank against others?
The College of Business at Bryant University is accredited by the AACSB International - The Association to Advance Collegiate Schools of Business. Bryant is one of only 5 percent of colleges and universities in the world to earn this prestigious accreditation. Also, the Bryant MBA was included in the 2018 edition of "Global MBA Rankings," the annual guidebook released by CEO Magazine. This program was recently ranked No. 9 by College Consensus.
Application Requirements
Bryant University is committed to enrolling classes of students with strong credentials that show a high promise of professional success. To be admitted to the Professional MBA Online degree program, applicants must be a graduate of a four-year college or university and a minimum of 5 years of qualified work experience (assessed on a case by case basis).
Applicants must submit:
Bryant University College of Business Graduate application. Applicants shall complete the online application for admission.
Official transcripts from ALL colleges and universities attended.
One professional letter of recommendation from a manager or supervisor (not a colleague). Recommenders may submit a written recommendation on letterhead.
Statement of objectives (500 words maximum). The purpose of the statement is to explain why the applicant is applying to Bryant, the specific program, and how both will help the applicant achieve a future goal. Please also indicate at what pace you plan to take courses so we can help you plan your graduation date.
A current resume.
An $80 application fee. (Waived for Alumni)
Last updated Jul 2020
About the School

Bryant is a private New England university with a tradition of innovation and a global vision for success. Our academic programs are distinguished by an integration of business and the arts and scienc ... Read More
Bryant is a private New England university with a tradition of innovation and a global vision for success. Our academic programs are distinguished by an integration of business and the arts and sciences with a global perspective.
Read less
Accreditations