Postgraduate in UX & CRO - Online
Home ›
Postgraduate in UX & CRO - Online
Program Description

Director: Héctor Martín
Modality: Online
Date: May 2021
Duration: 6 months
Price:

€

3

.490
UX professionals are needed capable of aligning business objectives with the needs of their clients
At Inesdi Digital Business School, aware of the current changing environment , we work so that professionals and managers acquire the knowledge, skills and abilities necessary to adapt and develop in the digital field. Our goal is for each and every one of our students to acquire a competitive profile, which facilitates their insertion and mobility in global areas with high professional demand. For this reason, in our training we offer a strategic and practical vision, aligned with the needs of the market .
The Internet and the exponential advancement of new technologies have conditioned the way in which we interact and do business, which in turn represents infinite new opportunities.
Technological development and the number of existing digital products lead to a high demand for conversion-oriented professionals , since behind every web there is a business that pursues specific objectives. The conversion optimization or CRO is the discipline that pursues to achieve a higher conversion without having to increase the marketing budget; that is, to make the most of the traffic that enters our website or app to achieve (and if possible, exceed) business objectives. User experience is the most powerful tool that digital businesses have to achieve this goal, supported by digital analytics and research methodologies .
Inesdi's Postgraduate Course in UX and CRO is aimed at professionals who want to learn to improve the conversion of their businesses while optimizing their marketing budgets, learn to design focused on the user and improve the experience of their clients. Through different methodologies for research, testing, analysis and strategy, you will get your business to multiply its results without having to increase the investment.
Program objectives
Learn how to focus UX design projects to improve conversion .
Obtain the keys to incorporate the CRO into the day to day of your project or business.
Learn how to start a UX design project focused on the user and with the aim of improving conversion.
Learn the relationship between digital marketing, SEO and user experience.
Learn to use the tools of quantitative and qualitative analysis to achieve the conversion objectives.
Design, implement and develop CRO strategies that help you optimize your marketing budgets and achieve better results.
You want to know more?
Our educational model works because you learn the latest. We incorporate the latest news into our programs to guarantee your learning. This has been verified during Inesdi's 10 years of more than 3,000 professionals who have already passed through our classrooms and are currently working in the digital field.
Through our virtual campus you will have access to all the contents of your course, as well as information and complementary videos to make your learning even more complete.
You will be trained under the «Learning by doing» methodology, going from theory to practice through real cases. Encouraging the initiative of teachers and students so that the time invested results in a satisfactory and profitable experience for all.
You can do networking with the rest of the students.
Program
Module 1. Introduction. CRO project strategy and management
Module 2. Digital Analytics and its application to the CRO
Module 3. User Experience Design
Module 4. UX Research and its application to the CRO
Module 5. Application of the UX to the improvement of the conversion
Who is it for?
This postgraduate course is conceived both for professional profiles with design experience who want to improve their business knowledge , as well as for graduates, professionals and entrepreneurs who want to acquire the necessary knowledge to optimize conversion through UX design and data analysis.
Managers, Product Owners or Product Managers of companies that have the responsibility of improving the conversion of their businesses.
Experienced professionals who want to expand skills ( graphic and web designers, SEO experts, copywriters and copywriters, sociologists, psychologists ).
Responsible for marketing and digital communication.
Digital analysts who want to take another step in their professional career and give more meaning to their reports and quantitative analysis.
Entrepreneurs and intra-entrepreneurs who want to develop new projects in the digital economy and want to know how to optimize the conversion of their websites.
Professional outings
With the Postgraduate in UX & CRO you can become a new professional in the digital economy, being able to develop your own business project or join important departments and areas of companies of the 21st century:
CRO Specialist
Digital analyst or user experience analyst (UX analyst)
User experience designer (UX designer)
User experience researcher (UX researcher)
Digital business director
Data UX
Admission process
Our admission process has the fundamental objective of ensuring the suitability and development of candidates, so that all our students can live a digital experience that responds to their current and future needs.
Admission request
Personal interview
Admission documentation
Admissions committee evaluation
Approved admission
Registration
Last updated Dec 2020
About the School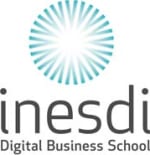 Inesdi ofrece a profesionales y empresas la formación más completa y actualizada para que formen parte del sector con más proyección del momento, somos la primera escuela empresarial especializada en ... Read More
Inesdi ofrece a profesionales y empresas la formación más completa y actualizada para que formen parte del sector con más proyección del momento, somos la primera escuela empresarial especializada en innovación digital.
Read less