Postgraduate Diploma in Football Business Online
Home ›
Sport ›
Postgraduate Diploma in Football Business Online
Program Description
Football is quite possibly the most powerful most popular sport in the world; linking communities, moving emotions and breaking down cultural barriers. Football has also become one of the most profitable industries, with significant economic impact on infrastructure development, sponsorships, TV rights and transfers of players. The training of professionals engaged in football business and administration is key to greater professionalism in the sector. This postgraduate in football business program provides you with the appropriate tools and knowledge for your development as a professional in the world of football.
OBJECTIVES
The main objective of the Postgraduate Diploma in Football Business is to educate you in the proper use of management tools for organizations linked to football. You'll develop abilities to recognize business opportunities, establish strategies, anticipate changes and optimize resources.
LEARNING OUTCOMES
To understand and apply the strategic, global and objective vision to the football industry from a business perspective.
To master the skills necessary to obtain the best results in the management of professional football teams.
To interpret the financial statements of a football organization and creative financing strategies for new projects.
To master the management processes of a sports facility and event organization.
To understand and apply new marketing and sponsorship tools applied to football.
AIMED AT
Postgraduate Diploma in Football Business is for you if:
You're working in the football industry (footballer, coach, technical staff or manager) and are looking for an education in football management to give your professional career a boost.
You're working in a business environment and want to specialize in the football industry.
You're passionate about football and want specialized education to devote you professionally to this sector.
Those who have completed this Postgraduate program are currently working in:
Sports Competition (professional football clubs)
Governance (football federations and associations)
Football Facilities & Events (tournament organizers, sports clubs)
Community-based Football (foundations, municipalities)
Sports Consultancy (business initiatives)
Intermediation Services (agencies, player's representation)
Sports Journalism (media)
Marketing & Sponsorship (private and public companies)
ADMISSION REQUIREMENTS
To be admitted, you must meet one of the following requirements:
Have a Bachelor's degree, diploma or equivalent.
Have at least 3 years experience in the football world.
Have developed a career as a professional football player, coach or referee.
ADMISSION PROCEDURE
Please complete the pre-enrollment form if you are interested in studying this program. Your form will be submitted to the Admissions Committee, which will evaluate if your achievements as well as your aspirations and motivations in pursuing this degree are in line with the objectives of the program. The admission procedure may include a personal interview with the program manager. One of our academic consultants will contact you within 72 hours.
LEARNING MODEL
The Postgraduate Diploma in Football Business puts you at the center of your education through a learning-by-doing methodology. We encourage collaborative work and transfer the content to specific situations in football business (connective teaching methodologies and social constructivism). Our faculty of expert professors and tutors will guide you through the learning process, providing high-quality training combined with the flexibility of online study.
PERSONALIZED TUTORING
We will assign you a personal tutor, who will be monitoring your pace of study, adapting it to your work and/or sports schedule. At the beginning of the course, you'll create a tutorial action plan together. The tutor will make an assessment of your background, professional experience in the sector, availability, and dedication to the course, and will also be responsible in guiding you in your study process, supporting you throughout the program.
Last updated May 2019
About the School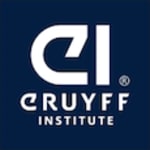 The Johan Cruyff Institute is a powerful blend of professors, staff and partners who share a passion for educating the next generation of leaders in the sport business for the benefit of all athletes, ... Read More
The Johan Cruyff Institute is a powerful blend of professors, staff and partners who share a passion for educating the next generation of leaders in the sport business for the benefit of all athletes, sport partners, organizations and the students themselves.
Read less