Post Doctor in Education
Home ›
Post Doctor in Education
Program Description
Post Doctor in Education – 48 credits
These degree programs involve advanced research activity in preparation for a career in academia, industry or the nonprofit sector. The uniqueness of this program replaces the regular classes and involves knowledge research by the student who participates in quarterly meetings on campus or on the web and accompanying instruction. The chosen concentration area is under the supervision and must be approved, of the Faculty Mentor and the Doctoral Dissertation Committee.
Curriculum
Required Courses: 48 Credits
PD0004 Human Organization Theory, 3 Credits
PD0012 Scientific Article, 6 Credits
PD0020 Research Portfolio (Memoir), 24 Credits
PD3013 Assessment for Innovation, 3 Credits
Electives, 12 Credits
Electives Courses
PD0013 Thesis Board Examination at FCU, 3 Credits
PD0014 Graduation Student's Research Orientation (maximum 2), 3 Credits Each
PD0016 Book Publication, 12 Credits
PD0019 Scientific Research Presentation (maximum 2), 3 Credits Each
PD0021 Scientific Article Publication (maximum 2), 3 Credits Each
PD0022 Any Master/Doctoral course in Business Administration at FCU (Maximum 1), 3 Credits
PD0025 Post-graduate Practice (Teach University Class – Maximum 1), 3 Credits
Objectives
The objectives chosen will provide advanced development of the student's education skills by:
Developing advanced in-depth research skills upon the foundation of the doctoral degree.
Advanced preparation related to professional skills for education in academia, industry, and the non-profit sector.
Post Doctor Degree teaching.
Written topical articles published or not published.
Publishing book based on Post Doctor researched dissertation project.
Participating in International Adjunct instruction.
Entrance Requirements
Application for admission.
Doctor degree in a related discipline.
Official transcript(s).
Curriculum vitae
Statement of the field of study and objectives to be achieved in the chosen field of research.
No transfer credits.
Steps to Enroll
Application: Complete the Enrollment Agreement sent by e-mail by the Student Services Department of FCU, sign and scan the document.
Documents: Send the Enrollment Agreement to info@floridachristianuniversity.edu attached with all the documents necessary or send them by mail.
Evaluation: After receiving the Enrollment Agreement and the copies of the requested documents, verification will be made by the corresponding departments. FCU will contact the students if additional documents are required. Transcripts must be official and sent directly from the university in a sealed envelope.
Payment: If the student completes the Agreement and submits all required information, the next step is to pay the $260 Application and Enrollment fee, which is applicable to any program. (Application $40 & Registration & Processing Fee $110.00 – are not refundable + USD $110.00 Evaluation – refundable).
Enrollment: Should the student's Agreement require additional analysis by the Institution, the student will be informed immediately. After being approved, the student will be effectively enrolled and will receive a welcome letter, the Catalog, and the Student Handbook. After that, the online student will receive an e-mail with information on how to access the Student's Portal and the template to be used their assignments. On-campus students will receive their class schedule. The Student ID Card will be sent by mail. Now the student is ready to begin their classes!
Mode of Study
Three-Course Delivery Methods: Face-to-Face/Synchronous/Fully Online (Student's Portal).
4th Method for those who live near the headquarters or a branch of FCU: Hybrid.
Classes start immediately after enrollment, on an ongoing basis. For online courses, students take a minimum of (1) one online course a month. For on-campus courses, invitations are sent out and students confirm their presence a minimum of (2) two weeks prior to the course date.
Last updated Feb 2020
About the School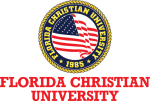 Founded on August 29th of 1985, FCU always had the mission of providing Higher Education in a practical and accessible way, to professionals and ministers, preparing them to accomplish their callings ... Read More
Founded on August 29th of 1985, FCU always had the mission of providing Higher Education in a practical and accessible way, to professionals and ministers, preparing them to accomplish their callings with Christian foundations. The University promotes global outreach distance learning education programs through video, independent study, and online classes with qualified faculty and use of state- of- the- art technological infrastructure.
Read less