Online Master of Business Administration (MBA)
Home ›
MBA ›
Online Master of Business Administration (MBA)
Program Description
A Post University MBA Moves You Ahead of the Competition
You've already accomplished a great deal in your career. You work hard and now you're ready to lead. Earning your Master of Business Administration (MBA) degree from Post University online can open doors to multiple career opportunities in a variety of organizations, ranging from healthcare to technology and finance to marketing. You will gain real-world experience through real-world project-based learning. The project-based learning approach gives you hands-on exposure to current issues faced by organizations. Gaining in-demand skills prepares you to hit the ground running upon graduation.
No GMAT required to apply.
Program Highlights
Students in the Master of Business Administration program progress through a core curriculum of courses that lay the foundation for their concentration specialty and the capstone course. Students further their education by selecting one of the following areas of concentration: Corporate Innovation, Entrepreneurship, Finance, Healthcare Systems Leadership, Leadership, Marketing, Project Management, or Multidisciplinary.
As a student in the program, you'll strengthen key areas of business leadership from organizational management to strategic planning through coursework in communication, ethics, and quantitative reasoning. You'll learn to develop expertise across new ventures, organizations, and global environments in areas such as organizational transformation and implementing new ventures, products, and services. Plus, you'll learn how to apply principles of creativity and innovation to profit-based and/or not-for-profit organizations. You'll have the ability to fine-tune your real-world approach to classroom theory and application through analysis, evaluation, and implementation of research-based practices as they apply to your area of concentration.
What can you do with an MBA?
An MBA degree can offer a path to leadership across for-profit, nonprofit, and government industries. Graduates will be poised for career advancement and may seek employment as a director, manager, supervisor, corporate officer, or corporate executive.
Post University offers onsite and online MBA degree program options to help our students achieve their professional and educational goals. Our Academic Success Counselors are available to assist with everything from questions about MBA degree requirements to career placement. We want to see every student succeed.
This degree program is programmatically accredited by the Accreditation Council for Business Schools and Programs (ACBSP).
MBA Concentrations
As you progress in the program, the course curriculum will be tailored to your focus from the available MBA concentrations below and the career outcome you're looking for.
Corporate Innovation
You will learn strategies to help your organization break ground—whether it is a new market, a new product, or a new organizational structure—without interrupting your career path. Career outcomes vary but include managers, directors, and executives responsible for strategy, change, and innovation.
Finance
Build on the core courses to provide specialized knowledge and applied skills in the management of finance, analysis of financial statements, creation, and management of financial portfolios, and a working knowledge of the impact of public policy to application of financial principles. Career outcomes include but are not limited to financial analyst, banker, controller, money manager, investment analyst, underwriter, financial manager, and finance executive.
Entrepreneurship
Whether you own a business and want to add value to your enterprise or you're an aspiring entrepreneur who wants to lead innovation and tap into new market opportunities, we will give you the tools to see your ideas through from concept to completion. Outcomes include career entry or advancement in small and large business environments including owner, partner, manager, or executive.
Healthcare Systems Leadership
​Apply your skills in areas specific to a rapidly evolving healthcare world, allowing you to gain an understanding of the interrelatedness of clinical, technological, and financial components of the business of healthcare. Graduates can pursue a career in a growing and evolving healthcare field.
Leadership
Our program focuses on the leadership aspects in all areas of business functionality, from day-to-day interactions with employees and teams to big-picture planning. You'll learn to evaluate your leadership skills objectively and discuss new methods for a variety of situations, including regaining public trust, leading innovative organizations, and dealing with ever-increasing complexities and change. Job titles vary but may include unit leaders, supervisors, managers, directors, and executives responsible for leadership and change.
Marketing
​Develop skills in writing integrated communication and marketing plans, explore new strategies for targeting consumers based on buying motivations, discover how to use marketing research, technology, and analytics to quantify marketing results, and gain insight into managing brand initiatives. Graduates often pursue careers as marketing analysts, sales supervisors or managers, business development managers, product researchers, product developers, marketing strategists, directors, or executives.
Multidisciplinary
This is a tailored program that builds on courses from all other MBA concentrations that are based on specific career goals. Career opportunities are centered on targeted opportunities, based on an approved degree plan.
Project Management
You'll gain detailed process and procedural knowledge of the profession, as well as different types of project-based tools and applications of theory. And in our practice-based program, you'll gain experience in the classroom that you can apply to your current position the next day. Career outcomes include leading project teams, defining and managing project risk, assessing financial resource needs, and impacts, and managing project finance.
Master of Business Administration Program Outcomes
Creativity and Innovation: Students will apply principles of creativity and innovation to for-profit and/or not-for-profit organizations.
Communication: Students will communicate professionally, using graduate-level written and oral skills essential to success in the business environment.
Leadership: Students will develop and cultivate their own vision and leadership approach, as it relates to the rapidly evolving globalization of business practices, based on both proven and innovative business approaches that address predictable and unique organizational challenges.
Transformation of Organizations: Students will use innovative strategies and change management principles to lead the transformation of new ventures, organizations, and global environments.
Strategic Business Planning: Students will demonstrate the ability to conduct strategic business planning supported by market analyses evaluated to meet existing and evolving global market analytical needs.
Creation of New Ventures, Products, and Services: Students will apply innovative tools to evaluate organizational needs for developing and implementing new ventures, products, and services.
Quantitative Reasoning: Students will identify, analyze, evaluate, and apply financial models, analytical decision tools, and planning models to solve complex organizational problems.
Ethics: Students will examine and apply ethical and professional behaviors in business situations.
Future thinking: Students will be challenged to critically analyze and develop new philosophies (values, beliefs, and viewpoints) that drive change, transform thinking, and advance the field of study.
Concentration-specific: Students will identify, analyze, evaluate, and implement research-based business practices applicable to their area of concentration.
Admissions Requirements
Applicants to the graduate programs must submit the following:
A graduate application.
An official transcript with a conferred bachelor's degree in a related field. (See Chart Below for Details)
An official graduate degree transcript will be permitted in lieu of a bachelor's degree transcript.
In addition to the above requirements, applicants with an undergraduate CGPA of 3.0 or higher
One letter of recommendation required, 2 suggested.
In addition to the above requirements, applicants with an undergraduate CGPA of less than 3.0
One letter of recommendation required, 2 suggested.
A personal statement.
Permission from the Dean.
Program Specific Prerequisites
Bachelor of Science in a business-related subject. A student with a Bachelor of Science in a non-business-related field must take BUS501 – Economic Foundations of Accounting and Finance or ACC111, ECO201, FIN201, and LAW204. BUS501. BUS501 will be waived for students with a Bachelor of Science in a business-related field. Please contact a Graduate Admissions Representative for details.
Additional Experiential Admissions Requirements
Post University
Post University takes a personal approach to education and a personal interest in each of our student's success. Whether you learn on campus or online, you will receive one-on-one attention from our experienced faculty and staff.
We're With You Every Step Of The Way
In the Malcolm Baldrige School of Business at Post University, we are committed to you and your ongoing success. That requires more than just giving lectures and handing out tests. It requires we do everything possible to provide an extraordinary learning experience. It requires more of us; and it will require more of you. As a student in the School, you are signing on for an education that will help make an impact on every facet of your life. You'll be required to Think More, Do More, and Be More.
You won't be alone. Your student advisors, school administration, and dedicated faculty will come along beside you to provide guidance, support, and real-world business insights for an educational experience unmatched in any industry. We're focused on maximizing YOUR success.
Accreditation & Rankings
Programs within the Malcolm Baldrige School of Business have been continuously accredited by the Accreditation Council for Business Schools and Programs (ACBSP) Global Business Accreditation since 2014*. This means we meet or exceed established standards for these business programs around the globe. ACBSP Global Business Accreditation represents the highest standard of achievement, worldwide, for business programs that have a primary teaching focus as opposed to a research focus.
Last updated Oct 2020
About the School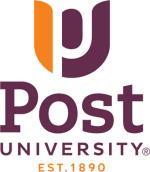 Post University was founded in 1890 with a mission to give students the educational foundation they need to pursue careers in the fields that interest them most. In the last 130 years, the world aroun ... Read More
Post University was founded in 1890 with a mission to give students the educational foundation they need to pursue careers in the fields that interest them most. In the last 130 years, the world around us has changed, from slide rulers and typewriters to laptops and smart phones. And we've evolved with it to provide an exceptional learning experience, in and out of the classroom. Today, our students have more learning options beyond the traditional campus experience. They're able to learn, grow, and prepare for a better future online in their homes, as they travel, or in one of our classrooms. At Post University, we understand how important it is to be there for our students every step of the way. From the dynamic culture and tight-knit community feel of our traditional New England campus to the online convenience of our distance-learning programs, our students benefit from the insights of industry experts, a curriculum grounded in what employers really want, and the support of a university that cares for their success as much as they do.
Read less