Online Master in Food & Beverage Management
Home ›
Master ›
Online Master in Food & Beverage Management
Program Description
Starting date: each year, in March and October
Training of excellence paid internships, career service, international networking, and many other benefits from your professional and personal development. Teaching formulas for every demand.
The Rome Business School's Online Master in Food & Beverage Management offers general management training combined with production chain-specific competencies, to produce specialist professionals capable of dealing with the challenges of the food and beverage industry in an international and multicultural context.
The Italian food and beverage industry are growing in both the home and international markets. Italian products are a byword for a level of quality that is recognized and appreciated all over the world in terms of both raw materials and geographical provenance.
The role played by Italian-made products is also increasingly dominant in the hospitality industry, which is an important aspect of the new Italian identity. A strong contribution to this "movement" had been given by hotel chains, which, with their sensitivity and market knowledge, have started featuring, in their international in-house restaurants, Italian products and chefs—both household names and up-and-coming ones—who inject their personal commitment, culture, and experimentation in their offerings. This has enabled hotel restaurants—which, for a long time, were considered to provide a second tier food and beverage offering—to take center stage once again.
This resurgence has today been digested, and hotel cuisine is being given very high consideration. Thanks to corporate investments, more and more venues are backing restoration, not only to meet (predominantly foreign) guest demands but also to attract an external clientele and to distinguish themselves in terms of both quality and management.
Contents
Introduction
Food and Beverage Industry Management
Food Management
Beverage Management
Marketing and Communication for Food and Beverage
Case studies
Food and Beverage industry innovation and strategies
Learning options and tuition fees
The Rome Business School's Online Master in Food & Beverage Management's participation fee is € 6.500,00. The course is available either on-campus or through distance learning, and is structured in:
6 months of lectures
6 months of project work
International internship opportunities
Company visits
Cultural programme
Rome Business School Distance Learning with LIVE lectures
Training effectiveness, care, and economy
The Rome Business School courses are available also in distance learning formula. The School not only provides teaching materials but also includes live online lessons opportunity and the continuous assistance of a personal tutor.
This didactic option ensures thus big training effectiveness, is economically advantageous and allows you big flexibility in studying.
Rome Business School distance learning Online Master in Food & Beverage Management is designed to provide you with the maximum support and success in learning, also if you do not physically attend the on-campus lectures.
Live online lessons You will be able to follow lessons by professors and experts from the comfort of your home or wherever you are, with the same training effectiveness of the on-campus course. The Rome Business School uses a cutting-edge online platform for distance-learning courses, allowing you to:
Follow lessons with full audio and video;
Participate using real-time audio and video with the instructor and classmates;
Collaborate and share documents.
What do you need? To get the most out of our lessons, here's all you'll need:
• A computer or wireless device with an Internet connection;
• An audio connection – either through your computer or phone;
• A webcam (optional).
Excellent teaching materials We will provide you with all of the learning materials from the on-campus program (books, tablet computer, lecture texts, etc); you will be able to study and practice from the comfort of your own home, on your own time.
Availability of a Personal Tutor Besides the wealth of learning materials, you will also benefit from the support of a Rome Business School tutor. The tutor will follow you through the course, helping you to achieve success.
Career service Participants in the distance learning Master's course are entitled to the same professional opportunities as those in the on-campus course:
International paid internships with leading businesses and organizations in over 130 countries;
Having your CV inserted in the Rome Business School database and distributed to companies, organizations and headhunters of the Rome Business School's international network;
Free review of your CV;
Support in managing your job interviews;
Learning tests For each of the learning modules, you will take contextualized writing tests to keep track of your progress.
A forum dedicated to sharing experiences among students Through our dedicated online forum, you will be able to talk with and share experiences and ideas with other distance-learning students.
Equal qualifications and certification as the on-campus course The distance-learning Master program entitles you to the same qualifications and career service assistance as the on-campus program.
Possibility to add classroom lectures If you want, you can also add to your distance learning, some on-campus lectures, in agreement with our secretary office, with extremely advantageous conditions.
Last updated Feb 2020
About the School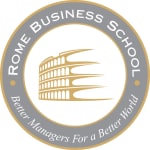 The Rome Business School is a Rome, Italy, based Institute of excellence devoted to managerial training and research, which operates internationally, with alumni hailing from more than 140 countries w ... Read More
The Rome Business School is a Rome, Italy, based Institute of excellence devoted to managerial training and research, which operates internationally, with alumni hailing from more than 140 countries worldwide.
Read less