Online Master in Agribusiness Management
Home ›
MSc ›
Online Master in Agribusiness Management
Read more about this program on the institution's website
Program Description
Please note: this program is taught entirely in English.
Under the patronage of

Rome Business School's Online Master in Agribusiness Management grants a top-level managerial training which combines economic, strategic, and planning techniques and deep knowledge of the market with the mechanisms and dynamics of the agricultural business. The program's quality teaching and networking services all contribute to make it the perfect fit for anyone who is looking to rise to the top in the world of farming, agriculture, food production, or in the start-up agribusiness system with a mindset focused on innovation and sustainability.
In addition, being this master in an online version, you can have quality learning anywhere! We have more than 10 years in online learning education and we are a member of Grupo Planeta de Agostini, the leader in providing programs in online mode, our "distance" courses offer all the contents of classroom learning, in order to use a complete and professionalizing experience.
Program Structure
Rome Business School's Online Master Agribusiness Management is structured to provide participants with a though preparation for the Agribusiness sector and crucial aspects of other related fields, starting with a wide overview of the broader management world and then proceeds with the analysis of all the specific subjects and aspects of Agribusiness Development and Management. It provides you with an in-depth insight into innovative and responsible leadership, its trends, and best practices, as well as how you can be effectively applied to the Agro-Industry.
Learning Objectives
At the end of the course of study, the participants will learn to:
Understand the characteristics and trends of the agri-food market and the role played by farmers, industrialists, and their representatives in organizations.
Recognize the intersection of agro-industry with other areas of economic and social interest, such as economic development and the innovative and sustainable way of producing and diversifying businesses (organic agriculture, biofuels, biogas, circular bioeconomy, green economy, etc.).
Identify and manage the characteristics of the main food companies and develop effective managerial strategies.
Develop a global business plan for agri-food companies, corporate canvas model.
Use the most advanced marketing techniques to promote sustainability in the agri-food sector and organizations.
Understand and use project management techniques for farms.
Manage the agri-food chain.
Know the start-up ecosystem related to agro-industry and the development goals of the United Nations sustainability.
Master the use of new technologies and innovation within farmers or industrial organizations and the most advanced tools and production channels for sustainable organic agriculture and agri-food development.
Know the international organizations operating in the agri-food sector and the international policies and support related to this economic sector.
Career Opportunities
With our help, you can create your career strategy via a journey of self-reflection, exploration, and achievement. This program is designed to help you build a solid path towards a successful career and professional future as well as to find opportunities in line with your ambitions and expectations. In particular, the school offers the following services to the enrolled students:
Individual Career Counselling Meeting
Rome Business School's Official Career Portal
Professional Workshops
Rome Business School's Talent Focus
Last updated Dec 2020
About the School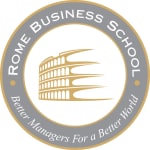 The Rome Business School is a Rome, Italy, based Institute of excellence devoted to managerial training and research, which operates internationally, with alumni hailing from more than 140 countries w ... Read More
The Rome Business School is a Rome, Italy, based Institute of excellence devoted to managerial training and research, which operates internationally, with alumni hailing from more than 140 countries worldwide.
Read less