Online Master Degree in Business Administration
Home ›
MBA ›
Online Master Degree in Business Administration
Read more about this program on the school's website
Program Description
With AUS online, you can obtain a Master of Business Administration (MBA), all from the comfort and convenience of your home. Through our straightforward online platform, you will have access to your full curriculum, as well as clear learning objectives and instructions. The goal of this program is to give you the confidence, knowledge, and skills to accelerate your career in an ever-changing business environment.
The AUS Online degree program starts with fundamental business courses, such as finance, economics, marketing, and entrepreneurship. These are followed by progressively advanced courses, which expand the depth and breadth of the students' knowledge in the fundamental concepts. Throughout the program, AUS combines theoretical learning with relevant, real-world business problems to give students the practical skills and understanding of key issues that affect businesses on a day-to-day basis.
Each academic year/level also includes 6-8 written assignments. Each module consists of approximately 40 guided learning hours of material with an additional 30-50 hours of optional learning material. These materials comprise recommended exercises, recommended readings, and internet resources. After you have completed an online module, you will have an online assessment to complete. This assessment contains 30 multiple-choice questions.
What are you waiting for? Why not take the first steps towards your MBA degree today with the help of AUS's revolutionary new online learning tools? Access course material when you want, and study when it's convenient for you. AUS offers you complete freedom and is available to you at an affordable price. Don't put your life on hold, apply now. What's stopping you?
Degree Information
Type: Graduate Degree
Duration: 1 Year
Start Date: Rolling Start Dates
Location: Online
Study Mode: Flexible
Language: English
ECTS Credits: 112
CH Credits: 79
Total Program Tuition Fee: CHF 5,000
Scholarship Information
The American University in Switzerland is committed to ensuring students can access higher education. Therefore, AUS offers a variety of scholarships designed to help you and your family with the cost of tuition. Scholarships could be award to a student based on merit or need, as determined in the application process.
Career Path
The Online Master Degree develops crucial skills such as critical thinking, analysis, and evaluation to enhance knowledge and experience. These skills are critical in helping you to develop and progress in your career. Upon completing the E-AUS Online Master Degree students will have the knowledge and skills to manage positions in the fields of business, marketing, accounting, consultancy, and more.
Study Mode Options
100% Online
25% On-Campus & 75% Online
Start your Degree Online
Start your Master's degree online with the American University in Switzerland to gain an understanding of the key business fundamentals from the convenience of your own home and study flexibly around your lifestyle.
Finish your Degree in Switzerland
Advance your career with the opportunity to finish your degree in Switzerland. Study a term on campus. Explore the heart of Europe and discover a multicultural environment. On-campus at the American University in Switzerland, you will build your professional network through excellent career opportunities and gain real-world experience through a professional internship.
To finish your program, you can choose one of our industry-focused specializations that will advance your career and give you a competitive edge in the job market.
Be part of the on-campus student community, explore and discover the breath-taking scenery of Switzerland and immerse yourself in a global learning environment with expert academics.
Modules
15 Core
Module Examples
Qualities of Effective Leadership
Developing Interpersonal Skills
Motivating and Influencing People
Culture and Ethics
15 Specialization
Module Examples
Measuring and Rewarding Performance
Strategic and Systems Management
Managing Projects
Strategies for Growth
"Studying an online MBA degree allows you to transform your career alongside your current professional role. Allowing you to learn and work at the same time, to increase your earning potential."
Module Descriptions
Innovation and R&D
Innovation and Product Development are survival imperatives. If an organization doesn't change what it offers the world and the way which it creates and delivers its offerings, it will most likely not survive. There are many examples of how innovation contributes to competitive success – not just in financial terms but in terms of what the organization is trying to do in its environment. The essential ingredients in delivering successful new products and services are the key people involved and their creative ideas. It is not a process, it is all about people and management. In the best companies, new product development, and innovation is an activity driven by vision, organizational energy, top leadership, and lastly, process.
Strategic Planning Tools
MGT 690 – Wealth Management
This course offers a unique analysis of the risks faced by participants in the financial markets, savers and investors, investment funds, financial institutions, interacting through both financial institutions and financial markets, as well as strategies that can be adopted for controlling and better managing these risks. The course provides a broad understanding of fundamental investment decisions taken by the investors. Major topics will include
The objective of this integrated strategic management, marketing, and entrepreneurship MIBA course is to further enhance the expertise of the MIBA student in evaluating and formulating strategic marketing and management decisions in a global, less-developed market context. Over the past decade, multinational corporations faced with slowing economic growth and market saturation in domestic markets have increasingly chosen to pursue market opportunities in less-developed and emerging nations. The course explores in greater depth the strategic challenges and risks that multinationals face in their quest for achieving and sustaining market leadership and profitable growth in competitive, fast-changing, global less-developed markets.
Students will learn how to adapt corporate and business strategies and conventional business models designed primarily for developed nations, in order to capitalize on the unique business opportunities, management practices and market dynamics encountered in marketing innovative services and products to the Bottom of the Pyramid (BoP) segments in less-developed countries. While emphasizing concepts and tools of global strategic management and marketing, the course will also integrate elements of innovative product development and social entrepreneurship. The course will progress through lectures, videos, readings and reading-based assignments, Internet-based research, and strategic case analysis.
Strategic Human Resource Management
In this course, the students are going to understand the importance of Human Resource Management training. Why is it important? Do companies actually need it? Discuss in detail the components of a successful employee learning experience. The students will be watching videos, discuss real-life situations, and case studies for a better understanding of the course.
Internships and Placements
During their degree, students must undertake at least one internship. Students are supported by our dedicated careers team and faculty to ensure they can find an internship relevant to their career path. Students are also encouraged to undertake additional internships in other fundamental business areas in order to broader their experience and enhance their CV.
Career Opportunities
Studying an online MBA degree in Business Administration prepares you for a career in business, which may stretch across any sector or industry. It allows you to develop a broad understanding of business organizations and provides you with subject-specific knowledge in areas such as finance, operations, communication, marketing, and business policy and strategy. You will gain significant transferable skills that make you an invaluable asset to any organization. Studying Business Administration online degree, you could progress into careers including;
Business Consultancy
Business Development
Marketing and Communications
General Management
Logistics and Distribution
Business Research and Analytics
Why AUS?
The American University in Switzerland (AUS) offers students a flexible and affordable online learning experience to give them the opportunity to further their career potential with an international university, whilst studying from the comfort of their own home.
At AUS, we recognize that business leaders today must not only master the hard skills needed to make data-driven decisions but also the soft skills needed to promote them. IT, Policy, Legal, Sales, Human Resources, and Corporate Governance must work in tandem. To thrive in this field and to truly create value in an organization, leaders must acquire the management skills necessary to interface across the organization.
Recognizing the need for this skillset in the market, AUS has developed a holistic approach to educating tomorrow's leaders in business administration.
Last updated Sep 2020
About the School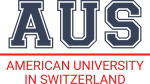 Preparing you for the modern business environment, the American University in Switzerland is one of Switzerland's leading international business universities, situated in La Tour-de-Peilz. Located on ... Read More
Preparing you for the modern business environment, the American University in Switzerland is one of Switzerland's leading international business universities, situated in La Tour-de-Peilz. Located on the shores of Lake Geneva, AUS is close to the Olympic Capital Lausanne, and Geneva, the center for diplomacy. Offering personalized education in an international and multicultural environment, with practical and relevant programs. AUS offers all its students a dynamic and ambitious culture, both in the classroom and outside of the school.
Read less