Program Description
The 2012 Annual Internet Survey showed that over six million people around the globe were already finding success through the advantageous benefits e-learning programs offer. To keep up with today's busy schedules and upward corporate mobility trends, in 2012, EU Business School opened its online campus. Its flagship Online MBA program adapts its onsite counterpart to fit online needs with an easy-to-use web platform, acclaimed lecturers with experience in online education, and on-campus weeks for a truly integrated and complete experience.
Same MBA
Upon completion of the program, students of the Online MBA earn a full and equal Master of Business Administration degree from EU Business School. The online program mirrors EU's top 35 (QS ranked) MBA while giving students the flexibility to attend lectures online at their own convenience. It spans 12 months, including a tutored final project. The MBA focuses on real-life experience in addition to business theory. EU Business School's Online MBA offers the opportunity for conferences, exams, industrial visits, and tutorials as well as the chance to spend one week at one of EU's main campuses each term. EU Business School's full-time/part-time MBA, Online MBA, and Executive MBA degrees are internationally-recognized, graduate degrees that serve as passports to successful management careers. Their curricula are tailored to accommodate each candidate's needs and effectively prepare students for leadership positions in the modern business world by utilizing a pragmatic approach to business education which emphasizes the case-study method.
The program web portal is available 24 hours a day, with open access to study materials, syllabi, plans, guides, reading materials, lectures, and discussion forums. Coursework includes online team building and group work, peer-to-peer communication, online lectures, active class discussions, on-campus work, and case study analyses. Average MBA-related work time is around 30 to 40 hours per week. Online MBA students are required to turn in a project at the end of their final term that will take about six months to complete. Each student is assigned a faculty advisor or mentor who will guide the student during the process. The Online MBA is offered with the following majors:
MBA - International Business
MBA - Communication & Public Relations
MBA - International Marketing
MBA - Global Banking & Finance
MBA - Leisure and Tourism Management
MBA - Entrepreneurship
MBA - Digital Business
MBA - Sports Management
MBA - Human Resources Management
MBA - Design Management
MBA - Blockchain Management
Structure
Online
EU Business School's Online MBA has the same structure as the full-time MBA program which will be taken in three 10-week terms. Students are guided by academics who are also active business people; working at the forefront of international companies. The program is made up of 72 credits taken over three 10-week terms. Average MBA-related work time is around 30 to 40 hours per week. EU students have online access to a range of virtual classroom materials and a comprehensive support network. The online interactive learning platform connects students to the university from wherever you are in the world and grants them full access to the online materials.
Onsite
Nine weeks of each term take place online while the tenth week takes place on one of EU's four main campuses (Geneva, Munich & Barcelona). Each term, participants take five courses and various seminars online and then lectures during the on-campus week. This way, students can meet their classmates, take part in industrial visits, and network for a blended experience that includes both online and onsite education.
Networks
EU Business School students join a learning community in which individual growth is strengthened through collaboration with colleagues from across the globe. They create their own global network of aspiring business leaders through both their peers and our international corporate connections.
Requirements
English fluency certificate: TOEFL score 233 (computer-based), 577 (paper-based), 89 (Internet-based); IELTS 6.5; CAE C1; PTE score 59; English native or equivalent Candidates must also meet two of the following:
A minimum grade point average (GPA) of 3.0 on a 4.0 scale
A satisfactory score on the GMAT or GRE
2+ years of professional work experience (may include military service)
A Skype interview with the Dean
Benefits
Advance in your current job without having to leave it; increase your chances for a rise in pay; further, understand your peers; and gain the respect of your superiors with an online MBA program that is less costly and more flexible than its on-campus equivalent. EU Business School's innovative and flexible Online MBA enables students to study at a leading business school, regardless of their location. The online program is ideal for those who:
Wish to continue working while studying;
Need flexibility in their study schedule;
Seek a blended experience of online and onsite education;
Aspire to develop multidimensional business skills;
Are looking to move up in their companies;
Want to learn from a world-class, active faculty.
Students can combine study with a full-time career or make use of a career break, allowing them to develop the knowledge and competencies that will be instrumental in advancing a career in the world of business. Recent advances in technology have enabled online education to become a respected equivalent to a campus-based program.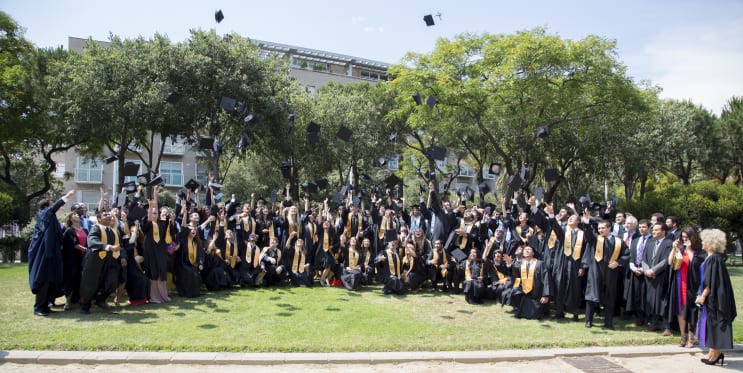 Last updated Aug 2020
About the School
The EU Group (EU) is a network of professionally-accredited, multicultural, high-ranking business schools established in 1973. We have campuses in Barcelona, Geneva, Montreux, Munich and online. In ad ... Read More
The EU Group (EU) is a network of professionally-accredited, multicultural, high-ranking business schools established in 1973. We have campuses in Barcelona, Geneva, Montreux, Munich and online. In addition to small, dynamic classes offered in English, EU students also enjoy a global environment while getting the best of both North American and European academic curricula.
Read less