Read more about this program on the institution's website
Program Description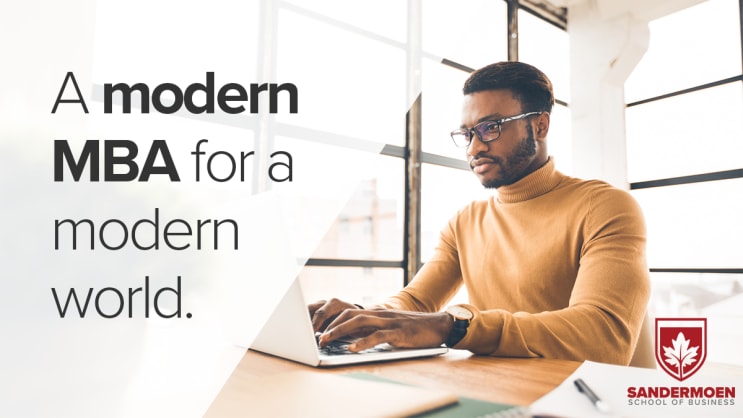 UFred's MBA program will connect you with leaders from around the world while you learn from faculty who are experts in their field, many with international experience. The online format won't disrupt your career momentum and you will be able to directly apply what you are learning to your environment.
UFred's Online Ecosystem
Online Campus

Students at the University of Fredericton receive the same high-quality education, networking opportunities, and collaboration obtained from an on-campus program. Students interact with professors and peers on an ongoing basis.




Resources

UFred offers online resources for its online MBA students to take advantage of, including a library and bookstore to assist in the efficiency and learning of each program. In addition, personal support is provided through the presence of UFred advisors, peer support, and instructor office hours.

Online Group Work

In business programs, students incorporate group work into their online learning. Using online platforms like Skype and Google Docs, students are able to easily meet and collaborate on documents without being hindered by distance.



Course Structure & Details
Foundation Stage

10 Courses

Global Leadership

3 Courses

Global Capstone

1 Course
Spanning 11 weeks each, the foundation courses offer a deep dive into economics, organizational strategy, and leadership theory. Following the successful completion of your foundation courses, you'll begin the Global Leadership specialization.
Proceeding through the Global Leadership specialization in preparation for the Global Capstone that concludes your studies, you will apply all that you have learned to a real organization of your group's choosing. Your group will have 14 weeks to complete the Global Capstone before your final presentation. Students are able to complete the program in as little as 2 years with the average student taking just over 3 years.
Courses
Leadership Theory and Practice (MBA 5006)
Accounting for Managers (MBA 5011)
Managerial Finance (MBA 5016)
The Global Economic Environment (MBA 5021)
Leadership in Change Management (MBA 5026)
Systems Thinking & Organizational Design (MBA 5032)
Strategic Marketing Planning (MBA 5036)
Strategic Operations Planning (MBA 5041)
Strategic Human Resources Planning (MBA 5046)
Strategic Information Systems Planning (MBA 5051)
Strategic Sustainability Planning (MBA 6001)
Trends in Global Strategy (MBA 6012)
Leading Effective Global Teams (MBA 6013)
Global Capstone (IP 8998)
The Importance of Global Leadership in Today's World
As technology has made the world a smaller place, the reach of the business world has extended beyond what MBAs prepared people for just a decade ago. Savvy businesspeople recognize the challenges and opportunities that come along with the complexities of a shrinking global market and need to enhance their knowledge on doing business internationally. For that reason, we offer a Global Leadership specialty stream as part of this MBA program. Designed for professionals aspiring to lead their companies towards much higher performance in their global networks, you will succeed by focusing on leadership techniques, incredibly collaborative leadership in the cross-boundary global context, both within the company and between companies.
Program Tuition & Fees
2020-2021 Academic Year (CAD)
Tuition for the full MBA program is £14,956 GBP and can be paid all at once or;
Pay by course – a 4-credit course is £1031.46 GBP, and a 6-credit course is £1547.18 GBP.
*Tuition is based on an average conversion from $25,235 Canadian and may vary at the time of payment.
In addition to tuition, there is a £12 ($20 CAD) library access fee for each course. The online library provides students access to texts, articles, publications, and additional resources.
There are no additional fees for international students.
Providing Affordable Education For Working Professionals
At UFred, we know it's possible to deliver high-quality education while still being affordable. As a fully-online university, we don't incur the cost of building and maintaining a campus. We are 100% focused on delivering quality education and providing personal student support, advanced technologies, and industry-leading instructors.
Focused on Delivering Academic Excellence
Program Advisory Council

The PAC is a group of volunteers that provides expert advice to a school or department on program-related matters such as trends pertaining to the industry, discipline or profession, learning objectives, curriculum, teaching methodology, and program review.






Faculty with Industry Experience

Instructors for the Sandermoen School of Business not only have strong academic backgrounds but many years of work experience in their respective fields. With an average of 11 years of experience in online education and 15 years teaching higher education, you know you're getting the best there is to offer. Our faculty have global experience and many have consulted or worked all over the world.

Academic Leadership

UFred is committed to working with leaders in academia who are driven to advance our business programs in an online environment. Our academic leadership team is constantly striving to improve our programs, find industry-leading instructors, and build meaningful academic partnerships.




Admissions
Admission Requirements
Applications for the online MBA are reviewed for consideration by the Admission Review Committee and an official notification sent to the applicant via email. The candidate's full application package is reviewed for consideration to include education and work experience.
Individuals wishing to be admitted to the MBA program must present the following minimum admission requirements:
an undergraduate degree from a recognized and accredited university;
cumulative GPA of at least 3.0 (B) on a 4.0-grade scale;
international applicants must be qualified for university or college admission in their home countries and transcripts must show superior performance on the basis of the country's grading scheme; and
if your degree was completed outside of North America, you may have your degree evaluated by World Education Services (WES) or International Credential Assessment Services of Canada (ICAS). Those reports can be sent directly to us or you can have them notarized by a lawyer.
there is no GMAT required for admission.
A candidate's full application package will be reviewed and consideration may be offered for work and life experience:
one or more years of full-time work experience;
one year practicum graduation requirement may be substituted for work experience;
Prior Learning Assessment (PLA); and
English proficiency (may require a TOEFL).
Application Process
Online Application
Please complete the following:
Online Application
Online Resume Form
Copy and paste your letter of intent and resume into the form and complete all additional fields. You may revisit the form by checking off the box: "save my progress and resume later". Please enter your email and a password so that you may save your progress and work on the form at your convenience. Once you follow the link to revisit the form and enter your email address and password, the information you filled in previously will auto-fill.
The form will not be submitted to your Recruitment Advisor until you click on "Submit" at the bottom of the form. Once you have submitted the form to the University of Fredericton, you will not have the ability to revisit the form and make edits. Please ensure all fields are completed appropriately before hitting "Submit".
Request and submit two completed Reference Forms. Request a reference from two strong academic and/or business references who have known the applicant for more than two years. References can be from current or past managers and/or supervisors.*
Order a transcript from the institution where you completed your undergraduate degree and have it sent directly to UFred. Due to the impacts of COVID-19, our transcript policy has changed and we are accepting several methods of delivery.
Mail Delivery to the University of Fredericton:
To ensure the delivery of your documents to the University of Fredericton, please use the services of Canada Post and use the mailing address below.
Electronic Delivery:
Please have the University Registrar send electronic transcripts via email to transcripts@ufred.ca directly. Student copies are not acceptable.
Courier Delivery:
As the University Office is closed to the public, courier packages must have the feature "Hold for PICKUP" selected, and be addressed as follows:
Tracy Pugh, Registrar
506-454-6232 x 215
University of Fredericton
371 Queen Street, Suite 400
Fredericton NB E3B 1B1
Canada
You will also receive an email confirming the completion of the document.
Prior Learning Assessment
In keeping with the University's commitment to recognition of prior learning, students may transfer credit or advanced standing credit toward their graduate degree program through courses previously taken. For consideration of transfer credits, only graduate-level courses successfully completed with a B grade or higher will be considered. Advanced Standing credits may be earned by those who have specific business designations.* The total number of credits students may earn through transfer credits from other approved and/or accredited institutions combined shall not exceed half of the credits required for completion of their graduate degree program.
Last updated Nov 2020
About the School

Connect. Learn. Succeed. Fully Online The University of Fredericton (UFred) is a fully-online, degree-granting institution offering certificate, diploma, and degree programs. Founded and based in Fred ... Read More
Connect. Learn. Succeed. Fully Online The University of Fredericton (UFred) is a fully-online, degree-granting institution offering certificate, diploma, and degree programs. Founded and based in Fredericton, New Brunswick, UFred takes exceptional pride in its offering of innovative, relevant online education that emphasizes leadership development and lifelong learning. UFred offers a unique, completely online learning experience that supports the academic and professional goals of its constituents. Through approachable, friendly support, and service, we are devoted to creating student success.
Read less