Online Bachelor of Science in Human Resource Management
Home ›
BSc ›
Online Bachelor of Science in Human Resource Management
Program Description
Take Your HR Career to New Heights
Whether you spell out Human Resources or simply call it HR, there's nothing quite like helping your fellow employees achieve their career goals while ensuring the compliance and protection of your organization. If working across departments to help associates enjoy better work lives sounds like a career plan, you're ready. You're ready to explore a world of team-building, organizational leadership, and success. You're ready to gain a comprehensive look at the HR function as it operates within an organization. You're ready for Post University's Bachelor of Science in Human Resource Management.
Program Highlights
Some questions you may be asking: What does a human resource manager do? A trainer? A specialist? Find out in Post's Human Resource Management degree program as you investigate all the HR functional areas vital to the success of any organization. From employee development and employment law to compensation and benefits, you'll cover core HR systems and principles. Your program also incorporates essential principles of management to give you the skills you need to take your career to the next level. Course highlights include:
Human Resource Management
Labor & Management Relations
Managerial Accounting
Society for Human Resource Management (SHRM) Certification Preparation
Compensation & Benefits
Upon graduation, you'll have the functional, leadership, and administrative skills needed to explore entry-level jobs or advancement opportunities in any public and private organization – from federal and local government to for-profits to not-for-profits.
Whether you elect to pursue your human resource management degree online or on campus, you – and your career – will benefit from world-class, industry-experienced faculty, many of whom worked at a senior level. That's just part of the Post Makes It Personal promise. We only hire skilled professionals dedicated to passing on their expertise. When you ask, "What can I do with a human resource management degree?", etc., they offer real-world insight and answers.
So, what is human resource management? It's your calling. It's your future. Don't put your career on hold a moment longer. The next star HR recruit just might be you! Contact us now to learn more!
Bachelor of Science in Human Resource Management Program Outcomes
Legislation - Students will analyze the historical, social, and ethical relevance of specific employment legislation and the effects of their implementation in today's organizations.
Analyze Practices - Students will evaluate and analyze the organizational effects of specific employment practices on the changes in function within management and the operational environment within an organization.
Organizational Effects - Students will compare and contrast elements of an organization, its policies, and its practices related to its culture, structure, and development.
Ethical Conduct - Through case studies, students will evaluate the role of the human resource function in fostering a culture of ethical business practices.
Accounting - Through examination and analysis, students will apply the principles and practices of accounting as it pertains to management practices.
Collaborative Praxis - Through examination and analysis of historical events and organizational cases, students will identify practices within organizations that lead to high levels of communication, critical thinking, and collaboration among organizational entities.
Admissions Requirements
Applicants seeking to apply for admissions to an Accelerated Degree Program online undergraduate program must be a high school graduate or meet one of the following requirements:
Possess a General Education Development (GED) certificate or state-specific equivalent diploma.
Possess a Home Study certificate or transcript from a Home Study program that is equivalent to high school level and recognized by the applicant's home state, and they must be beyond the age of compulsory attendance in that state.
Post University will accept attestation as proof of graduation. In addition to attestation Post University will request any proof of graduation as outlined by the U. S. Department of Education and will evaluate the students that are not able to produce documentation. Post University relies on the students' attestation of high school completion and will not mandate a separate document for all students. Additional acceptable forms of attestation may include proof of graduation included on the FAFSA, or any document deemed acceptable by the US Department of Education.
If for any reason, the attestation of high school graduation or GED completion is found to be false or untrue, the student will not have met an admissions requirement of Post University and will not be considered a regular student and will be subject to immediate dismissal from Post University. Further, if the attestation is found to be false or untrue, all Title IV financial aid and state or institutional financial aid that was disbursed on the student's behalf must be refunded to the appropriate source. The student will be responsible for Post University for all money refunded.
Post University
Post University takes a personal approach to education and a personal interest in each of our student's success. Whether you learn on campus or online, you will receive one-on-one attention from our experienced faculty and staff.
We're With You Every Step Of The Way
In the Malcolm Baldrige School of Business at Post University, we are committed to you and your ongoing success. That requires more than just giving lectures and handing out tests. It requires we do everything possible to provide an extraordinary learning experience. It requires more of us; and it will require more of you. As a student in the School, you are signing on for an education that will help make an impact on every facet of your life. You'll be required to Think More, Do More, and Be More.
You won't be alone. Your student advisors, school administration, and dedicated faculty will come along beside you to provide guidance, support, and real-world business insights for an educational experience unmatched in any industry. We're focused on maximizing YOUR success.
Accreditation & Rankings
Programs within the Malcolm Baldrige School of Business have been continuously accredited by the Accreditation Council for Business Schools and Programs (ACBSP) Global Business Accreditation since 2014*. This means we meet or exceed established standards for these business programs around the globe. ACBSP Global Business Accreditation represents the highest standard of achievement, worldwide, for business programs that have a primary teaching focus as opposed to a research focus.
Last updated Oct 2020
About the School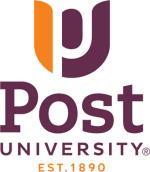 Post University was founded in 1890 with a mission to give students the educational foundation they need to pursue careers in the fields that interest them most. In the last 130 years, the world aroun ... Read More
Post University was founded in 1890 with a mission to give students the educational foundation they need to pursue careers in the fields that interest them most. In the last 130 years, the world around us has changed, from slide rulers and typewriters to laptops and smart phones. And we've evolved with it to provide an exceptional learning experience, in and out of the classroom. Today, our students have more learning options beyond the traditional campus experience. They're able to learn, grow, and prepare for a better future online in their homes, as they travel, or in one of our classrooms. At Post University, we understand how important it is to be there for our students every step of the way. From the dynamic culture and tight-knit community feel of our traditional New England campus to the online convenience of our distance-learning programs, our students benefit from the insights of industry experts, a curriculum grounded in what employers really want, and the support of a university that cares for their success as much as they do.
Read less