Online Bachelor of Arts in Business and Management
Home ›
BA ›
Business ›
Online Bachelor of Arts in Business and Management
Program Description
At HELBUS Helsinki School of Business, you can now earn your Online Bachelor of Arts in Business and Management degree whilst studying in an international environment. There are many reasons why we believe that we offer the most exciting undergraduate business education in Finland. Here are just a few of them:
The student experience is core to what we do aiming to provide a personalised learning experience for our students. Our staff are friendly and take pride in supporting students throughout their academic journey from guiding applicants to graduation and alumni activities.
Courses are delivered by our inspiring team of international teaching faculty coming from 17 different countries. Most of our instructors have PhDs and wide teaching experience in their fields of expertise.
Our learning environment is engaging and interactive and aims at challenging your thinking and build your confidence for all your future endeavours.
Although you will study online from your home country, you will earn your degree (Bachelor of Arts (Hons) in Business and Management) from the University of Northampton (UoN), or other HELBUS partner universities in the UK.
E.g. UoN takes pride in having achieved a 95 % employability rate of its graduates for the last five years and was awarded a Gold standard for the Teaching Excellent Framework in the UK.
All studies are delivered and assessed in English, which will provide you with a solid foundation for a career in international business.
Normally, state universities offer no qualification after two years of study. At HELBUS, you will earn your first internationally recognised diploma already after two years of studies (Higher National Diploma), before continuing to your third year.
You can complete the your degree fully online, with virtual evening classes. The online programme offers more flexibility for students who wish to work alongside their studies.
With the BA (Hons) in Business and Management, you can apply for Master's programmes continuing at HELBUS or anywhere in the world, or start your career in international business.
Content
The curriculum at HELBUS has been designed to provide you with the skills and knowledge to be able to succeed in international business. In years one and two, you will develop a strong foundation in diverse areas of business and management, such as marketing, finance, entrepreneurship, human resource management and organisational behaviour, and learn how these are integrated within the wider the business environment. In your third year, you will expand on these competencies and deepen your theoretical and practice knowledge in the core fields, while simultaneously advancing your individual and group skills.
In the first two years, you will earn 240 UK credits (equivalent to 120 ECTS) – over 15 modules. In the third year, you will study an additional six modules worth 120 UK credits. Overall, the BA (Hons) degree will consist of 360 UK credits (equivalent 180 ECTS credits).
Year 1
Year 2
Year 3

Business and the Business Environment
Marketing Essentials
Entrepreneurship and Small Business Management
Human Resource Management
Management and Operations
Innovation and Commercialisation
Management Accounting
Managing a Successful Business Project

Launching a New Venture
Organisational Behaviour
Research Project Parts I & II
Pitching and Negotiation Skills
Developing Individuals, Teams and Organisations
International Marketing
Sales Management

Accounting and Finance for Managers
Business Communication
Business Project
Principles of Marketing Management
Strategic Human Resource Management
Strategic Management
Studying in the online programme
Do you have a dream job but would like to advance your career by earning a Bachelor's degree? Do you have a lifestyle that requires a lot of travelling and hence a flexible study plan?
The study content is the same in both delivery modes, full time and online. The online programme – requires more time-management and independent study skills as the full-time programme, as it is more independent learning. Although you will have peers, you rarely meet with them, as they are likely to work full-time or live elsewhere. Also, your engagement with instructors will be online.
A typical unit has 15 online lectures which you can view at any time. In addition there are realtime online meetings that normally take place on Wednesday evenings, Finnish time. Each unit lasts for seven weeks, so there is some overlap between units. There are no studies over the summer term.
You will need a laptop or other device with an internet connection to engage with the learning materials provided online and to participate in the online meetings. All lectures are recorded in advance, allowing you to watch them weekly whenever is the best time for you.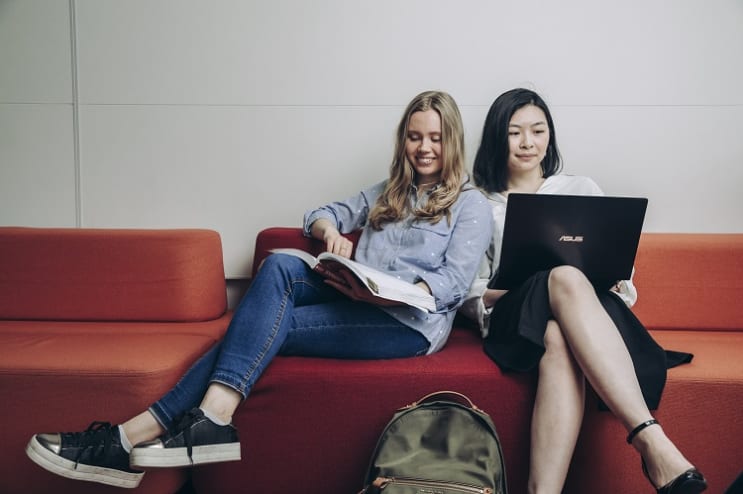 Entry requirements
If you have any of the following secondary education qualifications, you are eligible to apply to HELBUS:
Education abroad that would provide eligibility for academic higher education studies in that particular country.
International Baccalaureate examination.
Finnish matriculation examination.
Vocational secondary education with a minimum duration of three years in Finland, or a vocational adult education qualification.
If you are completing your matriculation or IB exam in the spring, you can still submit an application and receive a conditional admission offer. The offer will be made unconditional after you receive your final diploma.
How to apply?
HELBUS admissions are based on essay questions and interviews gauging your motivation, strengths, and future career aspirations. We look for applicants who can provide balanced and well-thought arguments in their essay questions and demonstrate the level of communication required in higher education studies.
Applying is easy. Simply fill in the application form in the brown box below and upload scanned copies of your upper secondary school diplomas and other required documents. You can save your application and return to complete it at any time. Remember to hit "submit" when you have completed everything.
When to apply?
You can apply throughout the year. The available start dates and application deadlines depend on your background, as more time will be needed to apply for a residence permit.
What documents do you need to apply?
The minimum entry requirements for Bachelor's studies are similar across most applicant groups, but the documentation required varies. For your application to be complete, please check here that you have provided the following documentation:
| | | | |
| --- | --- | --- | --- |
| | Finnish citizens | EU/EEA citizens | Non-EU citizens |
| Online application form completed and submitted | ● | ● | ● |
| Photo uploaded in your application | ● | ● | ● |
| Upper secondary schooling leaving certificate (1) | ●* | ●* | ● |
| Certificate of English language (A1) proficiency | (2) | (2) | (3) |
| Transcripts and certificates of any other post-secondary education, if applicable | ● | ● | ●** |
| Copy of passport | | ● | ● |
| Copy of residence permit | | | ● |
(1) Upper secondary school leaving certificate is your high school or matriculation diploma, a diploma from your 3-year vocational college programme, or similar document from your home country that states that you have the eligibility to apply for higher education studies. The document must be in English, Finnish or Swedish, or officially translated into English.
(2) If you are an applicant from Finland or the EU/EEA, you do not need a formal English language proficiency test for your application, but you should demonstrate sufficient English skills in the application form and your high school diploma. Please note that sufficient English skills are an absolute necessity to be able to understand and contribute to the courses effectively.
(3) If you are a non-EU citizen, IELTS 6.0 with no section below 5.5 is required, or similar for Bachelor's programmes and an overall score of 6.5 for the MBA. Citizens of the United States, Canada, Australia and New Zealand do not need an English language proficiency test.
*You can apply even before receiving the final results of your matriculation exam. In such cases, you may receive a conditional offer that will be made unconditional after you send us your final results.
** Non-EU students who need a student residence permit must have another first degree that they want to complement with business and management studies. This condition is not applicable to those who already have a residence in Finland due to other reasons, such as family.
The admissions process
You can start your studies any time a new course module starts during the fall term up until January (every three weeks).
There is no entrance examination.
After you have completed the application form, uploaded the required documents and submitted the application, we will review it and send you an interview invitation. This interview can be held by telephone or Skype.
You will receive the admission decision by email normally within two weeks of the interview.
To confirm your study place, a confirmation invoice may be sent, which will be reimbursed in the first tuition fee invoice.
Closer to the start of your studies you will receive the New Student Letter informing you of practical details of starting your studies.
Accepting a study place at HELBUS will not affect your first-time applicant status in the Finnish state university system.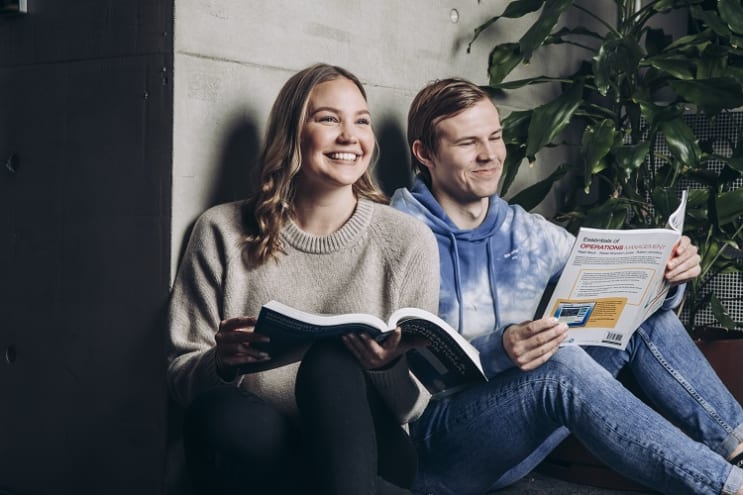 Fees
The tuition fees for Finnish, other EU/EEA and non-EU students are the same in the undergraduate programmes, although payment schedules differ due to the government policy on student residence permits.
Online tuition: €29.030 (total)
The tuition fees include a wide range of e-learning resources, but if the student wants their own textbook it will be procured at own cost.
All students should have a laptop with MS Office and an internet connection.
Tuition fees include the value-added tax (VAT). If the government increases the tax from the current 24 %, the tuition fees will increase respectively. If the VAT is reduced, or abolished fully or partially, there will be no reduction in the tuition fee.
Confirmation fee: HELBUS may charge a one-time confirmation fee (300-500€ depending on programme) before the start of studies to secure your study place. By paying the confirmation fee, you will confirm your acceptance of the study place. The fee will be reimbursed in the first tuition fee payment. If you do not start your studies, the paid confirmation fee will not be reimbursed.
Cancellation fee policy: You can cancel your participation to the programme by email before the start of a new term. However, tuition fees that have already been paid will not be returned. Your tuition fee payment will be returned to the payer only if you are not given a residence permit by the Finnish Immigration Service and inform HELBUS about this decision.
If the student must retake a unit in the next year, or transfer to the online programme for a given unit, a 200-250 euro retake/transfer fee will be administered per unit. In the third year, the retake and deferral fee is 817 euros per module. Details are found in the written contract signed by the student at the beginning of studies.
Unfortunately, we are unable to offer any scholarships.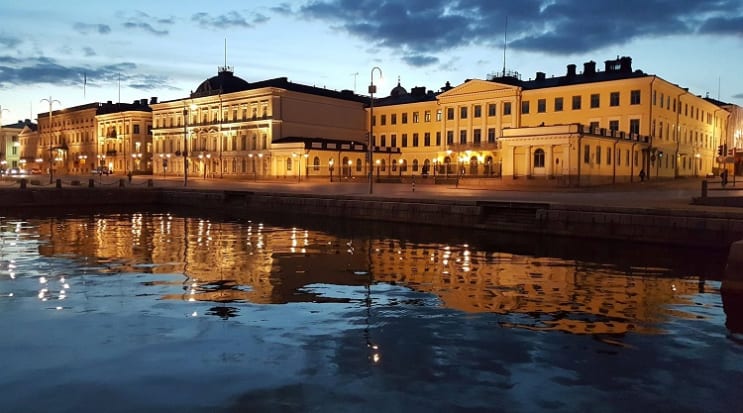 BA student stories
Anna Lammela

"It is wonderful to be exposed to different perspectives of the business environment and to learn about business cultures in other parts of the world. My dream is to continue in my current job in an international law firm. Thanks to HELBUS, I have now an opportunity to move up in the firm. Now that my English language skills are also developing quickly during my studies, I hope that working at our London office will be a possibility one day.

The HELBUS blended programme is designed to suit those of us who work full-time hours and study in the evenings. The professors are really nice and they understand that our work may sometimes affect our studies. I became interested in HELBUS as I already have a job I really like and I did not want to quit in order to study. HELBUS provided a solution for my situation and combining work and studies in HELBUS' fully-online blended learning programme has been easier than I dared expect!

I have already gained lots of confidence at HELBUS and my English has improved even in these few months. I am truly satisfied with my decision to apply to the HELBUS blended programme."

Ellen

"HELBUS offered me an excellent option because I wanted to study business at university immediately after graduating with my high school diploma. I want to start my career quickly and have the right education for that. Studies at HELBUS progress quickly through the intensive modular structure. The international teaching faculty is a wonderful aspect of my studies, as my English skills and vocabulary strengthen by the day. The professors are very knowledgeable about their subjects and make them interesting. At HELBUS we focus on one subject at a time, which makes learning very efficient."












Risto Silventoinen

"I've lived in Malaysia for most of my life, and being admitted to HELBUS made it possible for me to start my business studies in English in an international environment. I enjoy my studies because the professors are highly experienced and qualified, and I feel that the instruction is of very high quality. In my opinion, it is easier to concentrate and stay motivated in intensive modular studies such as HELBUS offers compared to traditional methods of instruction."

Mette Kuutsa

"In the future, I'd like to work in management for an international company like Zara or L'Oreal. My goal is to be a country manager in one of these firms. I've graduated from an American high school, so studying in English was the best option for me."





Last updated Oct 2020
About the School

Enjoy the combination of the high quality of Finnish education and the high status of a UK degree. At HELBUS Helsinki School of Business you will earn a Bachelor or Masters degree in Business and Mana ... Read More
Enjoy the combination of the high quality of Finnish education and the high status of a UK degree. At HELBUS Helsinki School of Business you will earn a Bachelor or Masters degree in Business and Management. You will study at Helsinki School of Business (online or in classroom in Finland) and your degree will be awarded by the University of Northampton from UK!
Read less