Official Master's Degree in Renewable Energies and Energy Sustainability
Home ›
Master ›
Energy ›
Official Master's Degree in Renewable Energies and Energy Sustainability
Read more about this program on the institution's website
Program Description
Prepare to meet climate challenges and provide energy security
The Official Master's Degree in Renewable Energy will provide you with an in-depth knowledge of the most important renewable technologies and the management of innovation in this area. Through this program, you will be able to develop professionally as a technical energy engineer of the future, entrepreneur or innovator in energy matters.
This master's degree focuses on business and economic aspects of the energy system while providing you with management experience and the technical knowledge necessary for you to be able to develop professionally in the renewable energy industry.
You will be able to analyze, design and implement business and sustainable energy cases with a systemic and interdisciplinary approach, which will make you an asset in the world of the energy industry.
More specifically, at the end of the master you will be able to:
Choose the most appropriate technology in each case, taking into account the location, resources, existing infrastructure and the socio-cultural environment of the site.
Plan and manage renewable energy resources.
Plan solutions based on renewable energies that minimize environmental impact.
Monitor project development.
Analyze the financial profitability of the installation of technologies.
Manage the use and planning of the environmental quality management system.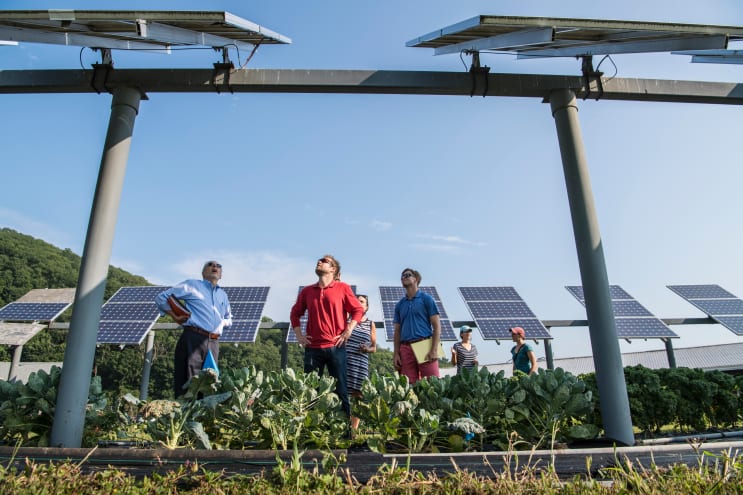 Curriculum
Energy Sector and Market
Legal, Legislative and Regulatory Framework of the Energy Sector
Main Renewable Energies
Other Renewable Energies
Research and Innovation in the Energy Sector
Energy Monitoring, Modeling and Simulation
Energy Systems
Energy Audits and Certificates
Financing of R + D + I
Technological and Innovation Platforms
External Practices
Final Master's Project
How do you study?
In the Master of Renewable Energies and Energy Sustainability, an online methodology is followed with a focus on helping to overcome university studies, often while maintaining a job or reconciling with family life.
The flexibility of schedules and location provided by online training makes it easy for you to study from anywhere in the world. Thus, it will save you time and money by not having to travel to any headquarters to carry out your training.
In this way, as a student of the ENyD master's degree in renewable energy you will be able to achieve your academic goals, expand your knowledge, update yourself and integrate a series of parameters in your CV that will allow you to achieve your professional goals.
Live Classes

Delve into concepts in live online classes. You only need internet access and a webcam.




Updated Contents

Updated and 100% practical content, oriented to the application in the subsequent professional performance.

Virtual campus

Innovation and efficiency come together in our virtual campus to give you personalized, flexible and interactive training.



Case Method

Through analysis and discussions on case studies, you will be able to develop key competencies to face global energy challenges.

Team work

As part of the continuous evaluation, you will have to develop some of the proposed activities in multidisciplinary working groups.




Final Master's Project

Put your knowledge to the test by developing a real consulting project in which you will learn to respond to the needs raised by companies in the sector.

Face-to-face workshops

You can attend voluntary face-to-face workshops on weekends at our headquarters in Madrid.






Accompaniment

The ENyD team of tutors, teachers and student care will be with you from the beginning of the training and will help you to complete it successfully.



Employment and Professional Career
Taking this official Master in Renewable Energy and Energy Sustainability is an opportunity to develop professionally in an area with great global challenges; among them, mitigating climate change and providing energy security in the 21st century.
From our Department of Employment and Professional Career we want to help you take that leap.
Guaranteed Practices

The official master's degree in renewable energy includes the completion of guaranteed business practices. The course can be validated if you have related experience.



Employment exchange

If you are not yet working in the sector or are looking for new job opportunities, during the Master you will be able to access all the offers published in our job bank.



Professional orientation

Our team from the Employment department will advise you with any question related to job improvement or career guidance.





Entrepreneurs

If you have an entrepreneurial project in mind and need advice, we will accompany you during the implementation of your business idea.





ENyD experiences
Scholarships and Financing
Scholarships and grants
Our team of academic advisors will inform you about the different calls for scholarships or study grants that you can benefit from.
In addition to official scholarships, we periodically announce places with significant discounts. These places are limited and always have application dates.
Request more information about our scholarship and aid program!
Financing Options
The Official Master's Degree in Renewable Energies and Energy Sustainability contemplates the deferred payment of the registration fee through an initial payment of € 490 + 10 monthly installments.
We have agreements with financial entities if you need a greater financing option.
Last updated Aug 2020
About the School
ENyD es una escuela de negocios especializada en formación de posgrado que cuenta con una dilatada trayectoria en el sector de la educación a distancia dentro del ámbito empresarial. Desde hace casi 2 ... Read More
ENyD es una escuela de negocios especializada en formación de posgrado que cuenta con una dilatada trayectoria en el sector de la educación a distancia dentro del ámbito empresarial. Desde hace casi 20 años preparamos líderes y profesionales con el fin de que aporten valor en sus profesiones y puedan contribuir al progreso del espíritu emprendedor.
Read less